With booming tech sectors and service sectors, the Call Centers is also expanding. Call Centers are becoming pretty common these days and people are also showing their interest to work there either part-time or full time. Call Centers are becoming a chance for people to earn some extra income. This is also a two a street, companies also seek a benefit out of the call centers as people put a lot of attention in the customer service when choosing a product or a service from a company. So companies are looking for some good candidates who are qualified and know what to say and do on their part.
Although getting a job at a call center isn't as easy as some people might think. There are a lot of things that you have to keep in mind to get the job. One of them is the interview. Like any other job, call centers do hire their employees after the interview. This is because they too want the best for them. So the interview is a crucial part that you have to be concerned about.
If you are going for a call center interview for the first time, then you might be confused about what kind of questions they will ask you and how you need to prepare for the interview. So here we are, bringing you a list of commonly asked questions in Call Center Interview. Take a look at the following Call Center Interview Questions and prepare for the next interview.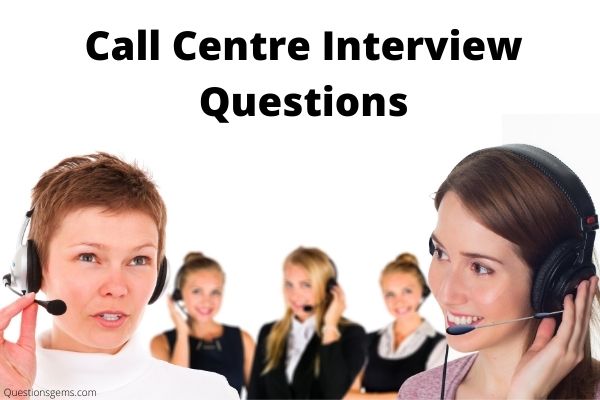 Call Center Interview Questions And Answers
1.What do you know about Call Center?

Ans.

Call center is a service desk, where a large volume of calls are handled by the customer associate in order to render services to the client.
2.Mention the types of call center and what is the difference between them?

Ans.

The types of call center are

–

Inbound Call Center

Outbound Call Center

Inbound Call Center: In an inbound call center, customer associate will receive the calls regarding the customer's queries or demands. Eg: Customer is calling a Telecom Company to know the current tariff on internet service they provide.

–

Outbound Call Center:  In an outbound call center, customer associate will make calls to their customer, regarding business or sales related.  Eg: When you receive a call from a bank offering a personal loan.
3.What according to you call center job is?

Ans.

This question is asked by interviewer to know your awareness to the job profile. So based on your answer they will decide what role or position they will assign to you. For instance, if you say that call center is about dealing with customer problems they will put assign you customer associate Role. On the contrary,  if your answer is that a call center is a new business zone, where youngsters are employed in numbers and get an opportunity to develop their career, they might put you in a HR department.
4.Why we should hire you for our company?

Ans.

This question is an opportunity for you to showcase your talent and skill.  You can convince the interviewer by bringing to their attention your talent you got and depict how perfect you are for that job. Also, you can mention some innovative ideas or concept that can help increase the organization profitability and credibility.

–

You can answer this question by saying that my past experience, my education and my personality actually fits the job. I am a hard-working guy and a quick learner.  Also, I like the concept or idea that the company is working on and that is what exactly I was looking for.
5.What you understand by the term "Customer Satisfaction"?

Ans.

Any business depends upon the quality of the service offered to the customer.  To do so, you need to understand the customer's need and their problems. You have to think from their point of view and try to meet their demands and requirements. This is what " Customer Satisfaction" is.
6.What are key attributes of a customer service representative?

Ans.

The key features for customer service executive are-

–

Professionalism

Politeness

Friendly

Courteous

Helpful
7.How will you enjoy working in a call center?

Ans.

As I am an extrovert person and I like to interact with people, call center job is a perfect for me. I like to resolve customer's queries and face the challenges positively.  Also, the pace of work in call center and team members friendliness always motivates me to work for call centers.
8.What are your strengths?

Ans.

This is the common question, you might face in any interview.  So, prior to interview do your homework and jot down your strengths like subject knowledge, computer skills, communication etc.  Also, how you can relate your strength to your current job. For example,   you have a good hold on some language, or you have some good marketing skill or having ability to convince other.
9.What will you do if customer abuses you on the phone?

Ans.

The first thing that I will do is to stay calm and listen to the customers problem, and try to figure out what made him/her annoyed. The next thing I will do is ask politely to the customer to calm down. Then I will assure him/her to solve their problem. The last thing that I will do is to identify the root-cause that creates problem to the customer, fix it and ensure it never happens again.
10.What are the key features you think that customer associate should possess to become perfect customer associate?

Ans.

Good listening skill, problem-solving, concentration, and patience are some key features that make a perfect customer associate.
11.How you handle work-pressure?

Ans.

To handle a pressure situation, I always try to keep the focus on work and avoid frustration.
12.What experience do you have in a call center?

Ans.

If you are fresher and you don't have experience, then you can mention something that can relate you with a call center.  Example, I have worked in desktop support, or I am holding a certificate for mass communication, etc. If you are experienced, narrate the same.
13.Mention the types of customer service field?

Ans.

By phone

Public relationship

Face to face
14.What is your typing skill?

Ans.

This question means how many words you can type in a minute. If you know the number, you can mention it but if you don't know then just tell that you are good in typing skills.
15.Can you handle multiple calls at the same time?

Ans.

If you have an experience of handling multiple calls, then narrate the same. In case you don't have experience mention that once training is provided, I could handle multiple calls with ease.
Best Call Center Interview Questions
Tell me about yourself?
Why did you leave your last job?
Why do you want to work for our company?
What are your strengths and weaknesses?
What questions do you have for us?
What's your idea of a call center?
Why do you want to work in a call center?
What is your idea of quality customer service?
How would you handle a call from an angry customer?
Are you able to work with multiple phone lines?
How many people have you managed in the past?
Tell us about a time when a customer call was escalated to your attention. How did you handle it? What was the outcome?
Tell us about your experience in onboarding and training new employees. What does your process look like?
How would you address performance issues with your employees?

Conclusion

So these are some of the most commonly asked call center questions that you need to prepare. We hope you found our article helpful and now you have some ideas about the expectations for the questions that are asked in the call center interview.