Commerce is a popular stream in India and many people take it during their high school. Although if you are just passed out of school then it's time to think about what's next! Deck ding what to choose for your career can be hard and it will surely not something you can take for granted.
We have listed out a few options for you from which you can choose the one which you find best for yourself.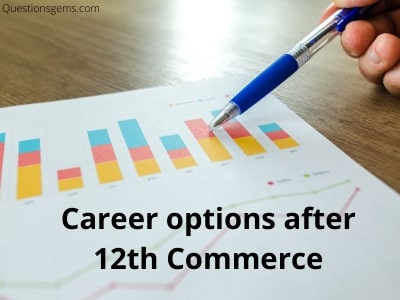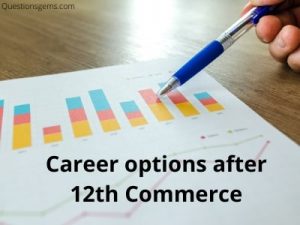 Career Options After 12th Commerce
1. B.COM

B.Com is one of the common paths that students choose after 12th commerce. Here you should wisely choose your major subjects and the college. The course is 3 years long.
2. Charted Accountant

Charted Accountant is the most prestigious course of commerce and many people dream to pursue it. The course is five-year-long yet you can do it with their bachelor's. Being a CA means you can practice accountancy with big firms and companies which will definitely pay you well.
3. Company Secretary

Company Secretary is also a good option for commerce students. A CS is responsible for looking after a company's administration and see if they are following legal and statuary requirements. To become a CA you will need to pass exams in three stages. It's surely hard to pass the exam but it's definitely worth the hard work.
4. Cost Accountant

Coat Accountant is another important post and any commerce student would be lucky to become one. Coat Accountant will look after manufacture companies and plants. Their main job is to decide the price of the product which means they will decide the profits. For this course, direct entry is available after graduation.
5. BBA

BBA stands of Bachelors in Business Administration which is another popular course after B.Com after 12th commerce. It's a study about the basic functions and operations of a business. After doing BBA, one can pursue for MBA where they can study for any specialty they like. The specialties include marketing, finance, operation, information technology, hospitality, human resources, etc. It's also a great course and one can have many opportunities in this field.
6. Hospitality diploma course

If you are interested in tourism sector then pursuing your career in hospitality diploma course would be a good option. They can also pursue hotel management courses. Although to enter in good institutions where these courses are taught, one must score some cut-off marks to take admission.
7. Bachelors in Economics

Economics is a great subject to study and that's why we are recommending it to you. Of your major subject was economics then you can go for B.Eco. after you will down your bachelor's degree you can go for a master's in economics. This one focuses on the theoretical concepts of economics. You can also study for microeconomics, business economics, industrial economics, and international economics. Once you have completed your studies then you can appear for Indian services where you can select for the planning commission, planning board and ministry of economic affairs. These are all A grade jobs that you can pursue. Apart from these, you can write economical articles for newspapers and also go for a career in teaching.
8. BAF – Bachelor's in Accounting and Finance

BAF is also a great career options for commerce students. This 3-year course focuses on taxation, cost accounting, auditing, business law, and economics. So if you are looking for a career in auditing and accounting then BAF should be your best choice.
9. BFM – Bachelors of Financial Market

This one is also a 3 gear course that you can consider if you are looking for a career in finance and marketing. The studies in this course focus on the debt market, equity market, risk management, microeconomics, investment, mutual funds, and security market.
Courses After 12th Commerce
B.COM
Charted Accountant
Company Secretary
Cost Accountant
BBA
Hospitality Diploma Course
Bachelors In Economics
BAF – Bachelor's in accounting and finance
BFM – Bachelor's of financial market
Conclusion:

Here we have listed all the best career options after 12th commerce that you can choose. It's important that you give it a good thought before choosing a career for yourself. Make sure it's something you are interested in and have good opportunities for you in the future.

Here we have done our part, now it's your turn to make an informed decision for yourself. Hope our article helped you. Thank you for visiting our page.