BBA is a prominent course which is taken by arts or commerce or maybe some science students after 12th. This is a 3-year undergraduate program which holds an immersive career in the field of finance, management, and law. In this course, students learn about various principles of business and management.
After doing BBA there are so many opportunities for the students to start their career and get a job they aspire the most. Be it in finance, real state, marketing, accounting and so on. To take the BBA you need to have completed your high school education with English as your compulsory subject and your minimum marks should be 50%. A student from any stream can pursue it.
In this article, we are gonna discuss about the best career options after doing your BBA. The career options we have listed are most popular as well as provide a good pay scale for the candidates. So let's start the list and see if you find something interesting enough to take it as your career path!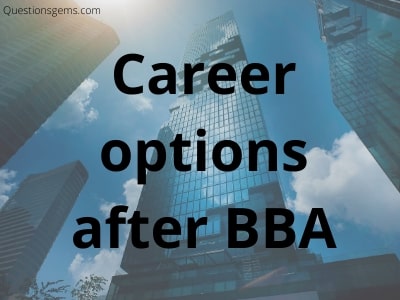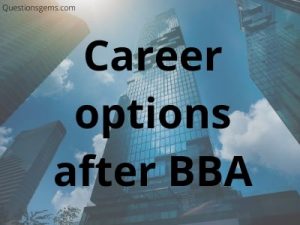 Career Options After BBA
1. MBA

MBA should be your first choice after doing BBA. Masters in Business Administration is actually one of the best courses to do after you have done your graduation with BBA. This degree will be helpful for those who are going to start their own business or be a part of their family business.

With MBA you will learn various aspects of business and how to deal with clients or manage your business in the real world. The practical knowledge of business that you will gain from an MBA will be helpful throughout your life. This concept also goes for the people are trying to get into the corporate world and want to take a corporate job.

You can do MBA in many subjects like marketing, sales, HR, finance, etc. Although experts advise that you should first take a job experience before applying in the MBA, as it will help you know your interest in the business world and narrow down your own weaknesses and strengths.

There are numerous MBA colleges present in the country as well as overseas. And you can get a college which you can afford. Although just take a good look at the college's placements and faculty to get a better education. There are various entrance exams also held from time to time which will get you in the top MBA institutes.
2. CA (Charted Account)

If your majors we're economics and accounts then you should go for the CA job. Although for this you will need to crack the exam which held every year and then you will get the job. The course of CA takes 5 years to complete and the age limit is 50 years (which is higher than any other jobs).

Being a Chartered Accountant will pay you well as well as it comes with a respect in the society. It may be a difficult course but at the end of the it's worth it.
3. Start-Up/ Entrepreneurship

In today's time, starting your own business seems like the best idea after completing your graduation. Just get the right idea about which business you wanna start. And then do a thorough research on it. The best part is, you can easily get the capital, if you don't have enough money to invest, through various government schemes that support the young entrepreneurs.

With our growing economy and technology the scope of a successful business increases. You may get some experience by working at a job and then start your business. It may sound a bit huge but if you have got the right idea and have the skills to run a business then you should totally go for it.
4. Law

If you are interested in the Law and wants to become a lawyer then you should consider law your career option after graduation with BBA. It is a 3-year course and anyone who has graduated can pursue law.

Although you will need to learn a lot about the politics and law and maybe the economics as well (if you want to become a corporate lawyer!). There are different kinds of options in the law present. You can study, criminal law, civil law, family law and so on. The process of becoming a lawyer may be long but it's worth it!
5. Digital Marketing

It's another promising field which is in demand right now. Here anyone can take up the course of digital marketing and enter the marketing world. It is a 2-year course where you will learn various aspects of marketing and learn how to meet the need of clients.

The business world is growing day by day and the fate of a business is directly proportional to the marketing so every businessman is seeking a good candidate who can market their products and services and expand their reach. And since marketing plays an important role in any business, chances of your getting a good salary out of it increases.
6. Hotel Management

As you know our country's tourist sector is increasing day by day which means the hotel business ins also thriving. Although that spent meet we have enough professional staff to run a hotel professionally. And there where a Hotel Management course help you.

Here you will learn about how to keep the guest happy and meet their needs with grace and elegance. This includes desk jobs as well as the hotel staff job. MBA in hospitality and tourism also be the best option for you after BBA.
7. Event management

No matter what, events are gonna happen. And with growing events in the country, taking an event management course doesn't seem a bad idea. Here you will learn how to manage an event and what will be its consequences.

Since events are not gonna stop soon from happening, this should be your best option as well. After completing the event management course, you can either work for someone or open your own event management business. It holds a good career option so don't feel guilty about yourself.
Courses After BBA
MBA
CA – Charted accountant
StartUp – Entrepreneurship
Law
Digital marketing
Hotel management
Event management
Conclusion:

So these are the best career options after doing BBA. Just make sure you are interested in the field you are choosing and you have the required qualifications. It's not easy to choose your career option so it's advised that you take a good look at all your options and then make a decision for yourself.

Alright then, this was our article for the best career options after BBA and we hope it was helpful for you. Thank you for visiting and keep coming for more such helpful content.