Bachelor of Computer Application is a 3-year long undergraduate course which is chosen by many students at this time. We are now at the point where our information technology is thriving and a large section of the economy depends on it. So it's natural that the scope of jobs and career opportunities after BCA will be considered huge.
Although it's a difficult thing to choose a career for yourself as you need to be fully aware of your options and then make the right decision for yourself. Your career should be one in which you are highly interested and the career choice is compatible with your qualifications. In this article, we have listed out some of the best career options for the candidates who hold a BCA degree.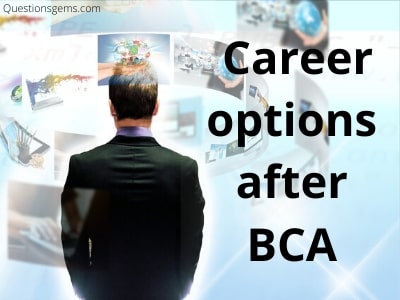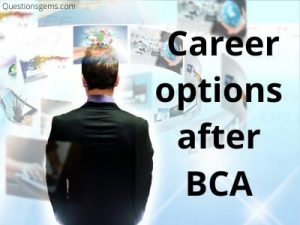 Also check-
Courses after 12th commerce
/
Courses after engineering
Career Options After BCA
1. MNC Job
Multinational Companies are always looking for skilled aspirants with a BCA degree and good knowledge of his field. So it's one of the best options for those who want a desk job. Although your role as a software engineer will vary from one MNC to another.
But some of the best positions at MNCs are software engineers, software consultants, network engineers, database administrators, test engineers, and so on. You need have to good academic scores and clear the interview as well.
2. App Development
How many apps you are depended on in your daily life? I guess a number of apps right. So it's established that apps are a good way to earn money and make a career for yourself. There are so many companies that would pay you to develop apps or you can also make your own app. But for that you need fo study app development. To become a professional app developer you need to have a good knowledge of computer and, programming and coding. So if you think you can pull that off then you must go for it.
3. Higher studies
After BCA you can also pursue higher studies. You can choose a field and get specialized in it so that you can get more decent jobs in the field of technology. You can do MCA which is Masters of Computer Application. Doing masters in CA will open new opportunities in the field.
And you can also pursue other diploma courses in the similar fields such as a master's degree in information management (MIM), masters in computer management (MCM), information security management (ISM), and so on.
4. Government Jobs
We all know the importance of good government jobs in our country and that's why we are suggesting you consider all the government jobs which require a BCA degree. You will find a lot of options for you to pursue your career such as, you can apply for the defense jobs which require technical knowledge, such as in navy or airforce.
Apart from these, you can also go for Public Sector Undertakings, such as BHEL. Apart from these, you can also go for generalized jobs such as in Banks, State Public services, or Union Public Services. All of them have their own advantages and you will also meet the criteria as well. Dig up a little bit more and go for them if you find them good enough for you.
5. Freelancing
Again thanking the technology, we have a lot of freelancing jobs too in this sector where you can do the work for any company, organization and get paid in return. If you think you are qualified enough to do the programming and coding then you should seriously consider freelancing as your career option.
This includes all the technical jobs, like graphic designing, web design, app developing and more. It's I doubt my a good option if you are thinking about working as well as pursuing higher studies.
6. Animation
We all know that the media industry is also growing day by day and with that, the scope of jobs increases for those who are interested in animation. Here you will be responsible for creating animated videos, and movies. You will also work with 3D animation and software.
There are many animation courses available in the country and you can also find some job oriented courses. Students will learn the necessary techniques about animation. The future of animation is bright so it will definitely help you in the future.
7. Database Management
Database Management is also a great course to do after BCA where you will learn about managing the business database. Here you will learn about the programming which is used to maintain as well as design the databases. Just like the above courses, you can easily get into this one as well.
8. Music and video processing
In this course, you will learn about audio signal processing and video processing which are applicable in several applications. This will also help in developing apps. The course is simple yet holds a great value in the future.
9. Personal Information Management
Personal Information Management is yet again a great course to do after doing BCA. It's also throwing as people need to maintain their personal information. There are so many jobs present in this field and if you excel at it you might get a well-paying job.
10. Programming languages
Programming languages are the backbone of information and technology sectors. That's why it would be good for you if you learn some programming languages which are in trend right now. With these languages, you can excel in any field of technology and computing. Make sure you learn the languages which are highly used.
Courses After BCA
MNC job
App development
Higher studies
Government jobs
Freelancing
Animation
Database management
Music & video processing
Personal information management
Programming languages
Conclusion:
So these are the best career option in our opinion after doing graduation in BCA. The course is prestigious in this time so make sure you use it well. These career options are well paying and exciting and maybe the dream job for some of you.
We have done our part by introducing you to the best career option after BCA and now it's your turn to choose what's best for you. We hope the article was helpful for you. Thank you for visiting our page.