Picking a career after high school is the most crucial part of our life. What you will pick as your major will decide your future and career opportunities. Speaking of picking a career option after 12th science PCM seems a little hard as most of the people that engineering is their only choice. But in reality, that's not the case at all! After 12th PCM you will have plenty of options to go for and find something different than engineering.
In this article, we are gonna share some of the best career options which you can choose after 12th science PCM. So let's not waste anymore of your time and get started with our list of some great opportunities you have in many different fields after 12th PCM.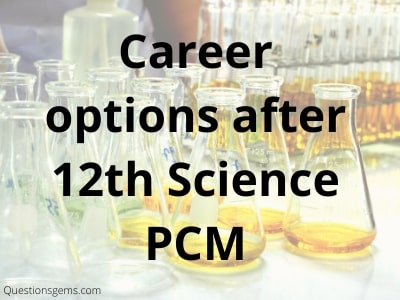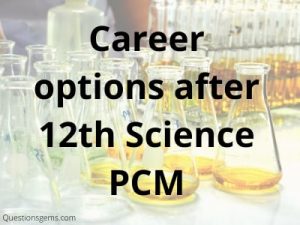 Career Options After 12th Science PCM
1. Architecture

Architecture is one of the best courses you can do after your 12th PCM. If you are interesting in building then this should be your first priority. And even if you haven't thought yourself becoming an architect, we would still suggest you to consider it as your option. You need to have a great sense of designing and planning so you can come up with new building designs and come up with something that satisfies your client. You will be responsible for building malls,  huge buildings, hotels restaurants and anything that needs to be a little out of the box and has a good design too.

There are several career options available in architecture such as urban planning, urban design, sustainable architecture, landscape architecture, interior design, industrial design and so much more.
2. Aviation

Don't wanna stick at a 9 to 5 job? Well, we have a perfect career choice for you! Who doesn't like to be up in the air and experience new places (well it's a pilot job so!) So becoming a pilot do sounds good. The money is good and you will get to work with science and technology and you get to travel, which is the best part of this job. So if you are interested in it you should definitely go for it.

You will command the plane (either passenger or cargo) and roam around the globe. You can get a job in many international flight companies. There are a good number of options to explore when it comes to which kinda pilot you wanna be. Overall it's a fun job and the money is good too.
3. Ethical Hacking

If you are good with coding then you should definitely consider Ethical Hacking as your career option. It's an exciting and offbeat career option and you will need to explore so many technologies. You can guess by its name you will be paid for hacking into other computers or systems but by all means, it will be ethical. Here companies will pay you to test their applications or technologies to find some kind of loophole and correct it. Generally, it includes computer breach and to test national security. Logical thinking and technical skills are some of the basic required skills for this job.

You will have many career options as big companies are becoming very concerned about their security and privacy so they hire a hacker to protect themselves from being hacked or cyber-attacks.
Do you like to travel by water and being around the water? Well here is a good career option for you as well and this is the Merchant Navy field. In the Merchant Navy, you will be responsible for the transportation of goods across one place to another by a ship! It's mainly a commercial transport of goods and cargo but you can also choose an option for a passenger cruise ship. Although you will need to have to be patient enough to be in water for a longer period of time. There are also many different departments to work with and you can choose the one you find most suitable for yourself.
5. Forensic Science

Have you ever seen a crime/investigation based show? Well, then you must know the importance of forensic science! Forensic Science is becoming very popular these days and if you want you can have a good career in this field. Although you have to have knowledge from different fields like chemistry, physics, anthropology, biology, and computer science to get a job in Forensic Science. Observation and investigation skills are also a crucial part of this job. It's surely a tough field to work in, but if you like some drama and surprise then this should be your best option as a career.
6. Computer Science and Technology

Computer Science and Technology is another prominent field that you can go for after doing 12th PCM. This field requires coding and programming knowledge. Although we don't need to tell you the importance because nowadays almost everything depends on technology and science. So in the future there will be lots of scope for students who have studied Computer Science and Technology.
7. Defense

Defense is also a great option for those who have done their 12th with PCM subjects. It's one of the prestigious careers one can have as he will serve his nation and country in the best way possible, by protecting the country. In defense, you will have good options in the army, navy, and airforce. All these fields are really great and you can make good money too. But entering in this field needs to pass eligibility test.
8. Animation and Graphics

Animation and graphics too are great fields. And with the increase in demand of VFX and post-production work in several digital content making you will surely have some good career options in the media and film industry! In this field, you can go for 3D animation, digital filmmaking, graphic design and so much more. Strong creative skills should be your forte.
9. Physical science

Physical Science is too a very amusing career field after 12th PCM. This refers to the study to the study of inorganic materials, earth, atmosphere as well as space. Space is something, people find a most interesting field and if you too are interested in it then this should be your career option. Astronomy, geology, meteorology, disaster management are some of the fields you will find here.
10. Engineering

Last but not the least, we decided to include Engineering as well in our list of best career options after 12th science PCM. Although most of you should be already aware of it but still there many different kinds of engineering present so you can choose from those as well. Here you can easily find a college that has the course you are looking for but make sure you choose your college wisely!
Courses After 12th Science PCM
Architecture
Aviation
Ethical hacking
Merchant navy
Forensic science
Computer science and technology
Defence
Animation & Graphics
Physical science
Engineering
Conclusion:

So these are the best career options you can look after doing 12th science PCM. Take a good look at these options and your full research on them before picking out one (although we have mentioned some details but still you can use your own research to make an informed decision).

We have done our part by introducing these great options for your career now it's your turn to decide for yourself. We hope you make a good choice. Thank you for visiting our page.