Competency Based Interview Questions by questionsgems. Here we provide top rated Competency Based Interview Questions.
–
What is Competency Based Interview?
–"Competency-based questions are designed to let you talk; they are open and they invite a response that tells the employer about a real-life challenge that you've faced.
–
Competencies are the skills, behaviours and knowledge you'll bring into the role. Employers will use open questions to discover real-life scenarios where you can demonstrate you used your competencies to the best effect.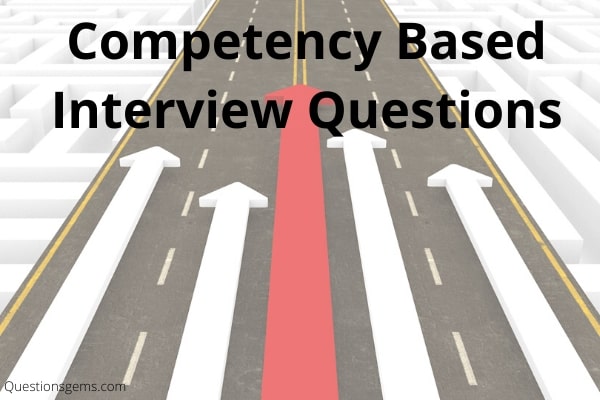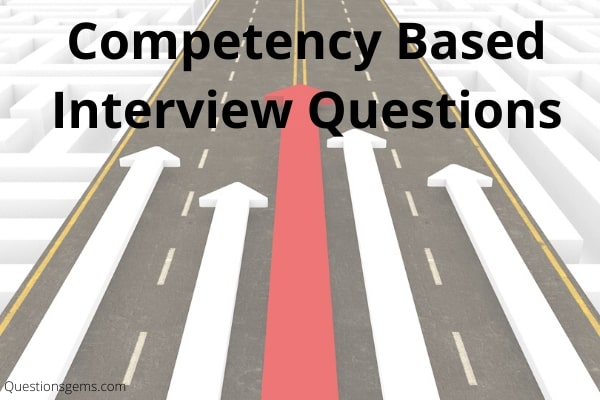 Competency Based Interview Questions
1.Describe a time when your communication skills made a difference in a situation. What was it about your communication skills and how you approached the problem or task that helped?
2.Explain an exciting new strategy that you've tested. Describe how you pitched it and what the results were, good or bad.
3.Describe a time when you had to convince a manager or senior team member that a change in process or approach was necessary for success. What made you think that your new approach would benefit the company and what was the outcome?
4.Describe a situation where you failed to communicate properly and what you believe you did wrong in this situation. Looking back at it, what would you have changed and how may have that affected the outcome?
5.Explain the biggest risk you may have taken in your professional career or personal life. How have these risks made you who you are today and how did you go about making your decision?
6.Describe a situation in your last job where taking a risk resulted in success? Now describe the opposite, where your decision to take a risk landed in you unsafe waters. How did you navigate back to share and bounce back appropriately?
7.Describe a past project or task where you needed to involve members from others teams throughout your company. How did you come to realize that you needed that extra assistance and how did you organize a team to help get buy-in from a company, manager or executive team?
8.Explain a time when you had to compile a team to help improve an aspect of your company. How did you go about finding the right members to involve? What were the existing problems within the company and how did you lead a team to address them?
9.Describe a situation where you were tasked with inspiring a team member or several members of your company. How did you get your colleagues excited about the project or task at hand?
10.Provide an example of a time where you had various projects on your plate and you had to prioritize one over the other. How did you come to that conclusion? Was it the right decision and what was the outcome or prioritizing that task or project?
Conclusion:

These are the best Competency Based interview Questions. I hope you guys like our collection of Competency Based interview Questions.  If you have any question or suggestion just comment below or contact us.

Thanks