What's the worst part of getting a job? It the interviews! No one likes taking the interview, the pressure of sitting in front of the interviewers and answering their questions and stuff. It's stressful enough if a person goes through this once but going through multiple interviews and stressing out at each stage of the interview is much more difficult than taking just one interview and hearing back.
When you go through multiple interview stages, each one gets a little more difficult than the last one. Sure you find a little joy in the fact that you are coming one step closer to your job, but you also get worried that you might sabotage your next interview and lose your job. Stressing about the interview is completely fine, but you do have to realize that you have to work hard a little bit to get the job and crack the interview.
Since you are here, we are assuming that you, too, are going to take the final interview soon. You must be anxious and nervous with a little excitement for your next interview. Well, it's okay to feel all these things but you do need to focus all of your energy on your final interview and prepare for it as well.
But how do you that? Well by working on your answers and making sure you have what it takes to crack the next interview. A list of the final interview questions might help you with that as well. If you are looking for that then you are at the right place.
Here we happen to have a list of all the best final interview questions and giving them a read would surely help you out. So go ahead and take a look to prepare for the final interview that you would take shortly.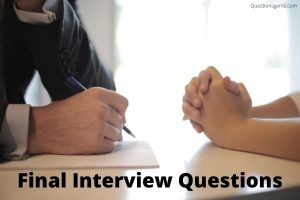 [toc]
Final Interview Questions
What are your weaknesses?
Why should we hire you?
Why do you want to work here?
What are your goals?
Why did you leave (or why are you leaving) your job?
When were you most satisfied in your job?
What can you do for us that other candidates can't?
What are three positive things your last boss would say about you?
What salary are you seeking?
If you were an animal, which one would you want to be?
Now that you've learned the full scope of this position, what are your salary expectations?
If hired, how would you want to grow within the company? How do you think you'd do it?
What are your interests outside of work?
How was your candidate experience so far?
Why would/wouldn't you apply for this position again?
What would make you quit in your first month here?
When is the earliest you can begin working for us?
Is this a new role, or was there someone in the job previously? If the role was previously filled, why did that person move on?
What would a typical day or week look like for your new hire?
What are the working hours, and your expectations for overtime?
How does this position help your department and the larger organization achieve their goals?
Does your department collaborate with other departments? If so, how?
What kind of training will your new hire receive?
What technology will your new employee use on the job?
How will expectations and assignments be communicated in this role?
Final Interview Questions To Ask Employer
What do you hope your new hire will be able to accomplish in the first three months?
Over the course of a year, how is success measured in this role?
How would you describe your management style?
How will you as a manager interact with your new hire? Will it be through a weekly one-on-one check-in, or do you have another system?
How do employees receive feedback on their performance?
In your opinion, what is the most fun or creative part of this role?
What would you say are the top three most useful soft skills a person needs to be successful in this role?
What is your background? How did you land in your current role?

How accessible are the company's senior leaders? In what context do they interact with employees who aren't their direct reports?
When would you like your new hire to start?
How would you describe the work-life balance for members of your team?
Is there a dress code in your department?
Is there travel involved in this role? If so, how often?
Does the company offer employees any professional development opportunities?
Tell me something about yourself in brief
Final Interview Questions To Ask A Candidate
Describe who you are. or Tell me about your background.
What do you always regret? or Do you have any regrets?
How do you respond to change?
Are you demanding as a boss?
Are you an organized person?
Can you describe your time management skills?
What's your absenteeism record like?
Are you reliable? or Can I trust you with responsibilities?
What are the three things that are most important for you in a job?
What was the toughest decision you ever had to make?
If you won a Rs.10-crore lottery, would you still work?
Give me an example of your creativity.

What makes you happy?
How do you work under pressure? Can you handle the pressure?
Are you willing to relocate or travel?
What do you know about us or our company?
How long do you think you will work for us after we hire you?
Final Round Interview Questions For Freshers
Are you applying for other jobs? Do you have any other offer in hand?
Why do you want to work for us or our company? or Why do you want this job?
Do you know anyone who works for us?
Why should we hire you? or Why should I hire you?
What are your salary expectations?
Do you have a good work ethic?
How do you deal with feedback and criticism?
Your interview is more or less coming to an end when the interviewer asks you, "Do you have any questions for me?"
What are your strengths and weaknesses?
You have not done your PG yet. This is not a drawback, but don't you think you should get a PG degree asap?
You have changed jobs/jumped ship too many times already, why so?
What are your strong points? or What are your strengths?
What is your greatest fear?
If I call up your current or previous reporting manager now, what will be their opinion about you? What will they say that you need to work on?
Do you have any serious medical issues?
Did you ever have a conflict with your current/previous boss or professor?
What do your friends/co-workers say about you?
What did you do in the last year to improve your knowledge?
Explain the difference between group and team. Are you a team player?
What is your ideal company or workplace?
Have you ever had to fire anyone? How did you feel about that?
What is the most difficult thing that you've ever accomplished? or What is the most difficult thing you have ever done?
What is the difference between hard work and smart work?
How do you feel about working weekends and night shifts?
Where do you see yourself 3 years from now? or Where do you see yourself in 5 years?
Give an example of a time you had to respond to an unhappy manager/ customer/ colleague/ professor/ friend.
How quickly do you adapt to new technology?
What software packages are you familiar with?
On a scale of 1 to 10 how would you rate yourself as a leader?
What makes you angry?
Are you open to take risks? or Do you like experimenting?
What are your future goals? Tell me about your short term and long-term goals.
What motivates you?
What are your hobbies? or What are you passionate about?
What are your biggest achievements till date?
What are you most proud of?
What has been your greatest failure?
What do you always regret? or Do you have any regrets?
What are the company's policies on working remotely?
What time do people in this department typically arrive at work?
How would you describe your company culture?
Do you have any questions for us?
Why Should You Know Who Will Interview You?
Conclusion –

So these are some of the most common final interview questions that you have been looking for. These questions are certainly not easy and you would surely need to put a lot of your efforts into these questions to prepare. The final interview questions that we have listed down in our aforementioned list have been picked up by a few experts and professionals who know a thing or two about the final interviews. However, there might not be the only questions that would be asked during the final interview and you might need to prepare other questions as well, but these are the commonly asked questions, and answering them currently would be a plus point for you.

Thank you for being here and we hope you found our article helpful.