If anyone takes a football quiz seriously it's the die-hard football fans! Football fans are the most loyal fans as they are more likely to follow all the games and cheer their teams when the tournament comes. This might be the reason you see such a big crowd in the football matches. Anyway, if you are here we are assuming you are looking for the football quiz questions. If yes then you are at the right place.
We know how football is such a big deal and why anyone would never wanna lose a football quiz, especially they are a fan. But since no one can ever know what kind of questions would be asked in a football quiz, there comes a little nervous for the quiz. But don't worry! Because we have got your back.
In the following article, we have listed some of the best football quiz questions that are most likely to be asked in the quiz. Take a look at the questions and see if you can answer, it will be like your own little quiz here.
Here are some of the most common Football Quiz Questions.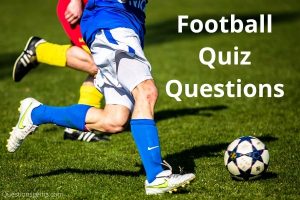 Football Quiz Questions
Q. Which of following team do not play in stripes?

A. Newcastle

B. Southampton

C. Tottenham Hotspur

D. Lincoln City

Ans: C
Q. Which of the following country hosted the first Football World Cup?

A. America

B. Argentina

C. Brazil

D. Uruguay

Ans: D
Q. Which country became the first nation to win the Football World Cup?

A. Uruguay

B. Germany

C. Argentina

D. Belgium

Ans: A
Q. When was first official international football match was played?

A. 1929

B. 1872

C. 1902

D. 1870

Ans: B
Q. Who among the following scored the first goal in World Cup history?

A. Johino

B. Bert Patenaude

C. Lucien Laurent

D. Pele

Ans: C
Q. Who among the following achieved the first World Cup hat-trick?

A. Johino

B. Bert Patenaude

C. Lucien Laurent

D. Pele

Ans: B
Q. Which of the following country won Football world Cup maximum times?

A. Germany

B. Italy

C. Argentina

D. Brazil

Ans: D
Q. Who among the following player scores highest number of goals in Footbal World Cup?

A. Jurgen Klinsmann

B. Meradona

C. Miroslave Klose

D. Pele

Ans: C
Q. Which of the following term is recognised as an early form of football by FIFA?

A. kemari

B. Episkyros

C. Cuju

D. Inuit

Ans: B
Q. When was the first FIFA World Cup inaugurated?

A. 1930

B. 1931

C. 1932

D. 1933

Ans: A
Q. In 2018, Cédric Bakambu left Spanish side Villareal to join which club in a £65 million deal?

Ans- Beijing Guoan
Q. Who was Paul Merson talking about when he said: "I could win the league with Olympiacos. They've won it 107 times and it's only been going 106 years. Why has it always got to be a foreign manager? What does he know about the Premier League?"

Ans- Marco Silva
Q. What was the name of the Sutton United goalkeeping coach fined for eating a pie during his side's game with Arsenal?

Ans- Wayne Shaw
Q. Which club won the 2017 UEFA Super Cup?

Ans- Real Madrid
Q. Which club won the Croatian First League for the first time in 2016-17?

Ans- HNK Rijeka
Q. Roy Chipolina has captained which international football team

Ans- Gibraltar
Q. Which Argentinian club play their home games at La Bombonera?

Ans- Boca Juniors
Q. Watford coach Javi Gracia managed which club before arriving at Vicarage Road?

Ans- Rubin Kazan
Easy Football Quiz Questions And Answers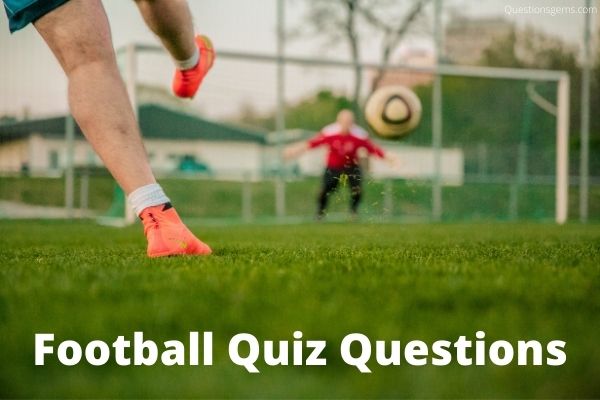 1.Which Premier League winner's father played rugby for Wales?
2.What year did the Premier League start?
3.Who was the first sponsor of the Premier League?
4.In what season did Roman Abramovich take over Chelsea?
5.Which player holds the record for the most goals in consecutive Premier League games?
6.Kevin Phillips won the Golden Boot in 1999/2000, who was the next English player to do so?
7.Which player holds the record for most consecutive Premier League appearances (310)?
8.What was significant about Mario Balotelli's only assist in the Premier League for Manchester City?
9.Who scored the first 'perfect hat-trick' (left foot, right foot, and header) in the Premier League?
10.What player scored four goals in 12 minutes after coming on as a sub versus Nottingham Forest?
Answers-

1.Ryan Giggs

2.1992

3.Carling

4.2003/04

5.Jamie Vardy

6.Harry Kane

7.Brad Friedel

8.It was for Sergio Aguero's title-winning goal vs QPR

9.Jimmy Floyd Hasselbaink

10.Ole Gunnar Solskjaer
Conclusion –

So these are the best Football Quiz Questions that you can find on the internet. We are positive that if you are taking a quiz, there are high chances that some of these questions would be asked. These might not be all but they will certainly help you to prepare for the upcoming football quiz that you are going to participate in. We would like to hope that you knew some answers already and if not then you got to learn something today! Thank you for visiting us and we are very glad to help you out with these Football Quiz Questions.