Having a PhD is a very big deal for anyone out there. There is nothing more amazing than getting this prestigious degree and having Dr. In front of my name. People work very hard to get this title and dedicate themselves fully to their field of subject. There are very less few people who can get a PhD degree as it's not a piece of cake. There are so many things you have to achieve if you want that title. After that, you will have to write your thesis and take an interview to prove yourself.
The interview is the tricky part here. A lot of people find it one of the toughest steps in getting a PhD degree. Nonetheless, if they want to get the PhD title they will have to do good at the interview. The interview is a big deal but the same is not impossible and anyone can do it with the right kind of guidance and directions. You indeed have to study and all, but after that, you need to practice for your PhD interview as well. How? Well by taking a mock interview where you get to answer the PhD interview questions.
But where will you find the best PhD. interview questions? Well, that's why we are here for. We have collected a number of PhD. interview questions that you can try to answer and see what kind of questions they generally ask.
These are the popular PhD interview questions that will be asked to you.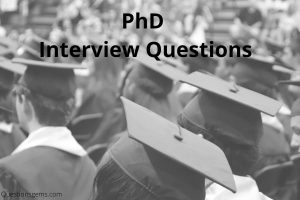 [toc]
Also check- Job interview questions / Survey demographic questions
PhD Interview Questions
Tell us about yourself
Why do you want to do a PhD?
Why are you interested in this program?
What experience makes you a good candidate?
How did you develop this proposal?
What difficulties would you expect to encounter during this project?
What are your strengths and weaknesses?
Tell us about a time you experienced a setback
What are your future career plans?
Do you have any questions for us?
What do they do to promote work/life balance?
What can your potential mentor/supervisor do to advance your career?
How does your potential supervisor mentor students?
What is the program's job placement record?
What sort of resources does the university have? (Libraries, lab equipment etc.)
What are their funding sources?
What is the program's average time to degree?
Will I have the opportunity to teach/present/patent/publish?
Don't pretend that you know things that you don't. If you don't know something, admit it. That is better than to give a weak answer signalling that you don't know what you are talking about.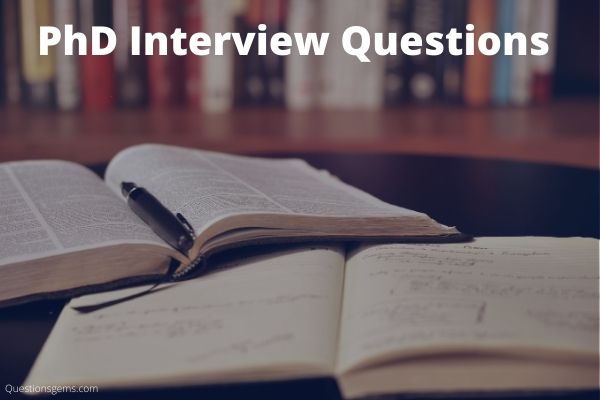 Don't undermine the importance of 'soft' general questions like "Where do you see yourself in future?" or "What is motivating you to do the PhD?"
Don't be passive in communication. We are interviewing you but you are also interviewing us.
Don't give too general answers. Be specific and to the point because that will show us that you are not feigning but you know what you are talking about.
Don't get nervous if you think the interview is not going well. In many cases this is just your personal impression which may be wrong.
Don't come dressed as if you just woke up – make an effort!
Don't talk jargon. It is not very likely that we were born in the same place or from the same background so we may not understand what you are saying.
Don't try to pretend that you are someone you're not. We don't like pretentiousness and can usually see straight through it.
Don't try to be too funny. We may have a different sense of humour than you do, especially if you come from a different culture.
Don't become too emotional during the PhD interview. Enthusiasm is good but not if it's exaggerated, then it becomes quite off-putting.
Conclusion –

So these are some of the most common PhD interview questions that are being asked. Keep in mind that we have added the generic PhD questions that apply to everyone. Just like that, we have come to an end for the article and we hope you found it helpful enough.