California is one of the biggest states in the United States of America and has one of the biggest economies in the US. This is mainly because of the ease of doing business as well as better access to venture capital.
Starting a business of your own is anyway a better idea and it doesn't matter where you are starting the business. The only thing matters are you understand the local market, the economy of the place of the business, and how to start the business in that particular place (the rules and regulations for starting a business). This article is going to cover how to start a business in California.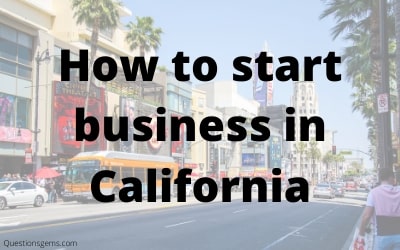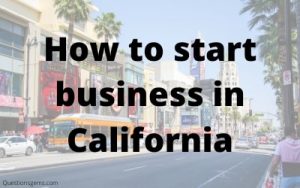 How to start a business in California
1. Choose the right business idea

Anyone can decide that they wanted to start a business of their own but most people do struggle with coming up with the right business idea. So make sure whatever business idea is on your life is right for the place and it has a good opportunity in the future.
You can also conduct research and figure out the competition for the business idea and how you are going to deal with that too. Apart from an economic friendly, the business idea should also suit your interest and you must have knowledge of it. And if you still haven't come up with a business idea then you can easily take a tour of the city and inspire yourself with some brilliant business ideas.
2. Plan your business

After you have settled with a business idea the next thing you will be required to do is to come up with a business plan. And it's crucial that before taking any further step you make a good business plan. There are a lot of things you will have to consider for starting a business and there are also a number of steps that you will need to take.
You can take a notepad and start writing the steps that you need to so that you will have a clear idea about what you need to do and how much you have to prepare. This step is also essential because you will get to know what challenges you are going to face and how you are going to tackle them.

The planning of your business includes:-

What kind of service and product you will provide?

You must keep a clear idea about the product and service you are going to provide to your customers and how you are going to provide it.

What will be your target market?

It's also a crucial question that you need to ask yourself when you have a clear idea about the target market then you will be able to come with a good marketing strategy and it will further invite the potential customers which will result in more profit.

Plan the finances!

Well you must be already aware of this, the finances are one of the crucial things and you need to make sure you sorted it out before starting your business. The best way to do this is to come up with to estimate the operational and ongoing cost for your business.
The operational cost will be the one which will be required to start the business this will include the capital, the leasing of property for your business, equipment, etc. Whereas the ongoing cost is one that needs to be required to keep the business running. It will include the rent, salary of the staff, the essential raw material, etc.
3. Choose a name for your business

A lot of people take it lightly and not put a lot of thought into this. So you will have to come up with a good business name that defines the right identity for your business. Choose a business that is relevant for your business and is catchy and easy to remember. The next and most important thing that you will have to keep in mind while choosing the business plan is if it is available as a .com domain because sooner or later you will have to establish a web presence for your business.

4. Choose the right business entity

If you have decided the name for your business it's time that you choose the right business entity. It sure sounds a big deal and it actually is. The business structure is what will define your business and how you will execute the finances and pay taxes.

We have written the major business entities/structure that is popular and a lot of people consider them, so take a look and choose the one which suits your needs.

Sole proprietorship –  with this business entity you won't have to register any separate organization documents as the business will treat you and the business as a single entity.

Partnership – this one is just like the sole proprietorship but with all of the partners. All the partners will have to make a legal written agreement, this will help you solve any future conflicts.

Corporation – this kinda business entity is for the big companies. Here you will need to submit the articles of incorporation with the state of California. Here you will also need to hire a corporate lawyer or agent. You must submit some required bylaws as well. This will surely require more efforts and you will need to make sure you follow the rules and regulation which is given by the state of California.

LLC – this is the most appropriate business entity that is taken by the businessmen. Here you and your business will be treated as separate entities. In LLC you do require to appoint an individual agent or corporate agent for service of process in California. You will be required to make an operational agreement to establish the basic rules about how your LLC business will operate.

This was all about the business entities but you will further required to other entities if you are still not sure about the above-mentioned one. You can take the help of an expert as well to decide the perfect business entity for your business.
5. Register the business with the state

Now that you have chosen the name, business plan, and business entity, it's time that you register the business with the state by following the rules and regulations provided by the state of California. This will help you get the required license and permit from the state to conduct your business without any problems.
Registering the business with the state isn't a big task and you will likely to easily get the required documents.
6. Get the required permits and license

The first thing you need to do is to get the EIN (employer identification number) also know as Tax ID number, it is important because only with an EIN you can conduct your business as it will give an identity for your business. This will help you with the taxes and opening a separate business account for your business.
After that make sure you have the required business license and permits for conducting your business in the state. So you won't have to face any issues with your business in the future. This includes general business license, regulatory license, and professional and occupation license (see which one is for your business!).
7. Open separate business accounts and credit account

We would recommend you to open separate accounts for your business and personal use. It will keep your finances separate and further ease the business. To open a business account you will need an EIN. When you have different bank accounts, it becomes easier for you to manage and files taxes. Furthermore, your private and professional assets remain separate and protected.
Similarly, the business credit card will help you to get easy loans and credits. It will also keep a business's credit history.
8. Get business insurance

Every business requires business insurance. See every business requires insurance just like you need insurance for yourself, your car, or property. It will further protect you from any damage or business issues. There are many types of insurance present for businesses such as damage insurances, such as fire or theft, liability insurance in case someone sues you, workers' compensation insurance, etc. Choose the right insurance and you will be good to go.
9. Establish your business website

In this digital era, you will require a business website so people get the right information for the business. This will also help in the marketing strategy as well. So hire a website designer for your business website and make sure you have added all the information on the web page.
Conclusion:

Here we have come to an end for our article about how to start a business in California. You have anyway made a great choice by choosing the state with one of the largest economies and on the plus side you get to live in the beautiful state. We hope you found the article helpful. So best of luck for your business plan and be determined for your business.

Thank you for visiting us and keep coming for more such helpful articles.