The morning meeting is one of the important sessions for every school! It's the time when students and teachers sit in a circle, in the morning, and do fun activities that build a positive atmosphere and bring positivity in children and help them learn better.
It's a great way to build children's confidence, make them learn better in a fun way and set them up for success socially as well as academically. On an average, a session lasts for about 20 to 30 minutes.
If you have just joined a school as a kindergarten teacher then you must be having a lot of questions about the morning question, and we are here to answer each one of them (hopefully).
In this article, we have gathered up a number of questions that you can ask your students and make the morning meetings more interesting and fruitful. But before starting out our list of morning meeting questions, we are gonna answer some of the frequently asked questions about morning meetings.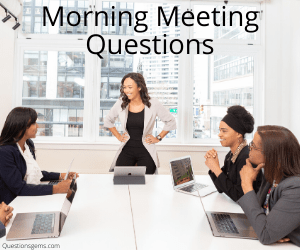 [toc]
How do you start the morning meetings?
The first thing to do in a morning meeting would be to post a welcome message for students to let them know they are welcome and free to talk about their ideas. Furthermore, you can start with greetings and know each other's names and become friends with them.

You can also introduce new ideas on which the morning meeting would be based on! For example, you can say today we are gonna talk about this XYZ thing and let them know the activities which would be done in the meeting.
What do you talk about in the morning meeting?
When it comes to "what are we gonna talk about in the morning meeting" there are a number of things you can find to talk about! But you need to keep in mind that those ideas and things that you are gonna talk about would encourage children to be kind, genuine, passionate and encouraged for the activities which are done in the school.

You can also share stories that give them positive messages as well as you can ask the students to share their stories. Some of the popular ideas and questions have been given below which you can bring in the morning meetings and start a conversation with your students.
What do you do at the morning meeting?
There are plenty of things to do at morning meetings, besides all these activities should be fun as well as educational!

With the right kind of activity, you can encourage children to participate in the activities and learn better.

A quiz would be the best activity to do in a morning meeting, this would alert the students and wale them up as well as make them productive. You can also try a brain teaser to give them a brain exercise and encourage their problem-solving abilities.

You can also introduce them with fun games which makes them wanna attend the morning meeting. Apart from these you can also have some reading sessions and make them read out their notes!
Morning Meeting Questions
What makes you feel proud of yourself?
Where do you travel in your dreams?
If you had a superpower, how would you change the world?
What would your story be?
How many teeth do you have?
What makes you feel loved?
How will you grow this week?
What's your interpretation?
What is your favorite part of this season?
What is important to you?
What do you love about your classmates?
Conclusion:

These are the best Morning meeting questions. I hope you guys like our collection of morning meeting questions. If you have any question or suggestion then just comment below or contact us.

Thanks