Are you planning to sell your house? The first step you should take is to hire a good realtor. It is very important to choose your realtor wisely as he is gonna advertise your house to buyers and make appealing demands. He is the who can make or break your house deal. He will save you the trouble of meeting with hundreds of buyers and find you a good deal. But are every realtor is a good one? I don't think so, that is why you should ask some questions to your realtor before hiring him. Negotiating is also helpful to make better deals. Here is the list of questions that you should ask your realtor.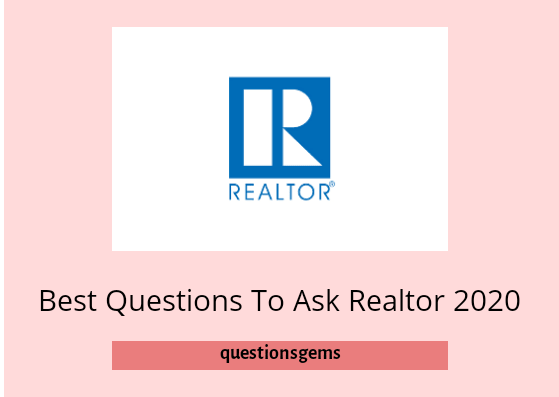 24 Questions to ask real estate agent
What are the drawbacks of my home?
How will you keep me informed?
How Long Have You Been in the Business?
What experience do you have?
How do your realtor fees work?
What's Your Average List-Price-To-Sales-Price Ratio?
How will you market my home?
What's Your Best Marketing Plan or Strategy for My Needs?
Can You Provide References?
What Are the Top Three Things That Separate You From Your Competition?
Can I Review Documents Ahead of Time?
How many clients are you currently representing?
Do you work solo or as part of a team?
Is this area growing or declining?
Can I have a CMA(comparative market analysis) for the area?
Can I see your references?
How Will You Help Me Find Other Professionals?
How Much Do You Charge?
What Kind of Guarantee Do You Offer?
What Haven't I Asked You That You Think I Should Know?
How long have you been working as a real estate agent?
What percentage of your clients are buyers? How many are sellers?
Which neighborhoods do you primarily work in? How many homes have you closed in my neighborhood?
What marketing tools will you use to help me?
Questions to ask realtor
What is your average list-to-sale ratio?
Have you completed many foreclosure or short-sale transactions?
How quickly can you help me view a home that I want to see?
How long do you usually work with buyers, from the first viewing to closing?
How will you keep in touch with me, and how often can I expect updates?
Do you have a recommended vendors list?
What should I avoid in the home buying (or selling) process?
What questions do you have for me?
Questions to ask realtor when buying first home
What Other Expenses Should I Expect When Buying a House for the First Time?
How Much Will Property Taxes Cost?
How Much Can I Afford?
Do I Have an Emergency Fund?
How Long Do I Plan to Stay in the Home?
Can I Still Afford to Save as a Homeowner?
What Are My Rights as a Borrower?
What Type of Insurance Coverage Will I Need?
Questions to ask a realtor about a property
Is there anything that you would want to know about the house if you were buying?
Why is the owner selling?
Exactly what is included in the sale?
How long has the property been on the market?
How long have the owners lived there?
Has the property repeatedly changed hands?
How did the agent decide on an asking price?
What is the minimum price the seller will accept?
What offers have they had so far?
When do the sellers have to move out?
Can you speak directly to the sellers?
Which way does the property face?
Have any major works been conducted?
Is the property listed? If so, what grade is it? And is it in a conservation area?
How much is the Council Tax? And how much are utility bills in the area?
Can they explain the Energy Performance Certificate?
How old is the property?
Can you try the taps?
Have any of the rooms been redecorated recently? If so, why?
Can you move the furniture and have a peek under the rugs?
Have there been any problems with the boiler recently?
How new or how sturdy are the drains and guttering?
Do you have noisy neighbours?
What can they tell you about the local neighbourhood?
Conclusion:

These are the best Questions to ask realtor. I hope these questions will help you to ask questions to your realtor before selling or buying a home. If you have any question or suggestion then just comment below or contact us.

Thanks