Looking for buying a house? I am sure this would be one of the biggest investments that you would make in your life so far. The thing is buying a house is far from a piece of cake and you would have to put all your efforts and strategic planning into this new investment.
The thing is no one buys a house directly nowadays and everybody needs a realtor. Getting in touch with a realtor when you are buying or selling a house seems like a smart move. Although you can't totally rely on a realtor that they would make a good move on behalf of you and that is why you need to do something on your part as well.
It would be smart if you ask a few questions to your realtor before you finalize the house to buy. It is pretty important that you know your realtor and takes a full interest in their experience and how effective their deals would be. There are a few must-ask questions that you have to ask your realtor before you give them.
It's a pretty simple thing, you are making a big investment and you don't want things to go south. So what you should do is take full responsibility and make sure the realtor would provide you the best deals. Hence asking some very important questions to your realtor!
People do find themselves lost when it comes to what questions they need to ask their realtor. And no matter what we have prepared to ask them, we might forget to ask a few important questions or be in a dilemma of what we should ask them.
So here we have decided to help you out in this situation and brought you a list of the best questions to ask a realtor. Take a look at the following list and see what you should ask your realtor before you buy a house or even selling the house as well.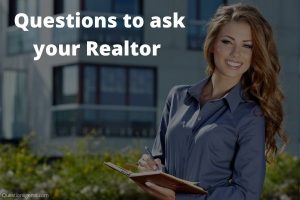 [toc]
Questions to ask real estate agent
What are the drawbacks of my home?
How will you keep me informed?
How Long Have You Been in the Business?
What experience do you have?
How do your realtor fees work?
What's Your Average List-Price-To-Sales-Price Ratio?
How will you market my home?
What's Your Best Marketing Plan or Strategy for My Needs?
Can You Provide References?
What Are the Top Three Things That Separate You From Your Competition?
Can I Review Documents Ahead of Time?
How many clients are you currently representing?
Do you work solo or as part of a team?
Is this area growing or declining?
Can I have a CMA(comparative market analysis) for the area?
Can I see your references?
How Will You Help Me Find Other Professionals?
How Much Do You Charge?
What Kind of Guarantee Do You Offer?
What Haven't I Asked You That You Think I Should Know?
How long have you been working as a real estate agent?
What percentage of your clients are buyers? How many are sellers?
Which neighborhoods do you primarily work in? How many homes have you closed in my neighborhood?
What marketing tools will you use to help me?
Questions to ask realtor
What is your average list-to-sale ratio?
Have you completed many foreclosure or short-sale transactions?
How quickly can you help me view a home that I want to see?
How long do you usually work with buyers, from the first viewing to closing?
How will you keep in touch with me, and how often can I expect updates?
Do you have a recommended vendors list?
What should I avoid in the home buying (or selling) process?
What questions do you have for me?
Questions to ask realtor when buying first home
What Other Expenses Should I Expect When Buying a House for the First Time?
How Much Will Property Taxes Cost?
How Much Can I Afford?
Do I Have an Emergency Fund?
How Long Do I Plan to Stay in the Home?
Can I Still Afford to Save as a Homeowner?
What Are My Rights as a Borrower?
What Type of Insurance Coverage Will I Need?
Questions to ask a realtor about a property
Is there anything that you would want to know about the house if you were buying?
Why is the owner selling?
Exactly what is included in the sale?
How long has the property been on the market?
How long have the owners lived there?
Has the property repeatedly changed hands?
How did the agent decide on an asking price?
What is the minimum price the seller will accept?
What offers have they had so far?
When do the sellers have to move out?
Can you speak directly to the sellers?
Which way does the property face?
Have any major works been conducted?
Is the property listed? If so, what grade is it? And is it in a conservation area?
How much is the Council Tax? And how much are utility bills in the area?
Can they explain the Energy Performance Certificate?
How old is the property?
Can you try the taps?
Have any of the rooms been redecorated recently? If so, why?
Can you move the furniture and have a peek under the rugs?
Have there been any problems with the boiler recently?
How new or how sturdy are the drains and guttering?
Do you have noisy neighbours?
What can they tell you about the local neighbourhood?
Conclusion:

Here we have come to an end for the article, Questions to Ask a Realtor! These remain some of the must-ask questions for a realtor. If you have trouble remembering these questions then you should certainly write these questions and ask them when the time is right. All that matters is that you ask these questions to your realtor and you get the answers that can help you reach a decision. After all, nobody wants to take a risk when it comes to buying a house!

Thank you for visiting us and we hope you got everything you have been looking for. It was a pleasure to help you out and come back for more such content in the future as well.