Receptionist job isn't as easy people would think when it comes to an optometry receptionist, receptionist may require to have some basic knowledge about this field. The important thing is you will need to pass the interview to get the job and for that, you will have to be ready and prepare yourself for the interview!
First of all, let's talk about optometry! It's a place where people get the treatment for the eye (which you would already know!). So to deal with the patients or people who come to the clinic or hospital you will need to have at least some knowledge about the field.
Also, you will need to be patient and polite with people, all these skills will be tested via your interview and that's why you need to know what kinda questions they are gonna ask. So go ahead and read our to find out which questioned are frequently asked for optometry receptionist questions.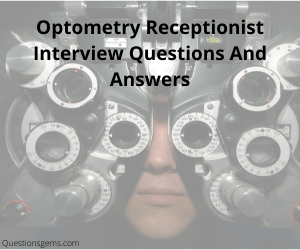 Optometry Receptionist Interview Questions
1.Why do you want this optometry receptionist job?
2.What have you learned from mistakes on the optometry receptionist job?
3.What challenges are you looking for in this optometry receptionist position?
4.What is your experience level working with multiple-line phone systems?
5.What is your word-per-minute rate when typing and what is your error rate?
6.What is your experience level with traditional software programs and office equipment?
7.What are your most/least favorite things about being a receptionist?
8.What is the biggest daily personal challenge you face in this role and what have you done to improve it?
9.Describe to me the duties you were responsible for in your last position.
10.What is the extent of your customer service  experience?
11.In your opinion, what role does a receptionist play in contributing to office culture?
12.What methods do you use to manage your daily schedule?
13.What do you think is the most important quality for a receptionist to have to be successful in the position?
14.Are you available to work overtime if necessary?
15.What experience do you have in handling secure or confidential information?
16.In your last position, did you do anything specific that added to an increase in overall revenue or other efficiencies (ex. saving time or reducing costs)
17.Can you tell me about a time you felt overwhelmed at work and how did you handle that?
18.Can you tell me about a time you had to deal with someone who was upset or angry on the phone?
19.Can you tell me about a time you went above and beyond for your job?
Conclusion:

These are the best optometry receptionist job interview questions for freshers. I hope these questions will help you your optometry receptionist interview. If you have any question or suggestion then just comment below or contact us.

Thanks