Patronus quiz questions with answers by Questionsgems. Here we provide you your favourite category of quiz(patronus) questions. We choose best for you and then we provide you our best collection of questions.so enjoy and share these on Instagram, Facebook, Whatsapp.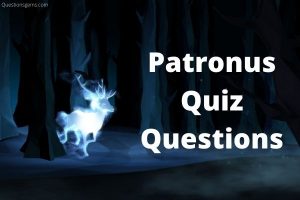 Patronus Quiz Questions
When your two best friends argue, do you pick sides or stay out of it?

A. Support the friend you like better.

B. Support the friend that appeals to you first.

C. Stay out of the fight.
Your best friend forgot to write an important essay for homework. Do you…

A. Help them, but without letting them copy.

B. Let them copy yours.

C. Refuse to help.
You found a way to escape school without being caught. Do you…

A. Tell your best friend, and skip an unimportant class together.

B. Tell a bunch of your friends, and skip several classes.

C. Tell complete strangers, but don't skip any classes.

D. Tell no one and skip any class you don't feel like attending.
You're about to take a notoriously difficult test in a few hours, and you pass the teacher giving it in the halls. They drop the test answers but don't notice. You…

A. Pick up the test answers, and without looking at them, return them to the teacher.

B. Pick up the test answers, glance at them quickly, and then return them to the teacher.

C. Pick up the test answers and pocket them for later memorization.

D. Don't even touch the test answers, hoping that someone else will take them.
You find an amazing shirt at a lesser-known shop. Do you…

A. Buy it and wear it proud!

B. Buy it, but only wear it around the house.

C. Don't buy it, but regret the decision later.

D. Don't buy it, and refuse to regret the

decision.
You hear rumors that there's something very unusual hidden in a closet that's disguised as part of a wall. Do you…

A. Seek out more stories of the closet before hunting for it.

B. Already know where it is, having started the rumors in the first place.

C. Begin a search immediately, and refuse to accept help or listen to more stories.
Your best friend was dumped last night. You…

A. Try to help by just being there, as a shoulder to cry on.

B. Remind them that you're always there for them, no matter what.

C. Try to cheer them up with a silly movie and popcorn.

D. Remind them that time heals all wounds, and that there is always tomorrow for a new start.
One of your friends makes a politically incorrect joke, and it seems to have offended another friend. You…

A. Make a witty remark in the hopes that it distracts your friends from the bad joke.

B. Ignore the bad joke and comfort the offended friend.

C. Get annoyed and call the offending friend out on the bad joke.

D. Try to one-up the offending friend with an even worse joke, but one that doesn't offend anyone present.
You are invited to a party, but you know that several people you don't like/can't get along with are also invited. You…

A. Suck it up and pointedly ignore them while having a good time.

B. Go anyway, but avoid them the best you can.

C. Go with the intention of making a big scene in front of everyone.
The school is holding tryouts for a play, and the director is very selective. You…

A. Tryout with the knowledge that you will probably not get in.

B. Tryout with the opinion that you can't possibly get excluded from the cast list.

C. Tryout and try to one-up everyone else at the audition.

D. Sign up for tryouts, but never show up.
Someone is spreading rumors about your best friend. You…

A. Remind them that the rumors aren't true, no matter what.

B. Insist that the rumors have no base in reality, and dispatch your other friends to hunt down the source of the rumor.

C. Already know who started the rumors, and ask your friend what sort of revenge they'd like.

D. Sympathize with your friend, and secretly start rumors about yourself to make them feel better.
A fist fight begins in the hallway at school. You…

A. Started the fight! Duh.

B. Join in on the side of the person you like better.

C. Join in, and actively try to bring both sides to their knees.

D. Try to break it up, using your connections to both sides.
Your best friend is being bullied about their unusual choice in clothing. You…

A. Defend them, since you're just as weird, if not weirder.

B. Defend them, like any good friend.

C. Defend them, and later go after the bully with specially tailored insults.

D. Immediately use your powers of wit to mock the bully.
Pottermore Patronus Quiz Questions With Answers
What is harry potters patronus

A. silver stag

B. dark dog

C. werewolf
What is hermione's patronus

A. snake

B. An otter

C. seal
What is cho chang's patronus

A. dove

B. swan

C. pigeon
What is ron's patronus

A.spider

B.rat

C.terrier
What is luna lovegoods patronus

A.bunny

B.rat

C.bird
What is mrs.weasly's patronus

A.dragon

B.weasle

C.dog
What is kingsley shacklebolt's patronus

A.sphinx

B.lynx

C.centaur
What is mcgonagall's

A.cat

B.lynx

C.dog
What is dumbledore's patronus

A.dragon

B.phoenix

C.lion
What was snape's patronus

A.doe

B.dove

C.cat
Patronus Quiz Questions With Answers
What do you like best?

A.Birds

B.Reptiles

C.Mammals

D.Mythical creatures

E.Dirt
What describes you best?

A.Loyal

B.Twitchy

C.Strong

D.Good swimmer

E.Innocent looking but dangerous
Do you read a lot?

A.Yes

B.No
Do you like to fight?

A.Yes

B.No
Do you like to swim?

A.Yes

B.No
Do you like cats or dogs more?

A.Cats

B.Dogs
Are you secretly dangerous?

A.Yes

B.No
Are you a fast runner?

A.Yes

B.No
Do you have a lot of pets?

A.Yes

B.No