Picking up a college might be the biggest decision in your life. Your college would decide what would you study, how you will shape your future, what kind of people you will be surrounded by for the next few years, and what kind of career you would get. Now we are not going to give you a lecture about picking up the best college for yourself but you might make the wrong choice if you are not fully informed about a college.
And that's why you need to ask as many questions as possible because that's the only way you would be able to make an informative decision for your college. But that's not an easy task because a lot of people struggle to come up with good questions to ask college counselors. And it's not their fault, I mean anyone can feel a little overwhelmed with the thought of going to college or starting a new life.
So here we are to help you out. We have picked up several questions to ask college counselors. These questions would help you to know the important specifics about your future college and help you decide if you should pick that college or what might be your major.  So get ready to see a list of good questions to ask college counselors so that you would be prepared for your next meeting with your college counselor.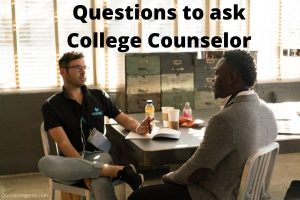 [toc]
Questions to ask college Counselor
1. How often should I meet with you to make sure I'm staying on track?
2. How should I plan my schedule?
3. Am I on schedule for graduation?
4. Should I consider taking advanced placement courses?
5. How far in advance should I start thinking about college?
6. Do you recommend taking the PSAT?
7. How high do my GPA and test scores need to be so that I qualify for the colleges I want to attend?
8. Should I take the SAT, ACT, or both?
9. When should I take the exam?
10. How many times do you recommend I take the SAT/ACT?
11. How do I prepare for the SAT/ACT?
12. Is there a career/major fit for my interests?
13. How can I decide between a college nearby or one far away?
14. Which extracurriculars should I take to explore my options?
15. What electives can give me experience in the career I want?
16. How do I decide whether I want to turn an interest into a career?
17. Is there any way to contact people who work in the field I'm interested in?
18. There are so many options—how do I know whether a certain career/major is right for me?
19. Do you have any resources I can use to help me study?
20. Is the SAT/ACT exam held at our school or in another location?
21. Should I take the ACT/SAT subject tests?
22. How do I send my test scores to the schools I'm applying to?
23. Is the SAT/ACT more important to colleges than GPA?
24. Can I opt out of any classes for electives that will prepare me for college?
25. When should I begin thinking of colleges to apply to?
26. What should I look for when visiting campuses?
27. Are there any upcoming college fairs in our area?
28. What colleges do students from our school usually apply to?
29. Do you know of any schools similar to the college I'm interested in?
30. Can you review my college résumé?
31. When is the deadline for college applications?
32. Is it better for me to apply early?
33. Are there any college handbooks or guides I can access?
34. Who should I go to for letters of recommendation?
35. What are colleges looking for in my personal essays?
36. Can we review my transcript and see whether there's anything to improve?
37. How do I apply for financial aid?
38. Where can I find scholarship opportunities?
39. How does my family's income affect my financial aid and scholarship opportunities?
40. Are there any scholarships you think I qualify for?
41. Am I qualified to waive my college application fees?
42. Are there any special scholarships, awards, or state aid that I should apply for?
43. What type of aid does the college I'm interested in provide?
44. If I don't apply for financial aid this year, does that affect my eligibility for financial aid in the future?
45. When is the deadline for financial aid?

How do I appeal for more financial aid if necessary?
46. Will my financial aid be affected if I win scholarships?
47. Will there be any college-planning sessions in the near future?
48. How easy is it to double major?

What percentage of students graduates in 4 years?
49. What percentage of double majors graduates in 4 years?
50. Do students apply to the school, or to a particular major?
51. When do students need to declare a major?
52. Do you require an audition as part of the admissions process if you want to be a theater or music major?
53. Can supporting documents be sent to the admissions office if an applicant wishes to highlight a particular artistic talent such as theater, music, dance or another art form? Are these documents used in the application review?
54. Do all majors have the chance to have internships and are they a common part of the educational experience?
55. Is there support to help students find an internship?
56. When do students typically start using the career center?
57. Can you tell me about the services the career center offers?
58. Do students study abroad?  Does your college or university have a study abroad program

Can students study abroad on another school's program?
59. How easy is it to fit a study abroad program in and still graduate in 4 years?
60. How accessible are professors?  What are some examples of professor/student interactions outside of the classroom?
61. How large are the largest classes? How small are the smallest classes?  What is the average class size?
62. What are some examples of clubs and activities available to students?
63. Do students attend sporting events, theater events, and social events on campus?
64. Are there academic support services on campus such as tutoring and writing centers?
65. Do you know how I can talk to any students currently enrolled in the college?
66. How many credits in each subject do I need to graduate on time?
Conclusion –

Here we have done our job of getting you a list of the best questions to ask college counselors. These questions are generic and help students from different academic branches or majors. Questions are suggested by professionals and highly educated experts who want students to get the best for themselves. We hope you have found the best questions to ask your college counselor. Thank you for visiting us again.