Are you in legal trouble? Or you are hiring a lawyer for yourself? Whatever the reason behind you hiring or talking to a lawyer, I am sure it must be very important. But sometimes people take it for granted and hire the next lawyer they can end up making a wrong choice. Any business with a lawyer would be crucial and you would need to understand the importance of the matter. And that's why you need to ask your lawyer a few questions to make things clear from the start and build an understanding about your needs You should also know everything about your lawyer that can affect you in any way.
But how would you decide if the lawyer is good for you? Or how will your lawyer know your needs? It all falls on a bunch of questions. You might also ask questions that are specific about your case later but first of all, you need to ask some generic questions that can give you a hint about the kind of lawyer you are dealing with.
So here we have some questions to ask a lawyer which would help you to get the best lawyer for yourself possible. Take a look at the following list of questions to ask a lawyer and ask them to your potential lawyer in the future.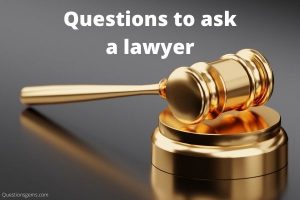 Questions to ask a lawyer
1. How long have you practiced law?
2. What type of cases do you generally handle? What percentage of your practice is devoted to (the practice area in question)?
3. What is your approach or philosophy to winning or representing a case?
4. Who is your typical client?
5. What are your attorney fees and costs, and how are they billed? Will a portion or all of my case be handled by paralegals or legal assistants?
6. How many cases have you represented that were similar to mine?
7. Other than a law degree, what kind of special training or knowledge do you have that might apply in my situation?
8. How will you let me know what's happening with my case?
9. How does the firm offer its services?
10. Is my case even worth the pursuit?
11. Should I take the settlement instead?
12. Given my situation, should I press charges against a company or an individual?
13. What are the expected and possible outcomes of this case?
14. Can you give an estimate of how much this will cost entirely?
15. Am I responsible for costs even if we lose?
16. Are there others ways for solving my legal problem?
17. What is the likely outcome in my case?
Conclusion –

So these are a few questions that you should ask your potential lawyer. The answers to these questions would help you to know if the lawyer would serve you in your best interest or if he is qualified enough to represent you. Overall, your lawyer would play a very crucial role in your life and you should take it for granted. So ask the questions and be sure about your lawyer.