Are you attending an event just for the guest speaker? Well, you might be alone. We all have been there, where we attend an event just for the guest speaker. He might your role model or your biggest inspiration, and no matter what you would certainly wanna get an opportunity to take to them or perhaps ask a few questions.
No matter what the reason is to meet the guest speaker, you might not wanna meet them unprepared. Whether or not you get a chance to shake hands with them, but if they are going to give a speech there is a high chance that they would take questions from the audience. And that would be your golden opportunity. Overall you would wanna be fully prepared and have a list of good questions to ask the guest speaker in your hand.
So here we are to help you out. We have prepared a list of questions to ask a guest speaker so that you can make the most of the opportunity. Go ahead and take a look at the below-listed questions to ask the guest speaker and get the opportunity to know the answers from your guest speaker.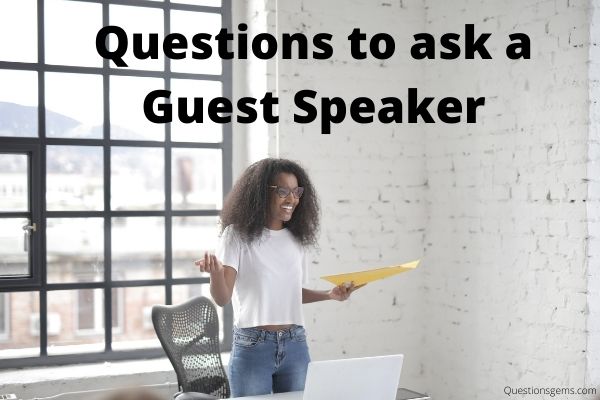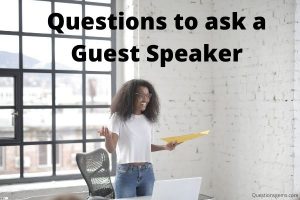 Also check –
catering questions to ask clients
/
business quiz questions
Questions to ask guest speaker
1. When did you know you wanted this job?
2. How did your earlier career choices lead you to where you are now?
3. What career mistake has given you the biggest lesson?
4. What research did you do to prepare for this role?
5. What was your first "win" that made you confident that you were doing the right thing?
6. How do you avoid being complacent in your role?
7. What is the biggest risk that you've taken?
8. What did you do at work yesterday? (This is a spin on the "what is a typical day" question that will yield more specific, informative answers.)
9. How can we advance the [field/topic/industry]?
10. How has the [field/topic/industry] changed in the past 5 years? What do you predict will happen in the next 5 to 10 years?
11. What is the biggest challenge in the [field/topic/industry] at the moment?
12. What are the most critical changes that we must make to face the future effectively?
13. What effect has [specific technology] made on the [field/topic/industry]?
14. Who is making the greatest advancements in the [field/topic/industry], and what are they doing?
15. What is the most interesting trend for 2021?
16. What do you think the best outcome for the [audience/industry/planet] would be?
17. What is the number one way we can make a substantial difference?
18. In your publication [book/article/etc] you stated that [view point]. How did you come to that? [Follow up question to another panelist]: Do you have a different perspective?
19. What made you decide to tackle this subject? How did you get into the [industry/field], and why do you stay?
20. What are some of the ways people from your [industry/field] are making a difference in the world?
21. What has helped you get to where you are [influential/effective/in the forefront] and what advice would you have for others who want to set off in a similar direction?
22. What are common misconceptions people have? How can we combat these misconceptions and communicate more effectively?
23. Do you remember a specific experience of where you wished that [you/your organization/your industry] had done something differently? If you were to do it over, what would you change?
24. A follow-up to the previous question: By way of comparison, do you remember something you've done or something you wish everyone was doing, and why?
25. What's the question you are most tired of hearing on this subject, and what would you like to say about it so you never have to answer it again?
26. What question would you like to hear [specific panelist] answer?
27. What is one piece of practical advice you would give to someone starting out?
28. What is the best resource for people who want to dive in deeper?
29. Is there anything we're leaving out here that needs to be addressed?
Conclusion
So these are some of the best questions to ask the guest speaker. We have tried to put some generic questions on our list so that everyone from different fields can relate to these questions and ask them to the guest speaker. We hope you liked these questions and found them helpful. Thank you for visiting our page and keep coming for more such articles in the future as well. We are glad to help you out.