Thinking about buying a used car? Well, that's a good decision. Because you can get a good deal and get a decent car for half price. It's a reasonable thing as some people find spending on a new car expensive as they can get a good enough used car at a reasonable price.
But it is not a piece of cake, if anything it's like one of the list stressful tasks that you might have to do. Things might get more difficult if you have never bought a car or a used vehicle before. There are so many things that you will have to see and check. And if you forget to check the used car fully or forget to ask the crucial questions.
Asking the right kind of questions is a crucial element of the whole purchasing. And you just can't go wrong with questions because that's what helps you to get the perfect car. You can know a lot about the used car if you ask the right kind of questions and at the same time you can leave out so much about a car before purchasing it. And that's where your purchase might go wrong.
Overall the deal is, check the car fully and ask the right questions and get everything you wanted to know about the used car. Only then you can make an informative decision.
So here we have a number of questions to ask when buying a used car. So take a look at the following questions.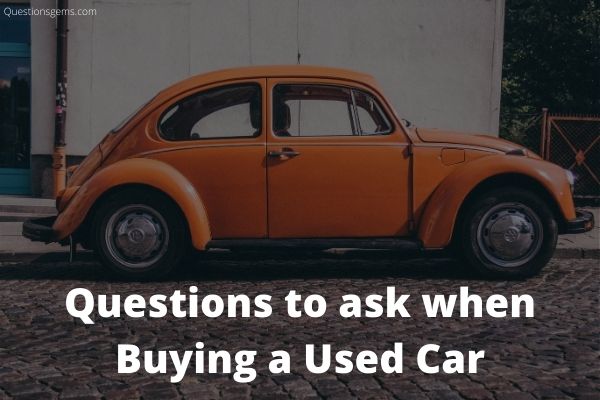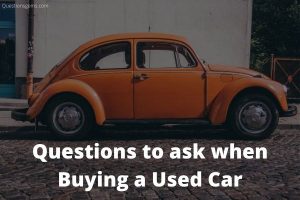 Also check-
Driver knowledge test questions
/
Questions to ask when renting an apartment
Questions To Ask When Buying A Used Car
Q1.Why are you selling the car?
Q2.How long have you owned the car?
Q3.Who did you buy the vehicle from?
Q4.Where did you purchase the vehicle from?
Q5.What's the condition of the car?
Q6.Can you describe the vehicle's appearance?
Q7.How much mileage is on the car?
Q8.Do you have a Used Vehicle Information Package?
Q9.Did the car have regular oil changes?
Q10.Has the car been in any accidents?
Q11.Do you have a CARFAX Canada report?
Q12.Has anything on the car ever been replaced or updated?
Q13.Are there any mechanical problems I need to know about?
Q14.What service has the dealership performed on the car since acquiring it?
Q15.How long of a test drive can I take?
Q16.Can I take the car for an independent inspection?
Q17.Do you take trade-ins?
Q18.Can we fix this problem before purchase?
Also check – Questions To Ask When You Get Job Offer / Questions To Ask When Buying Puppy
Good Questions To Ask When Buying A Used Car From A Dealership
Q19.How was the car maintained?
Q20.Are service records available?
Q21.Has it been in any accidents?
Q22.What features don't work the way they're supposed to?
Q23.Is there any reason you wouldn't drive the car coast-to-coast tomorrow?
Q24.What is the ownership history?
Q25.Why are you selling the car?
Q26.How did you arrive at this price?
Q27.Can I take the car to a mechanic for an inspection?
Q28.Do you have the title in hand?
List Of Questions To Ask When Buying Used Car
Q29.Is the vehicle 4 Wheel Drive? if so does it work properly?
Q30.Do you have a clean Carfax?
Q31.Has it ever been repainted?
Q32.Is the catalytic converter and exhaust system intact?
Q33.Does the vehicle leak any fluids such as oil, antifreeze or any other essential fluid?
Q34.How about the tread on tires and wear on brakes?
Q35.Finally, are there any dealer documentary fees or other dealer specific fees that I should know about before I begin my negotiation?
Q36.Are there any signs of smoking or pets?
Q37.Do all the windows and locks work?
Q38.Do all of the lights, wipers and stereo work?
Q39.Do the turn signals and cruise control work?
Q40.Do you have the clear title in hand?
Q41.If it hasn't already, will the car pass safety and emissions?
Q42.how many keys and remotes are included with the car?
Q43.Does the car have a spare tire and jack?
Q44.How about a gas cap?
Q45.Ask about rust perforation/ pitting/ rock chips. many cars in inclement areas suffer from this.
Q46.Hows the condition of glass, it may not have cracks, but are there chips that will become cracks?
Q47.Are the roof rack components, interior organizing nets and other factory equipment all in tact and included?
Conclusion:
So these are some of the best questions to ask when busting a used car. No matter how much you look at the car or how much knowledge you have on the car, you can still miss so much if you don't know which kind of questions you should be asking. Hopefully, you got the right questions to ask when buying a used car from our article.