Welcome to our blog exploring real ways to make money from the comfort of your home, all without spending a dime! In this guide, we'll unveil legitimate and creative methods that empower you to earn an income while staying within the walls of your sanctuary.
From freelancing and online surveys to starting a blog or launching a YouTube channel, we've got you covered with a diverse range of opportunities. Say goodbye to the notion that you need to invest money to make money – these proven methods will help you embark on a journey of financial freedom without leaving your living room. Let's dive in and unlock the secrets of generating income from home, completely free!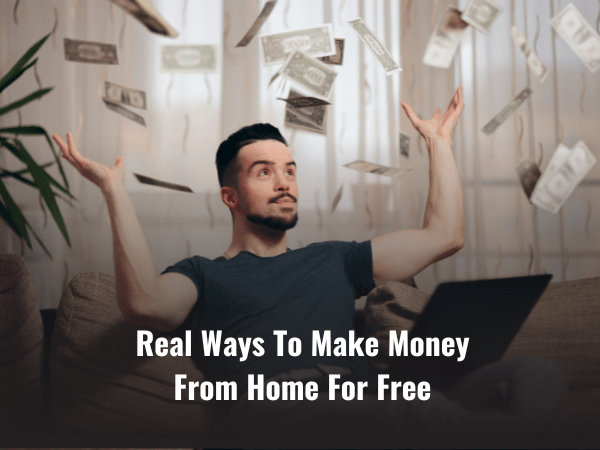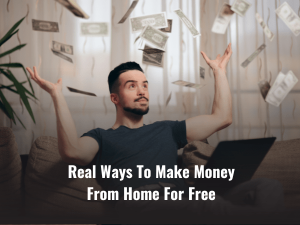 Also check – Ways For Teens To Make Money Online / Ways To Make Money As A 13 Year Old
Real ways to make money from home for free
1. Freelancing: Freelancing is an excellent way to leverage your skills and expertise to earn money from home. Whether you are a writer, graphic designer, programmer, or virtual assistant, numerous online platforms like Upwork, Fiverr, and Freelancer connect you with clients seeking your services. Create a compelling profile, showcase your portfolio, and bid on projects that align with your abilities. With dedication and quality work, you can build a steady stream of clients, allowing you to earn a sustainable income from the comfort of your home.
2. Online Surveys and Market Research: Participating in online surveys and market research studies is an easy and flexible way to earn extra cash without any investment. Companies are constantly seeking consumer feedback to improve their products and services, and they are willing to pay for your opinions. Numerous reputable survey websites like Swagbucks, Survey Junkie, and Toluna offer opportunities to complete surveys, watch videos, and take part in focus groups. While it may not replace a full-time income, it can be a rewarding way to make money during your free time.
3. Blogging: If you have a passion for writing and a subject you're knowledgeable about, starting a blog can be a fulfilling way to earn money from home. While it takes time to grow an audience and monetize your blog, once you establish a loyal readership, you can generate income through various channels. These include display advertising, sponsored content, affiliate marketing, and creating digital products like e-books or courses. Stay consistent with valuable content, engage with your audience, and gradually, your blog can become a sustainable source of income.
4. YouTube Channel: With the rise of video content consumption, creating a YouTube channel has become an accessible and lucrative way to make money from home. Find your niche, whether it's entertainment, education, or lifestyle, and start producing high-quality videos that resonate with your target audience. As your channel gains subscribers and views, you can monetize it through ads, sponsored videos, and merchandise sales. While building a successful YouTube channel requires dedication and creativity, it offers the potential for significant long-term earnings.
5. Affiliate Marketing: Affiliate marketing allows you to earn commissions by promoting products or services of other companies. You don't need to own any products; instead, you earn a percentage of the sales you drive through your unique affiliate links. Join affiliate programs offered by companies in your niche and incorporate these links strategically into your blog, website, or social media channels. As your audience makes purchases through your links, you'll earn passive income without spending a dime. Focus on genuine recommendations and transparent disclosures to build trust with your audience and enhance your affiliate marketing success.
6. Online Tutoring: If you excel in a particular subject or have specialized skills, online tutoring can be a rewarding way to make money from home. Numerous platforms like VIPKid, Chegg Tutors, and Teachable enable you to connect with students worldwide and offer one-on-one or group tutoring sessions. Whether you're proficient in academic subjects, language, music, or even fitness, tutoring provides a fulfilling opportunity to share your knowledge while earning a steady income.
7. Virtual Assisting: Many businesses and entrepreneurs seek virtual assistants to help with administrative tasks, social media management, customer support, and more. If you have organizational skills and are tech-savvy, consider offering your services as a virtual assistant through platforms like Virtual Assistant Jobs and Remote.co. You can work remotely and maintain a flexible schedule while supporting businesses and individuals with their day-to-day operations.
8. Sell Handmade Products: If you have a creative streak and enjoy crafting, you can turn your hobbies into a profitable venture by selling handmade products online. Websites like Etsy provide a global marketplace to showcase and sell your unique creations, from handmade jewelry and home decor to customized clothing and artwork. Building a brand and social media presence can help attract customers to your online store and grow your sales.
9. Online Affiliate Programs: In addition to affiliate marketing for products and services, some companies offer online affiliate programs that reward you for referring others to join their platforms. For example, certain web hosting companies, e-learning platforms, and online marketplaces have referral programs that offer cash rewards or credits for each successful referral. Leverage your social networks, blog, or website to share these programs and earn extra money effortlessly.
10. Remote Customer Service: Many companies hire remote customer service representatives to handle inquiries and support their customers. You can find opportunities on job boards and company websites, with roles ranging from phone-based customer support to live chat and email assistance. If you have excellent communication skills and enjoy helping others, this can be a legitimate and cost-free way to make money from the comfort of your home.
11. Social Media Management: If you're well-versed in social media platforms and understand how to engage and grow an audience, consider offering social media management services to businesses and individuals. Many companies seek professionals to manage their social media accounts, create content, and implement marketing strategies. You can showcase your skills by managing your own social media accounts effectively and then reach out to potential clients through networking or freelancing platforms.
12. Remote Data Entry: Data entry tasks can be performed remotely, making it a viable option for those seeking to earn money from home. Companies often require assistance with organizing and inputting data into their systems. Websites like Clickworker and Amazon's Mechanical Turk offer remote data entry opportunities where you can work on tasks based on your availability.
13. Rent out Your Space: If you have an extra room or property that's not being used, consider renting it out through platforms like Airbnb. Renting out your space can be an excellent way to earn passive income without any upfront costs. Ensure your listing is appealing with attractive photos and detailed descriptions to attract potential guests and boost your earning potential.
14. Remote Translation Services: If you are fluent in multiple languages, you can offer translation services online. Numerous companies and individuals require translation assistance for documents, websites, and other content. Websites like ProZ and TranslatorsCafe connect translators with clients seeking their services.
15. Online Pet Sitting or Dog Walking: If you're an animal lover, consider offering online pet sitting or dog walking services. With platforms like Rover and Wag, you can connect with pet owners who need someone to care for their furry friends while they're away. This option allows you to make money doing something you love without any initial investment.
16. Create Digital Products: Leverage your expertise and creativity to develop and sell digital products. E-books, templates, stock photos, and digital art are just a few examples of what you can create and offer for sale. Websites like Gumroad and Sellfy enable you to sell your digital products directly to customers.
17. Remote Transcription Services: Transcribing audio or video content is in demand, and you can offer your services remotely. Transcription websites like Rev and TranscribeMe allow you to earn money by converting audio files into text. Attention to detail and fast typing skills can help you excel in this field.
18. Online Test Scoring: Educational companies often hire remote workers to score standardized tests and exams. If you have a background in education or a related field, this opportunity can be a great way to make money from home. Websites like Pearson and ETS offer such remote scoring opportunities.
19. Online Graphic Design Contests: Participating in online graphic design contests can be an exciting way to showcase your design skills and earn money without any upfront costs. Websites like 99designs and DesignCrowd host design competitions where clients post their design requirements, and designers like you can submit entries. If your design is selected as the winner, you'll receive the prize money.
20. Remote Video Editing: If you have video editing skills, you can offer your services remotely to businesses, content creators, or even individuals looking to enhance their videos. Platforms like Upwork and Freelancer have a demand for video editors, and you can collaborate on various projects from the comfort of your home.
21. Sell Stock Photos: If you have a talent for photography, consider selling your images as stock photos. Websites like Shutterstock and Adobe Stock allow you to upload your photos, and when customers purchase the rights to use them, you earn royalties. This can be a passive income stream as your photos continue to generate revenue over time.
22. Remote Bookkeeping: If you have a background in accounting or finance, remote bookkeeping can be a viable way to earn money from home. Many small businesses and entrepreneurs seek bookkeepers to manage their financial records. Platforms like Bookkeeper Launch and Belay offer opportunities to find remote bookkeeping jobs.
23. Create Online Courses: If you have expertise in a particular field, consider creating and selling online courses. Platforms like Udemy and Teachable enable you to design and publish courses on various topics. As students enroll in your courses, you'll earn revenue, and the best part is that once the course is created, it can become a passive income source.
24. Podcasting: Podcasting has become a popular medium for sharing knowledge and entertainment. If you have a passion for a specific topic and enjoy conversing, start your own podcast. While it may take time to build an audience, you can monetize your podcast through sponsorships, ads, and listener support.
25. Mystery Shopping: Mystery shopping involves visiting stores or establishments as a customer to evaluate the service, product quality, and overall experience. Companies hire mystery shoppers to provide feedback, and you can find opportunities through websites like Secret Shopper and BestMark. While the pay may vary, it can be a fun and flexible way to earn some extra money.
26. Remote Technical Support: If you have a strong technical background and troubleshooting skills, consider providing remote technical support to individuals or businesses. Many companies seek remote IT support professionals to assist with software, hardware, and network-related issues.
In conclusion, the possibilities for making money from the comfort of your home without any initial investment are abundant and diverse. From freelancing and online surveys to blogging, YouTube, and social media management, these real ways offer legitimate opportunities for earning a sustainable income. Leveraging your skills, knowledge, and creativity, you can embark on a journey towards financial freedom while maintaining the flexibility to work on your own terms.
Remember, success in these endeavors requires dedication, consistency, and a willingness to continually learn and adapt. Building a steady income stream may take time, but with determination and effort, you can achieve your financial goals.
As you explore these avenues, always be cautious of potential scams and research each opportunity thoroughly. Choose reputable platforms and methods that align with your interests and capabilities.
So, whether you're seeking a side hustle, a career change, or a way to pursue your passions, take the first step towards making money from home without spending a dime. Embrace the digital age and discover the endless possibilities that await you. Happy earning, and may your journey to financial independence be rewarding and fulfilling!