Selenium is one of the most preferred tools for automated testing of web applications. That is why people from all around the world are pretty aware of the Selenium and some even want to know all about it to explore the job opportunities in Selenium. Because it would be a high paying job and it would certainly be one of the most amazing tech-savvy jobs that one can opt for.
With the rise of digital and online setups, the use of Selenium has just increased and it would be more and more popular in the future. The Selenium makes the whole testing easy and effective by reducing the manual testing and the time would take otherwise. With Selenium, you get all the information and data after testing that would help you improve the web application and see it's the whole workflow.
If you, too, are interested in Selenium by any means, then this article is for you. Here we are going to list down some of the best Selenium quiz questions that would test your knowledge of Selenium. You can use these questions and ask them to anyone else to test their knowledge or you can also hold a quiz for your peers who are also interested in the subject.
Whatever your reason is, the Selenium quiz questions are listed down and you should be able to answer them or learn from them. So go ahead and take a look at the following Selenium quiz questions.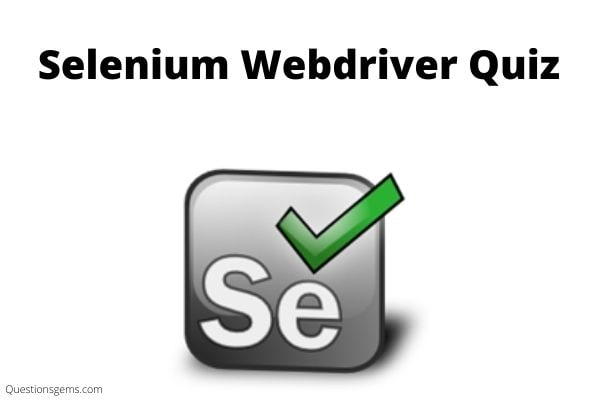 In webdriver, which method closes the open browser?
In webdriver, what is the method that counts the number of elements?
In webdriver, which command takes you forward by one page on the browser's history?
In webdriver, which of the following commands retrieves the text of a html element?
In webdriver, which methods navigates to a URL?
Which WebDriver method is used to change focus to an alert, a frame or a browser window?
In WebDriver, which command can be used to enter values onto text boxes? Select the best answer.
In webdriver, selectAllOptions() is a valid command.
What is the output of the following statement? Name 1 Name 2 driver.findElement(By.cssSelector("#name"));
Consider the following code snippet WebDriverWait wait = new WebDriverWait(driver, 30); wait.until(ExpectedConditions.presenceOfElementLocated(by)); This is an example of an implicit wait.
In webdriver, which of the following is a valid select statement that selects a value from a drop down element?
In webdriver, deselectAll() is a valid command.
The following codes both print: Welcome to TestingExcellence.com
Implicit wait time is applied to all elements in your script and Explicit wait time is applied only for particular specified element.
Selenium IDE is supported by which browser?
Top 150+ Best selenium quiz (questions/answers) 2019
Conclusion – Here we have listed down some of the best Selenium quiz questions that you can look for. We just hope that you liked the questions and we're able to answer them, and if not, you must have expanded your knowledge on the subject. These questions are pretty good and they have been picked up by some of the experts or people who have a good knowledge of Selenium. Overall, you can use these questions to ask your friends or hold a quiz on this subject too, to see who has the best knowledge on the subject. Thank you.