The actual question should be "What you can't do in New York?" And the list would be very small! New York is one of the most diverse cities in the world and there is literally so much to see and do that you can hardly do everything in just one life of yours.
The city is constantly evolving and with each passing day, there is a new activity to do or something new to see as well. So if you are visiting New York for the first time you would feel overwhelming given the diversity of the city.
The city has so much to offer and people can go out in the middle of the night and still find some cool bars, nightclubs, restaurants and so many other things to do. The point is, there is literally so much to do that you might need some expert's advice in planning your New York trip so that you can at least do the best things and see the iconic places in New York.
Here we have tried to list out a few things that you must visit and do while you are in New York, so let's get started and find you some of the many things to do in New York!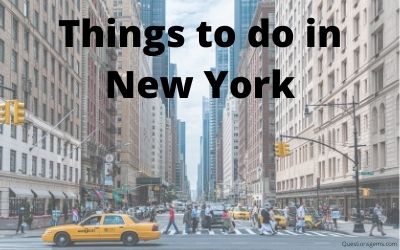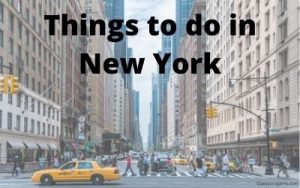 Things to do in New York
1. Empire State Building

If you are in New York then you have to visit the Empire State Building, it's one of the landmarks and one of the popular building in New York city that everyone should visit at least once. The building is known to be the 44th tallest building in the world. It's also one of the highest visible buildings after the World Trade Center Observatory.

The building is open till late at night and you can go to the 86th floor and take a view at the nightlife of the city that literally never sleeps. There is so much go see in the Empire State Building from the artifacts to the best architecture of the world! Overall this one should be one of the first things that you see in New York City.
2. Statue of Liberty

One of the seven wonders of the World has to be on our list right! The Statue of Liberty is known to be a symbol of freedom which was supposed to be greeting the immigrants who came to the city to start a new life.

It's a 93-meter tall statue of the Roman Goddess, Libertas, who is a symbol of liberty! The statue reads the date of freedom for America. It's easy to get a trip to visit the statue of liberty and you might also get the audio guide for the place as well.
3. Central Park

It's one of the most famous green spaces in the world to visit and that's why if you are in New York you must see what the fuss is all about. See the population of New York is growing day by day and with that space is shrinking and there is very little greenery left in the city and a large portion of that goes to Central Park. The place is pretty huge covering almost 800 acres. The boundaries of Central Park include ponds, lakes, public art, and there are many fountains, playgrounds, sports facilities, and thousands of trees.

If you have been in New York for days and missing some greenery then you must see Central Park. There are many things to do as well, including yoga, visiting the zoo, boating, outdoor theater, and horse-drawn carriage tours. Since the place is so huge, you might wanna rent a bike to explore the whole place.
4. The Metropolitan Museum of Art

The Metropolitan Museum of Art is one of the most popular museums in the world and it can be included in the best things to see in New York or in the whole world for that matter. The museum has a collection of some of the best artifacts and fine arts from all across the world. The museum said to have things from the last 5000 years as well!

The museum is as big as New York City itself when it comes to seeing all those amazing things. You can spend your whole day here and still left out many things. So go ahead and schedule your time to spend at the Metropolitan Museum of Art because it's definitely not something that you wanna miss out on!
5. Brooklyn Bridge

Brooklyn Bridge is another famous landmark in New York that you must see. It was the world's first steel-wire suspension bridge as was completed in 1883. It links Manhattan and Brooklyn across the East River. The view from the bridge is amazing and you can take a walk as well on the elevated walkway above the road.

On the feet of the Bridge, the Brooklyn Bridge Park is also a popular destination to hang out and eat some of the best New York food from the local restaurants. There are also basketball courts, public art displays, bike paths, etc.
6. High Line

High Line is the example of what New York is capable of doing with its empty places. This was nothing but an abandoned freight rail on Manhattan's West Side End, but now this has been turned an elevated linear park which is about 1.45 mile long.

This one was designed by architect Piet Ouldof and the park was opened for the public in 2009. The place is full of old plant species, flower beds, a variety of grasses, and trees. This one is a beautiful creation that you would like to see.
7. Times Square

You must have heard of this place before even if you have never been to New York. One of the busiest places in the world and it's definitely going to be a place that you will never forget. More than 4 million people pass by times square each passing day and there is so much to see and do as well.

The place has got sole dark history too, with being the place which has witnessed a huge number of crimes and this place has witnessed violence and struggle as well. Even if in the present scenario, Times Square worth your attention and time.
8. Dover Street Market New York

If you are a shopper and got a thing for high-end brands and luxurious shops then you must stop at the Dover Street Market New York. It's London's Shopping Hotspot and it made its debut in New York City just in 2013.

It's not just the fashion store but ist also an art exhibition space. A true shopper would love the experience here as it presents the take of the designer and takes you to the designer's world as well instead of just displaying the clothes. If you have got money for shopping for your favorite brands then you should definitely stop by it or just do the window shopping!
9. The Strand Book Store

If you are a bookworm then this place is a heaven for you and if you are not, well they're always a good time to become one! The place holds over 2.5 million titles and it's not just the local book shop but a globally recognized institution.

The employees in the Bookstore are very helpful and you can call them to help you out to pick the perfect title or to recommend something if you don't have a name in your mind. If you go there you are surely not returning empty-handed and the place is truly magical (at least for book lovers).
10. Metropolitan Opera House

Opera is something that you would definitely love to see if you are in New York. And this one has bagged the claim of the world's most advanced opera venues in the world with hydraulic elevators and a modernized stage among many other specialized features.

The architecture marvelous and the decoration is just phenomenal and that's the kinda thing that you should definitely see at once in your lifetime.
11. New York City Helicopter Tour

New York City is pretty good looking and there are so many things to see as well but you know what would be great? A helicopter tour of New York City from which you can see the beauty of New York from the sky and it's a different kind of experience.

Yes, there are a number of tall buildings in New York from which you can see the city but being in a helicopter and seeing one of the best cities in the world is something else. The helicopter tour includes all the great sights, such as the Hudson River, Brooklyn Bridge, Ellis Island, Statue of Liberty, and so on. The ride will last for about 30 minutes but you would definitely love it.
12. Washington Square Park

It's another busiest place in New York that is full of people and there are lots of things to see and do. You would find career chess players, musicians, performers, students, sunbathers, and so on. Almost everyone is here to get some fresh air and have a fun time seeing people doing their thing and entertaining themselves. It's going to be a delight!
13. Bronx Zoo

Although the zoo would be the last thing in your mind when you are in New York this one is worth visiting. The zoo has over 700 different species. The zoo is spread over 256 acres of land.

As we have said there are lots of animals to see and you can take a break from the busy days. Although it's not going to be too quiet, so if you have got a kid with you then this one is surely a place to visit.
14. Chelsea Market

This is a place that has given us Oreo cookies so this one does deserve our attention and time. This place is popular for its shops and boutiques but the main attention is food!

You can get almost everything when it comes to food here. And the best part is everything would be authentic and yes they taste amazing.

You can also see the procedure for preparing some of the best food and enjoy yourself. From the bakery stuff to some of the best lobsters you will get everything here and that's why you need to see this place.
15. Grand Central Terminal

Grand Central Terminal is one of the busiest train stations in the world and this is not the only reason you need to be here. It's not just the train station but it's also a place where you can get a taste of old and new New York City!

The place has got a number of shops and restaurants which will provide you some of the best things. Although it's not going to be free and you would need to empty your pocket a bit to buy stuff from here. The architecture is magnificent and in order to admire the true beauty of Grand Central Terminal you might wanna avoid Rush Hour.
Conclusion –

So these are the things that you must do while you are in New York. Again, we are reiterating the fact that no list can include everything amazing that New York has to offer so we just tried to include the best of the best. It's really easy to get carried away in New York and try out the things as you see them, so don't hesitate to go with the flow but at the same time, you should also see the best and the most iconic places of New York which contribute to the history of the city.

We hope you will have the best time in New York City and see all (everything that you can in the given amount of time) in the city. So enjoy yourself and we hope you would go there again and again to see everything you can. Thank you for visiting us and we wish you a great New York trip.