Trying to find the best quiz on Australia? You're in the correct place! We created a fantastic Australia trivia quiz, including general knowledge questions, geographic questions about Australia, historical questions, and many more! This page is special because it includes a brief history of each trivia question's correct response in addition to the questions and answers.
Australia is an intriguing nation. It is home to several gorgeous sites, breathtaking beaches, and islands.  Do you think you know everything about Australia? Well if you think so then this article is for you. Here what you need to do is to participate in Australia Trivia to prove your knowledge about Australia. I am sure you are all confident and ready to prove yourself to everyone by taking the Trivia and winning it as well.
But are you sure you know everything about Australia? Well no matter how great your knowledge is and whatever the sources of your knowledge are, you can never know everything about everything. But what you can do is the practice by answering the Australia Trivia Questions and making sure that you don't lack in practice.
To help you in this matter we are going to present a list of Australia Trivia questions to you. Here we have included all the Australia Trivia Questions that can be asked in Australia Trivia. This way you can practice for your upcoming trivia and make sure you are well-read and don't lack confidence. So do take a look at the following list of Australia Trivia Questions and make sure you answer them without peeking. This fantastic Australia trivia quiz is for you, whether you are an Australian or an outsider who adores everything Aussie!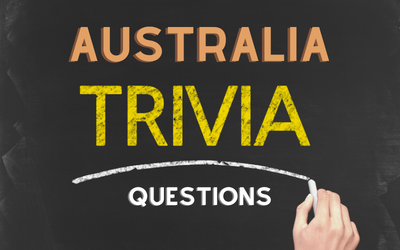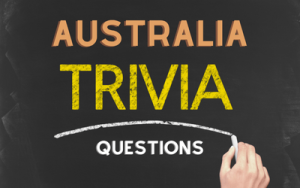 Trivia Questions and Answers Australia
Which Australian city welcomed the Summer Olympics first?
Answer: The 1956 Summer Olympics were held in Melbourne.
The Olympics have never been held in a city further south than Melbourne. Australia won't hold the Olympics again until 2032, when Brisbane, Queensland, and Sydney, New South Wales, respectively, will play host.
Which Australian institution welcomed its first female students on an equal footing in 1881?
Answer: Adelaide University
In 1881, Adelaide University became the second institution in the world to admit female students on an equal basis. At Adelaide University, however, women (who made up more than half the student body) had been enrolled alongside males since 1876, and they were equally qualified for all academic awards and honors.
Which American fast-food brand had its first location in Australia in 1968?
Answer: KFC
KFC established its first location in Australia in the Guildford neighborhood in western Sydney.
Who was the first horse to win the Melbourne Cup three times?
Answer: Makybe Diva
Makybe Diva won the Melbourne Cup three times in a row in 2003, 2004 and 2005.
Which Australian coastline saw the founding of the first lifesaving club?
Answer: In February 1907, in Bondi. (Manly was 1911, in case you were curious.)
In February 1907, Bondi witnessed the founding of the first surf lifesaving club. Then came the setting up of several more. These clubs established the Surf Bathing Association of New South Wales on October 18, 1907. The surf lifesavers quickly established clubs around Australia, and they rose to national prominence. According to estimates, lifesavers have saved more than 800,000 individuals since 1907.
What is regarded as the first BIG thing in Australia?
Answer: South Australia's Medindie is home to The Big Scotsman.
While the Huge Banana in Coffs Harbour, which was constructed in 1964, kicked off the big item craze, it was not the first big thing. The Big Scotsman, which debuted in 1963, deserves that distinction.
Who performed Ol Man River as the opening act at the Sydney Opera House, a famous monument in Australia?
Answer: From the Concert Hall's concrete foundations, Paul Robeson sang to building workers.
He sang "Ol' Man River" to the construction workers while they ate lunch in 1960 by scaling the scaffolding. A total of 1.62 hectares and over 1 million roof tiles are present on the building.
What year in the 1980s did the first mobile phone go on sale in Australia for $4,250?
Answer: In 1987, Telecom (Telstra's former name) purchased the 1G phone and brought it to market.
Who received a heart transplant for the first time as a woman in Australia in 1984?
Answer: In April 1984, Fiona Coote was barely 14 years old.
In 1984, Fiona Coote, then 14 years old and in good condition, became ill with a viral illness that permanently damaged her heart. She was kept alive until Dr. Victor Chang successfully conducted a heart transplant at St. Vincent's Hospital in Sydney.
Which nation's racehorse Delta Blues won the Melbourne Cup in 2006?
Answer: The first Japanese-bred horse to win the Melbourne Cup was named Delta Blues.
The 2006 Melbourne Cup was won by the Japanese Thoroughbred Delta Blues (born 3 May 2001). He was the Cup's first Japanese-bred horse to triumph. He did this by defeating Pop Rock, another Japanese horse that Katsuhiko Sumii also trained.
When was Advance Australia Fair first performed as the country's anthem on a global scale?
Answer: Advance Australia Fair, Australia's national song, was approved on April 19, 1984, the day before the Los Angeles Olympics.
Australia's national anthem is called "Advance Australia Fair." The song, was composed by Scottish-born artist Peter Dodds McCormick.
Which decade saw the introduction of random breath testing in Victoria, the first Australian state?
Answer: The 1970s (1976).
The number of deaths on Australian roads is now at a record-low level. The effectiveness of random breath testing (RBT) and random halting programs in various regions of Australia is cited as a factor in this drop.
Which state saw the opening of Australia's first international airport?
Answer: Rose Bay.
Australia's first international airport was built at Rose Bay, a town in NSW with a harbour, in 1938.
In which state was a tiny town the first to outlaw plastic shopping bags in 2003?
Answer: Tasmania (Coles Bay)
The first place in Australia to outlaw plastic bags was Coles Bay, a municipality in Tasmania, in 2003.
Australian Geography Trivia
How many UNESCO World Heritage sites are located in Australia's Northern Territory?
Answer: Two are located inside national parks: Uluru and Kakadu.
One of four Australian locations recognised as having exceptional universal cultural and natural qualities is Kakadu National Park in the Northern Territory. One of the oldest human communities in the world has a traditional belief system that includes the enormous monolith known as Uluru and the rock domes known as Kata Tjuta, which are located west of Uluru.
Which Australian state would you visit the Grampians, which is popular with rock climbers?
Answer: Climbers and hikers love to visit Grampian National Park in Victoria.
The Grampians National Park, sometimes known as The Grampians, is a national park in Victoria, Australia's Grampians area. The name of the mountain range itself in Jardwadjali is Gariwerd.
Which Australian State is home to the biggest desert, the Gibson Desert?
Answer: Southwest Australia The Gibson Desert, the fifth-largest in Australia, is the largest desert in Western Australia.
Huge and mostly "pristine," the Gibson Desert is a large desert in Western Australia. After the Great Victoria, Great Sandy, Tanami, and Simpson deserts, it is the fifth-biggest desert in Australia with a size of roughly 155,000 square kilometers (60,000 sq mi).
What is the third-largest state by area in Australia?
Answer: South Australia
The third-largest state in Australia, South Australia, is where some of our favorite road trips can be found.
Which state in Australia is home to the tallest permanent single drop waterfall?
Answer: Wallerman Falls in Queensland.
Australia is home to several magnificent waterfalls. The tallest waterfall with a single drop is Wallerman Falls in Queensland.
A stop at Poeppel Corner is high on the list of travel destinations for many Australians. Where precisely is Poeppel Corner in Australia?
Answer: It is the location of the confluence of the NT, SA, and QLD borders.
Poeppel Corner, often referred to as "Poeppel's Corner in Queensland, is a state border intersection in Australia where Queensland meets South Australia and the Northern Territory. It is located at latitude 26° S and longitude 138° E.
Which Australian city offers a popular day excursion to the Swan Valley wine region?
Answer: Perth.
Over 40 wineries may be found in the Swan Valley, which is just 25 minutes northeast of Perth.
Lake St. Clair, Australia's deepest lake, is located in which state?
Answer:  Tasmania
Australia's deepest lake is Lake St. Clair in Tasmania, which has a surface area of around 45 square kilometers (17 square miles) and a maximum depth of 215 metres (705 feet).
Which Australian Island has the SS Maheno Shipwreck on its beach?
Answer: Fraser Island
On Fraser Island's 75 Mile Beach, close to Happy Valley, is where you may find the SS Maheno.
How long does it take the Indian Pacific to get from Sydney to Perth?
Answer: 60–70 hours
The train journey lasts 65 hours, spread out over 4 days and 3 nights (so 60–70 are accurate).
How many different time zones exist in Australia?
Answer: 3
Australian Eastern Standard Time (AEST), Australian Central Standard Time (ACST), and Australian Western Standard Time (AWST) are the three distinct time zones.
Which two towns in Australia are the most well-known "Twin Towns"?
Answer: Coolangatta and Tweed Heads
Officially known as "twin towns," Coolangatta and Tweed Heads are sister cities to Albury-Wodonga in New South Wales and Wodonga in Victoria.
Australian Politics Trivia
Which ex-prime minister of Australia lost his own seat in the 2007 Federal Election?
Answer: John Howard
The second sitting prime minister since Federation to lose in his own electorate was John Howard, who lost his seat (Bennelong).
Which Australian Prime Minister broke the world record for most beers consumed and now has a brewery in Sydney named after him?
Answer: Bob Hawke
For sculling 2.5 pints of beer in 11 seconds, Bob Hawke set a Guinness World Record in 1954.
Julia Gillard, Australia's first female prime minister, was a representative of which state?
Answer: Victoria
Between October 3, 1998, and August 5, 2013, Julia Gillard served as the Victorian representative for Lalor.
Which Australian beach is where former Prime Minister Harold Holt is alleged to have vanished from?
At Cheviot Beach in 1967, Harold Holt vanished while swimming.
On the afternoon of December 17, 1967, Prime Minister Harold Holt dove into the waves at Cheviot Beach in Victoria. He was never heard from again. In spite of a thorough search, no corpse or other evidence was discovered. No hints existed to explain his disappearance.
Which prime minister was taller, John Howard or Kevin Rudd?
Kevin takes the prize. John Howard is 1.76 m (5′ 9″) tall, whereas Kevin Rudd is 179 cm (5'10.5″) tall.
Which political party was represented by Australian PM John Gorton?
From 1968 until 1971, Sir John Grey Gorton, a Liberal party member, served as Australia's nineteenth prime minister.
Which prime minister was taller, John Howard or Kevin Rudd?
Answer: Kevin Rudd
Kevin takes the prize. John Howard is 1.76 m (5′ 9″) tall, whereas Kevin Rudd is 179 cm (5'10.5″) tall.
Which political party was represented by Australian PM John Gorton?
From 1968 until 1971, Sir John Grey Gorton, a Liberal party member, served as Australia's nineteenth prime minister.
The nineteenth Prime Minister of Australia, Sir John Grey Gorton GCMG, AC, CH, served from 1968 to 1971. He was an Australian politician (9 September 1911 – 19 May 2002). He had previously served as a long-serving government minister and was then the leader of the Liberal Party.
August 1992 saw the official debut of which political party in Australia?
Answer: National Greens party.
In 1992, the state-based Australian Greens groups came together to become the national Greens party.
What is the focus of the new museum in the old Parliament House?
Answer: Museum of Australian Democracy.
It was once the Australian Portrait Gallery and is now known as the Museum of Australian Democracy.
Who entered the Australian Parliament for the first time as an indigenous Australian?
Answer: Nigel Bonner
Nigel Bonner From 1971 until 1983, Bonner served as a Liberal Party representative for Queensland in the Upper House.
Trivia Questions Australia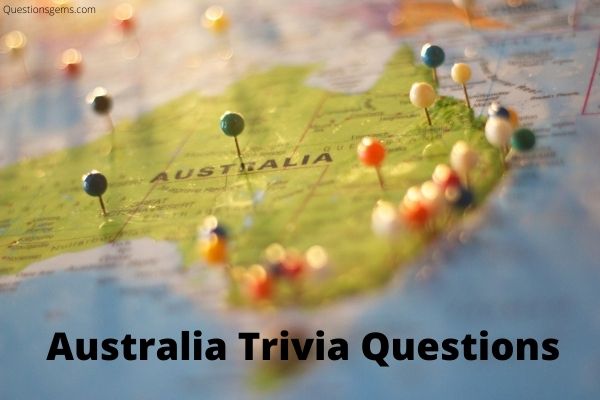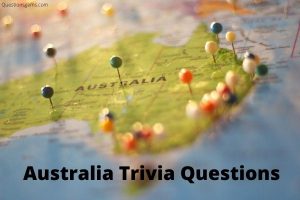 Q.1: How many Senators are there in Australian Parliament?
Options:
96
76
85
101
–
Answer- 76.
Q.2: In what year were the colonies united into a federation of states?
Options:
1901
1903
1898
1788
–
Answer- 1901.
Q.3: What worldwide pandemic killed more than 12,000 Australians in 1919?
Options:
The Plague
Polio
Spanish Flu
Lyme disease
–
Answer- Spanish Flu.
Q.4: What was the name of the overweight man who appeared in the 'Life? Be in it' campaign launched in 1975?
Options:
Fred
Norm
Gary
Rob
–
Answer- Norm.
Q.5: What was the first album to sell more than one million copies in Australia?
Options:
Whispering Jack by John Farnham
ABBA Gold – Greatest Hits
Thriller – Michael Jackson
Born in the U.S.A – Bruce Springsteen
–
Answer- Whispering Jack by John Farnham.
Q.6: Who is "Matilda" in the Banjo Patterson song Waltzing Matilda?
Options:
Sheep
Swag
Kangaroo
Gum Tree
–
Answer- Swag.
Q.7: In what year did Vegemite appear on Australian Supermarket shelves?
Options:
1954
1923
1915
1935
–
Answer- 1923.
Q.8: What is the national flower of Australia?
Options:
Banksia
Waratah
Golden Wattle
Blue Gum
–
Answer- Golden Wattle.
Q.9: In what year was Paul Keating elected as Prime Minister?
Options:
1989
1991
1993
1990
–
Answer- 1991.
Q.10: In what year did the Eureka (Rebellion) Stockade occur in the goldfields of Ballarat?
Options:
1901
1887
1865
1854
–
Answer- 1854.
Common Pub Australia Trivia Questions
Q.
Australia has been a part of Olympic History since the first modern Olympics in 1896 in Athens, Greece. Which equation best describes Australia's performance in the 1896 Olympics.
Answer:
One athlete won two gold medals.
Q.
Can you name the player who won a grand slam of tournaments in a single year, but became ineligible to compete for the next six years because of a professional contract, before later going on to repeat his great performance?
Answer:
Rod Laver
Q.
I was a world record holder and Olympic gold medallist whilst studying law in Australia and later in the USA. I was appointed a judge of the United States District Court by US President Ronald Reagan. Who am I?
Answer:
John Davies
Q.
If someone in Australia has been awarded a "Baggy Green" what have they received?
Answer:
A baggy green cap to represent the Australian Cricket Test team.
Q.
Who was Australia's "Golden Girl of Athletics" during the 1950s?
Answer:
Betty Cuthbert
Q.
Sir Ernest Edward "Weary" Dunlop, AC, CMG, OBE (12th July 1907 – 2nd July 1993) was an Australian surgeon who was renowned for his leadership skills as a POW of the Japanese during WWII. Prior to WWII while studying medicine at Melbourne University he participated in a sport in which he eventually represented Australia. What was this sport?
Answer:
Rugby Union
Q.
CYCLING- Which international cycling event is held annually in South Australia?
Answer: The Tour Down Under
Q.
This Australian Test cricketer (left arm swing bowler) enlisted in the British Army and tragically contracted typhoid and died in Durban at the age of 33. Who was he?
Answer:
John Ferris
Q.
The Australian swimmer Jacqueline Freney won how many gold medals at the 2012 Summer Paralympics ?
Answer:
8
Q.
The Knights are a National Rugby League franchise based in which city?
Answer: Newcastle
Q.
I won gold in the hop, step and jump. Another Aussie jumper (no relation) with the same surname won gold 24 years later, also with a jump. Who are we?
Answer: Nick and John Winter
Funny Australia Trivia Questions And Answers
Q. By 2010, The most medals Australia has ever won at a single Olympic Games was medals.
Ans: 58
Q. TheAustralian cinema industrybegan with the 1906 release of the world's firstfeature-lengthfilm. The film is called The story of the [—– —-]
Ans: Kelly Gang
Q. Which among these is not among the Australia's big icons
Ans: The Big Kangaroo
Q. The name Australia is derived from the Latin australis, meaning ?
Ans: southern
Q. The general term for native Australian flora and fauna used as a source of food is [ b— t—–]
Ans: bush tucker
Q. By total area, Australia is the … largest contry in the world.
Ans: sixth
Q. Australia is theworld's thirteenth largest economyand has thefifth highest per capita GDP. In 2010, Index of Economic Freedomranked it ?
Ans: third
Q. Australia has the greatest number of types of of any country, with 755 species.
Ans: reptiles
Q. Australia has participated in every summer Olympics of the modern era, and everyCommonwealth Games. True or false
Ans: TRUE
Q. Among well-knownAustralian faunaare themonotremes, mainly … And
platypus and koala
Conclusion –
So these are some of the best Australia Trivia Questions that you can find on the internet. We have picked the best of the best questions so you will be well prepared. Now that you have taken the Australia Trivia with us you know how much you need to work to win the Australia Trivia in real. We hope our article was helpful and you found everything you have been looking for.