TV is one of the most popular subjects for quizzes. People also love taking part in the TV quiz because they think they will probably know all the answers to all the TV questions. But it's not as easy as you would think.
There are hundreds of thousands of movies, tv-series, reality shows, etc. It's a TV quiz so they can ask questions from anywhere. Now, do you think it's possible to answer questions in a TV Quiz? Yeah, we thought so too. There are many things to look at before you enter the quiz. If you wanna win you have to be fully prepared for the quiz.
You surely don't wanna stop at anything and gather all the information that you can before you enter the quiz. That's the only way you can win. We are here to help you win the TV Quiz. How? Well, we have something that can help you get more information about the TV Quiz and help you win as well.
Here we have a long list of some TV Quiz Questions that are often asked in the TV Quiz. So go ahead and take a look at the following list of TV Quiz Questions and see if you can answer them.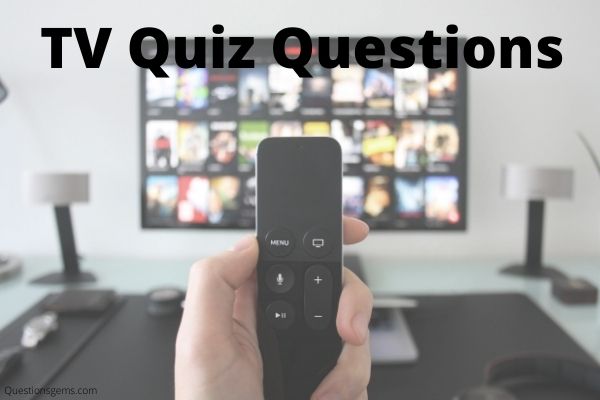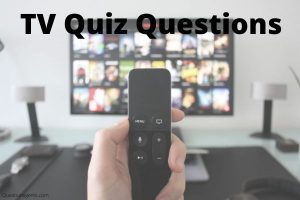 Also check-
Movie quiz questions
/
Pointless questions and answers
TV Quiz Questions
Q1. Which show is TV's answer to The Guinness Book of Records?
Ans-
Record Breakers
Q2. Which three singers from 'Rainbow' were given their own series?
Ans-
Rod, Jane and Freddy
Q3. Who presented his own 'Cartoon Time' and 'Cartoon Club'?
Ans-
Rolf Harris
Q4. Who was the 'Saturday Girl' on 'Multi-Coloured Swap Shop'?
Ans-
Sarah Greene
Q5. In which show for the under fives did The Muppets first appear?
Ans-
Sesame Street
Q6. What is the logo on a Blue Peter badge?
Ans-
Ship
Q7. Which show ended ruefully with 'Bye bye, everybody, bye bye'?
Ans-
Sooty
Q8. Who fought against Bulk and Texas Pete?
Ans-
SuperTed
Q9. Who were Andy Pandy's two best friends?
Ans-
Teddy and Looby Loo
Q10. Which 1970s ecologists had their own TV series?
Ans-
The Wombles
Q11. Which family had a daily help called Mrs Scrubbitt?
Ans-
The Woodentops
Q12. What did the letters in 'TISWAS' stand for?
Ans-
Today Is Saturday Watch And Smile
Q13. In which county was Camberwick Green?
Ans-
Trumptonshire
Q14. Who is Jennifer Saunders' 'alternative' comedian husband?
Ans-
Adrian Edmondson
Q15. What was the first series starring Smith and Jones called?
Ans-
Alas Smith and Jones
Q16. Which comedian had a St Bernard called Schnorbitz?
Ans-
Bernie Winters
Q17. Who was the first chairman of TV's Whose Line Is It Anyway?'?
Ans-
Clive Anderson
Q18. Who closed his show with the phrase 'May your god go with you'?
Ans-
Dave Allen
Q19. Who was Captain Fantastic in 'Do Not Adjust Your Set'?
Ans-
David Jason
Q20. Which writer hosts the ITV predecessor of 'Auntie's Bloomers'?
Ans-
Denis Norden
TV Quiz Questions And Answers
Q1. Who created the 'Spitting Image' puppets?
Ans-
Fluck and Law
Q2. Who was the dumb, giggly blonde on 'Rowan and Martin's Laugh In'?
Ans-
Goldie Hawn
Q3. Who created Stavros, the kebab shop owner?
Ans-
Harry Enfield
Q4. Which comedian had a hit with 'Funky Moped'?
Ans-
Jasper Carrott
Q5. Who created Algernon the Rasta and the Reverend Nat West?
Ans-
L. Henry
Q6. Who beat Victoria Wood to win 'New Faces'?
Ans-
Marti Caine
Q7. Who came to fame in 'The Comedians' before heading for Walford?
Ans-
Mike Reid
Q8. Who was the resident vocalist on 'That Was The Week That Was'?
Ans-
Millicent Martin
Q9. In which show would you find 'The Argument Clinic' and the game show 'Blackmail'?
Ans-
Monty Python's Flying Circus
Q10. Which comedy show had Shirley Bassey singing in a hobnail boot?
Ans-
Morecambe and Wise
Q11. Which Scottish show featured Helen Lederer and Gregor Fisher?
Ans-
Naked Video
Q12. What was Peter Cook and Dudley Moore's revue show called?
Ans-
Not Only… But Also
Related: Trivia Quiz / Baking Trivia
TV Trivia Questions
Q1. Who was famous for the Angela Rippon impersonations in 'Not The Nine O'clock News'?
Ans-
Pamela  Stephenson
Q2. Who were the first two regular team captains in 'Have I Got News For You?'?
Ans-
Paul Merton,  Ian Hislop
Q3. Who wrote for his own show under the pseudonym Gerald Wiley?
Ans-
Ronnie Barker
Q4. In 'The Frost Report' John Cleese was upper class and Ronnie Barker middle class: who was working class?
Ans-
Ronnie Corbett
Q5. Who has his own series '…Who Else'?
Ans-
Rory Bremner
Q6. Who joined French and Saunders in the writing of 'Girls on Top'?
Ans-
Ruby Wax
Q7. Who is sports commentator Alan Partridge's true alter ego?
Ans-
Steve Coogan
Q8. On which club show was the music provided by Shep's Banjo Boys?
Ans-
The Comedians
Q9. Which show had the Enid Blyton spoof 'Five Go Mad in Dorset'?
Ans-
The Comic Strip Presents
Q10. Which 90s show featured 'Jessie's Diets'?
Ans-
The Fast Show
Q11. Who was the female in the 1980s 'Three of a Kind'?
Ans-
Tracey Ullman
Q12. In 'Brideshead Revisited' what was Aloysius?
Ans-
A teddy
Q13. In 'Upstairs, Downstairs' what was butler Hudson's first name?
Ans-
Angus
Q14. Which actress played wife No 1 in 'The Six Wives of Henry VIII' and Mrs Victor Meldrew?
Ans-
Annette Crosbie
Q15. Who hosted a crazy Saturday night House Party?
Ans-
Noel Edmonds
Modern TV Quiz Questions
Q1. Which Darling Buds starred David Jason and Pam Ferris?
Ans-
Of May
Q2. On which long-running current affairs programme did the Princess of Wales give her first solo interview in 1995?
Ans-
Panorama
Q3. What is Nick's job in 'Heartbeat'?
Ans-
Police officer
Q4. Which Australian presented 'Animal Hospital'?
Ans-
Rolf Harris
Q5. In which series did Robson and Jerome star?
Ans-
Soldier Soldier
Q6. In which country was 'Eldorado' set?
Ans-
Spain
Q7. What did contestants have In Their Eyes in the impersonation show?
Ans-
Stars
Q8. What is the Channel 4 Breakfast programme called?
Ans-
The Big Breakfast
Q9. What Goes By in the sit com with Jean and Lionel?
Ans-
Time
Q10. Which Peaks provided a mysterious soap series in 1990-91?
Ans-
Twin
Q11. How long did Peter Mayle spend in Provence?
Ans-
Year
Q12. Did summer precede winter in Delia Smith's cookery collections?
Ans-
Yes
Q13. Which comedy series married David Jason to Gwen Taylor?
Ans-
A Bit of a Do
Q14. Where did Ken Barlow's father get the money that enabled him to move out of Coronation Street?
Ans-
A Premium Bond win
Q15. Which Alan Bleasdale offering won the BAFTA Drama award in 1982?
Ans-
Boys from the Blackstuff
Q16. What was Robin Tripp studying when he lived upstairs from the Ropers?
Ans-
Catering
Q17. Who was always trying to borrow food in 'Sykes'?
Ans-
Corky
Q18. Who is Frank Muir's most regular writing partner?
Ans-
Denis Norden
Q19. Which quiz and chat show host devised 'Whose Baby'?
Ans-
Eamonn Andrews
Q20. Which Rowan played the bumbling Mr Bean?
Ans-
Atkinson
Related: Celebrity Weddings Trivia / Bible Trivia
Music TV Quiz Questions
Q1. What is the series about LA lifeguards called?
Ans-
Baywatch
Q2. What was the House made of in the political drama?
Ans-
Cards
Q3. Which series starred Robbie Coltrane as a police psychologist?
Ans-
Cracker
Q4. What did you Drop in the series about a newsroom?
Ans-
Dead Donkey
Q5. Dawn French played the vicar of which parish?
Ans-
Dibley
Q6. What was the profession of Jack and Beth in 'Peak Practice'?
Ans-
Doctors
Q7. Which fashion House did Beatrice and Evangeline head?
Ans-
Eliott
Q8. What was said to Sweetheart in the series with Nicholas Lyndhurst?
Ans-
Goodnight
Q9. What was the first name of private detective Mrs Wainthropp?
Ans-
Hetty
Q10. Which animals was the series 'Trainer' about?
Ans-
Horses
Q11. What does Love do in the drama with Adam Faith and Zoe Wanamaker?
Ans-
Hurts
Q12. Who plays Edina in 'Absolutely Fabulous'?
Ans-
Jennifer Saunders
Best TV Questions
Q1. Which Breakfast News presenter took over the Holiday programme?
Ans-
Jill Dando
Q2. In 'The Brittas Empire' what is Gordon manager of?
Ans-
Leisure Centre
Q3. Who is the comedian husband of Dawn French who stars in 'Chef!'?
Ans-
Lenny Henry
Q4. Which Rab C. was a Glasgow street philosopher?
Ans-
Nesbitt
Q5. Which comedy series starred Dave King and Joe Marcell as tramps?
Ans-
Fancy Wanders
Q6. Where does Polly Sherman work?
Ans-
Fawlty Towers
Q7. Which Alan Plater TV adaptation starred Kenneth Branagh as Guy Pringle?
Ans-
Fortunes of War
Q8. Which member of The Grateful Dead was known as 'Captain Trips'?
Ans-
Jerry Garcia
Q9. Which two female TV stars are team captains on 'Give Us A Clue'?
Ans-
Lisa Goddard, Una Stubbs
Q10. Which series about two girls and a guy was called 'Three's Company' in the United States?
Ans-
Man About The House
Q11. Which quiz show was originally part of 'Wednesday Night Out'?
Ans-
Name That Tune
Q12. Which TV series starred Leslie Phillips and Donald Sinden as vicars?
Ans-
Our Man at St Mark's
Q13. Who is the richest person to have accepted a bit-part on 'Bread'?
Ans-
Paul McCartney
Q14. Which 'Blue Peter' presenter was in 'Space 1999' and 'Fallen Hero'?
Ans-
Peter Duncan
Q15. Which 'Good Life' star played the lodger in 'Goodbye Mr Kent'?
Ans-
Richard Briers
Q16. Who died in 1988 when he fell off a horse while filming in Spain?
Ans-
Roy Kinnear
Q17. Which Hywel Bennett series had the same title as a drama about a poet?
Ans-
Shelley
Q18. Which 1960s TV personality always ended his show in a white E-type Jaguar?
Ans-
Simon Dee
Q19. Who ran away to stay with Susan Barlow?
Ans-
Terry Duckworth
Q20. Which department at Crossroads Motel was run by Vera Downend?
Ans-
The hairdressing salon
Q21. Which comedy featured characters called Terry Collier and Bob Ferris?
Ans-
The Likely Lads
Q22. Which series linked Polly James and 'District Nurse' Nerys Hughes?
Ans-
The Liver Birds
Q23. Which 1960s soap cast Haverhill in Suffolk as Angleton new town?
Ans-
The Newcomers
Q24. Who was Sid's next-door neighbour in 'Bless This House'?
Ans-
Trevor
Children's TV Quiz Questions
Q1. Who played Josephine opposite Ernie Wise's Napoleon?
Ans-
Vanessa Redgrave
Q2. Which actress fluttered into the role of 'Laura and Disorder'?
Ans-
Wendy Craig
Q3. Which Eastender thought his father was Pete Beale when it was Kenny?
Ans-
Wicksy
Q4. Who took over from Phillip Schofield as presenter of Children's BBC?
Ans-
Andy Crane
Q5. What is the longest running children's TV programme?
Ans-
Blue Peter
Q6. Which former 'Blue Peter' presenter's mother is Gloria Hunniford?
Ans-
Caron Keating
Q7. Which series was a children's predecessor of 'Monty Python'?
Ans-
Do Not Adjust Your Set
Q8. What was the registration number of Lady Penelope's pink Rolls?
Ans-
FAB1
Q9. Who replaced Moony and Sunshine in 'Rainbow'?
Ans-
George and Zippy
Q10. Which village's postmistress is called Mrs Goggins?
Ans-
Greendale
Q11. Who gave his name to the early bulletins of 'Newsround'?
Ans-
John Craven
Q12. Who is associated with the catchphrase 'Get Down Shep'?
Ans-
John Noakes
Q13. What sort of animal was Parsley in 'The Herbs'?
Ans-
Lion
Q14. Which show was first presented by Emma Forbes and Andi Peters?
Ans-
Live and Kicking
Q15. Which magazine programme had a mascot called Murgatroyd?
Ans-
Magpie
Q16. In which 1980s/1990s series did Robin of Islington and Little Ron appear?
Ans-
Maid Marian and her Merry Men
Q17. Who had magical adventures and lived at 52 Festive Road?
Ans-
Mr Benn
Q18. What was 'Fingermouse' made from?
Ans-
Paper
Q19. Which pre-school programme was the first  programme on BBC2?
Ans-
Play School
Q20. Tag and Bobtail' which was the hedgehog?
Ans-
Rag
Conclusion –
So these are some of the best TV Quiz Questions that you can find. There will be a good chance that some of them will be asked in the TV Quiz as well. As we have said earlier the TV Quiz can be hard sometimes but with some good practice, you can win too.
Just do these questions and your chance to win will be more.
We hope you found our article helpful full and you got many things to learn as well. Thank you for being here and we are glad to help.