There are a lot of times we ran out of topic to talk to a person and that leads to a dead conversation. Although a set of intelligent questions can keep your conversation going on for a given amount of time but a set of weird questions is all you need!
You might not realize at first but if you ask someone a weird question their answers can enlighten the whole mood and make your conversation long-lasting.
But as easy as it sounds, finding some weird questions to ask (the appropriate ones) is a tough job! Our brain might not come up with the best weird question when we need them and that's why we are here to help you.
In this article, we have a collection of the best weird questions to ask. We have collected some of the best weird questions, which are appropriate and can lead to an interesting yet funny conversation. Whether you are chatting or looking for something to break the ice, these weird questions will come in handy. So let's not waste any more of your time and introduce you to the best weird questions to ask.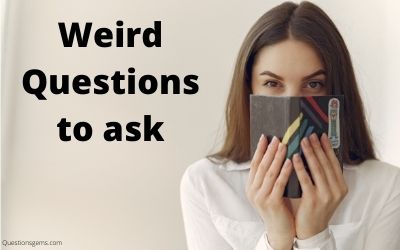 Weird Questions
How often do you brush your teeth?
The person you would never want to meet?
If a kid refuses to sleep during nap time, are they guilty of resisting a rest?
If you are bald, what hair color do they put on your driver's license?
If God sneezes, what should you say?
Is it still illegal to park next to a fire hydrant, even if your car is on fire?
If a bunch of cats jump on top of each other, is it still called a dog pile?
If a baby's leg pops out at 11:59PM but his head doesn't come out until 12:01, which day was he born on?
Do Jewish vampires still avoid crosses?
Who is the person you trust most?
If you were the opposite sex for one day, what would you look like and what would you do?
Who in the room do you think would be a bad date?
Do you have a secret talent and what is it?
What is one unique thing are you afraid of?
How weird is this?
How old is the oldest cell in your body?
Do you like carrots?
If ghosts can walk through walls and glide down stairs, why don't they fall through the floor?
Is it legal to travel down a road in reverse, as long as your following the direction of the traffic?
Why doesn't the fattest man in the world become a hockey goalie?
Why aren't drapes double sided so it looks nice on the inside and outside of your home?
Is a pessimist's blood type B-negative?
Why is it that when we "skate on thin ice", we can "get in hot water"?
The size of your hard-disc?
What's your favourite word?
What's your worst pet peeve?
Whats your favorite horror movie?
Can you buy an entire chess set in a pawn shop?
Why do people think that swaying their arm back and forth would change the direction of a bowling ball?
What do you do when you see an endangered animal that is eating an endangered plant?
If glassblowers inhale do they get a pane in the stomach?
Why doesn't McDonald's sell hotdogs?
Are eyebrows considered facial hair?
At a movie theater which arm rest is yours?
If an ambulance is on its way to save someone, and it runs someone over, does it stop to help them?
Do vegetarians eat animal crackers?
Why are there no 'B' batteries?
Is it rude for a deaf person to talk (sign) with their mouth full of food?
You can press a button that will make any one person explode. Who would you blow up?
Have you ever collected stickers that are on fruits?
If you were a tree, what tree would you be?
You have the opportunity to sleep with the music-celebrity of your choice. Same rules as above. Who is it?
Do you have any relatives in jail?
Have you ever gone cow-tipping?
Whats your favorite colour?
What did the last text message on your phone say?
If anyone in the room could be your slave for a day, who would it be and what would they have to do?
What would be a question you'd be afraid to tell the truth on?
You can only have one kind of sandwich. Every sandwich ingredient known to humankind is at your immediate disposal.
You have the opportunity to sleep with the movie-celebrity of your choice. Who would it be?
Do you like baths or showers?
When you looked in the mirror first thing this morning, what was the first thing you thought?
How much cash do you have on you?
What's a word that rhymes with TEST?
You can flip a switch that will wipe any band or musical artist off the earth?
Who would you really like to just punch in the face?
Is your favorite cheese?
When Atheists go to court, do they have to swear on the bible?
Why is vanilla ice cream white when vanilla extract is brown?1
Can animals commit suicide?
If a doctor suddenly had a heart attack while doing surgery, would the other doctors work on the doctor or the patient?
How can something be "new" and "improved"? if it's new, what was it improving on?
Why do they sterilize lethal injections?
Do you do dance crazy when no one is looking?
Do you like to sing in the shower?
Who is the fourth person on your missed calls?
What is your favourite ring on your phone?
What shirt are you wearing?
What do you label yourself as?
If you had to choose between a millions bucks and being able to fly, which would you choose?
Do you like someone?
The last song you listened to?
What is your guilty pleasure Disney movie?
What's the longest you've gone without taking a bath?
Where is your nearest 7-11?
If a mime is arrested, do they tell him he has a right to talk?
In the song Yankee Doodle, is he calling the horse or the feather "macaroni"?
Is there a time limit on fortune cookie predictions?
If vampires can't see their reflections, why is their hair always so neat?
Since bread is square, then why is sandwich meat round?
What's a saying you say a lot?
Your worst enemy?
 Weirdest questions
What is the sexiest and least sexy name?
What sport would be the funniest to add a mandatory amount of alcohol to?
What movie would be greatly improved if it was made into a musical?
If your five-year-old self suddenly found themselves inhabiting your current body, what would your five-year-old self do first?
What is something that everyone looks stupid doing?
What is something that is really popular now, but in 5 years everyone will look back on and be embarrassed by?
What would be the hat to end all hats? What could you wear on your head that would make people stop what they are doing and stare in awe and amazement?
If animals could talk, which would be the rudest?
In 40 years what will people be nostalgic for?
What inanimate object do you wish you could eliminate from existence?
What are some things that are okay to occasionally but definitely not okay to do every day?
What is the weirdest thing you have seen in someone else's home?
Who do you know that really reminds you of a character in a TV show or movie?
What would be the coolest animal to scale up to the size of a horse?
What is the most embarrassing thing you have ever worn?
What part of a kid's movie completely scarred you?
What used to be considered trashy but now is very classy?
If you were arrested with no explanation, what would your friends and family assume you had done?
What's the most ridiculous fact you know?
What set of items could you buy that would make the cashier the most uncomfortable?
What is the funniest joke you know by heart?
What are the unwritten rules of where you work?
What is something that you just recently realized that you are embarrassed you didn't realize earlier?
What is the funniest corporate / business screw up you have heard of?
If you die and find out that everyone gets to choose a twelve-foot by twelve-foot square to stay in alone for eternity without being able to influence or contact the living world, what twelve-foot by twelve-foot square would you choose?
What's the best type of cheese?
What kind of cult would you like to start?
In one sentence, how would you sum up the internet?
First think of a product. Now, what would be the absolute worst brand name for one of those products?
If the all the States in the USA were represented by food, what food would each state be represented by?
What are some of the nicknames you have for customers or coworkers?
What would be the absolute worst name you could give your child?
What are some fun and interesting alternatives to war that countries could settle their differences with?
What would the world be like if it was filled with male and female copies of you?
What's the best Wi-Fi name you've seen?
If life were a video game, what would some of the cheat codes be?
How many chickens would it take to kill an elephant?
What would be the worst "buy one get one free" sale of all time?
Is a hotdog a sandwich?
What secret conspiracy would you like to start?
What would be the worst thing for the government to make illegal?
Which body part do you wish you could detach and why?
What's the weirdest thing a guest has done at your house?
What's invisible but you wish people could see?
What movie completely changes its plot when you change one letter in its title? What's the new movie about?
If you were held at gun point and told that if you didn't impress them with your dance moves you would be killed, what dance moves would you bust out?
Where is the strangest place you've urinated or defecated?
What's the weirdest smell you have ever smelled?
What mythical creature would improve the world most if it existed?
How do you feel about putting pineapple on pizza?
You're a mad scientist, what scientific experiment would you run if money and ethics weren't an issue?
What two totally normal things become really weird if you do them back to back?
If peanut butter wasn't called peanut butter, what would it be called?
What would be the creepiest thing you could
 Weird Questions To Ask A Girl
What was the most magnificent fountain you've seen?
What was the weirdest conversation you have overheard?
What do you dislike but have no good reason for disliking?
When was the last time you screamed at the top of your lungs?
What would your dream bathroom look like?
What would be much better if you could just change the color of it?
What ice-cream flavor is absolutely disgusting?
What are some things that you've never bought and will never buy?
Who's your favorite protagonist from an animated movie?
What food would be the best to make a house out of?
What's the worst you've seen someone screw up on social media?
What was the last thing that you remember that made you cringe?
What is something about life that people don't appreciate as much as they should?
What is the ugliest thing you own?
What's the best "less is more" example you can come up with?
What view would you most like to have out of your window?
What product has greatly exceeded your expectations?
 Weird Questions To Ask A Guy
What is the most boring activity imaginable?
What are some things that you haven't seen or read, but know everything about because of popular culture?
What old fashioned way of doing things is better than how they are currently done?
What's your fast food horror story?
How often does your brain go on autopilot?
What piece of tech do you hope is invented in your lifetime?
What fun activity from your childhood has been completely ruined for kids today?
What is the most useful thing your mom or dad has taught you?
What landmark from your childhood was destroyed and what was put up in its place?
Weird questions to ask your boyfriend
What is the longest amount of time you have been awake?
What is your hometown best known for?
What's the most important file on your computer?
What scene from a movie scarred you for life?
What game do you dominate when you play it?
When did the saying "looks can be deceiving" really hit home?
What's the future of dating?
20 Weird questions
Room, desk and car – which do you clean first?
What do you think of garden gnomes?
Name five uses of a stapler without staples.
How would you get an elephant into a refrigerator?
How many people are using Facebook in San Francisco at 2:30pm on a Friday?
If Germans were the tallest people in the world, how would you prove it?
How would you cure world hunger?
How many different ways can you get water from a lake at the foot of a mountain, up to the top of the mountain?
If you were a Microsoft Office program, which one would you be?
Pepsi or Coke?
 Weird Questions To Ask Yourself
How come abbreviated is such a long word?
If it's zero degrees outside today and it's supposed to be twice as cold tomorrow, how cold is it going to be?
Why do you press harder on a remote-control when you know the battery is dead?
Since Americans throw rice at weddings, do Asians throw hamburgers?
Why are they called buildings, when they're already finished? Shouldn't they be called builts?
Why are they called apartments, when they're all stuck together?
Why is a carrot more orange than an orange?
When two airplanes almost collide why do they call it a near miss? It sounds like a near hit to me!!
Why are there 5 syllables in the word "monosyllabic"?
Why do they call it the Department of Interior when they are in charge of everything outdoors?
If vegetarians eat vegetables, what do humanitarians eat?
Why is it, when a door is open it's ajar, but when a jar is open, it's not a door?
Tell a man that there are 400 billion stars and he'll believe you. Tell him a bench has wet paint and he has to touch it.
How come Superman could stop bullets with his chest, but always ducked when someone threw a gun at him?
If "con" is the opposite of "pro," then what is the opposite of progress?
Why is it lemon juice contains mostly artificial ingredients, but dish washing liquid contains real lemons?
Why do we wash bath towels? Aren't we clean when we use them?
Why do we put suits in a garment bag and put garments in a suitcase?
Why doesn't glue stick to the inside of the bottle?
What do little birdies see when they get knocked unconscious?
If man evolved from monkeys and apes, why do we still have monkeys and apes?
Do married people live longer than single people, or does it just SEEM longer?
I went to a bookstore and asked the saleswoman, "Where's the self-help section?" She said if she told me, it would defeat the purpose.
If all those psychics know the winning lottery numbers, why are they all still working?
Isn't the best way to save face to keep the lower part shut?
War doesn't determine who's right, just who's left.
Conclusion –

Here we have listed some of the best weird questions to ask. I am sure you have had a laugh reading them or finding their answers here. So do not hesitate to ask them when you are out of topics to make your conversation interesting.

We hope you liked the above weird question and we are pretty sure that they will work for you as they have worked for other people. Thank you for being here and we hope we have helped you and you have found the best weird questions to ask. Thank you for visiting our page and keep coming for more such articles in the future as well.