Passport interview questions by questionsgems.
Are you looking for some good questions asked at passport interview? Then you are at the right place, here we provide you some good type of questions to ask at passport interview. So prepare these questions and enjoy!
–
PROCESS:
–
If you are 16 years or older and are applying for a British passport for the first time, you are required to interview as part of the process to apply for a passport. The interview process is not required for applicants under 16 or adults that have already held passports as children.
–
If you are applying for the first time, you need to submit your application along with the required documents. From there, you will be reached by letter or phone to schedule an interview at a nearby office. There is an interview office in most large towns or cities, and the interview will be held at a location that is convenient, factoring your commute options.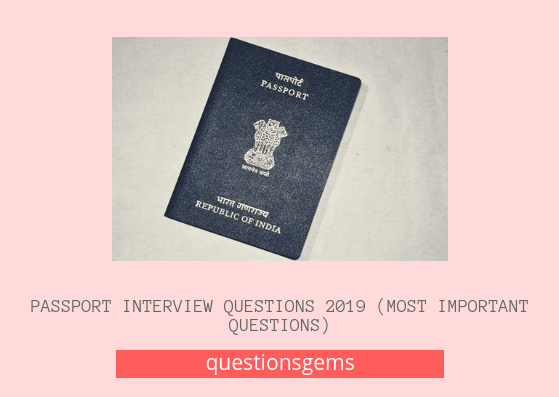 Passport Interview Questions (Passport Seva Kendra Questions)
Q. What is PSK?

–

Passport Seva Kendra in short PSK is an office where people verify that the information provided by you while filling the application is valid or not.

–

Once they verify your documents and they feel that your documents are valid they send your details for police verification.

–

Don't expect it as typical Indian government office. PSKs are very modern having display screens every where and employees over there are very professional.
Q. When I have to visit PSK?

–

Once you complete the application filling process the system will generate an application form, in that form they give date and time of appointment.

–

You have to be there in the time (as I said PSKs are not typical govt. offices).
Q. What I have to do in PSK?

–

Once go there security will check you and allow you inside the office, if you are not carrying any explosives :). In some PSKs they wont allow mobile phones and bags also. So, better to not carry any thing with except required documents.

–

Once your inside the office you have to visit 4 counters (A,B,C and D) one by one sequentially.
Q. What I have to do in counter 'A'?

–

In counter A they verify your Application form and documents.

–

If every thing is good they will issue a TOKEN.

Your token is pass to go to other counters.

Then seat over there for few minutes(max 5-10 mins), then counter B guys will call you.
Q. What I have to do in counter 'B'?

–

In counter B they scan your documents,

they take your finger prints,

Photographs and money if you haven't paid online already.

–

Then they give receipt, you again have to wait 5 mins before you get call from Counter C.
Q. What I have to do in counter 'C'?

–

In counter C they check every document thoroughly (they check literally check every single letter in your documents and application for mistakes).

–

If minor mistakes they ask you to write request letter to APO to accept your application.

–

If major mistakes they will send you back to get proper documents. In some cases you have to apply again.

If every thing is good they will send you to counter D.
Q. What I have to do in counter 'D'?

–

In counter D they just take your application and copy of all your documents and they give an acknowledgement letter with reference number on it.

–

You can use this reference number for tracking purposes.

Then you can go home.
Q. What are the other facilities available in PSKs?

–

Coffee/Tea.

Snaks

Xerox machine.

ATM (some PSK just outside).
Q. How much time it will take in PSK?

–

If all your documents are perfect it will take less than 30 minutes.
Q. How to track my application?

–

passport tracking
Passport Interview Questions Regarding Name
Q.

State your full name

Spell your name

State any name changes, including your maiden name
Passport Interview Questions Regarding Address
Q.

State your address

Confirm your current residence

State previous residences

State your postal code

Describe your property

State the number of bedrooms in your house

State how long you've lived at your residence

State whether you own or rent
Passport Interview Questions Regarding Home Bills
Q.

State your gas/electric supplier

State your car insurance provider

State your telephone company

State your bank and how long you've been with the bank

State any additional accounts you might hold
Passport Interview Questions About Your Spouse Or Partner
Q.

State if they are a citizen of Britain

If they aren't, state when they moved

State their occupation

Describe when and how you met

Date and place of marriage (includes civil partners)

Length of marriage
Passport Interview Questions Regarding Your Kids Or Potential Kids
Q.

State whether you have kids

State how many kids you have, if any

State their birth dates

State their age

State the schools they go to
Passport Interview Questions Regarding Parents
Q.

Give their names

Give their birth dates

State whether they are British citizens

State their residence

State the number of siblings you have
Passport Interview Questions Regarding Yourself
Q.

State where you were born

State when you came into the UK

State what you do for a living

State your place of work

State the length of time you have been there
Passport Interview Questions Regarding Naturalization
Q.

State whether you've been naturalized

State when you've been naturalized

State the number of people at the ceremony

State the place of the ceremony
Passport Interview Questions Regarding Prior Passports And Nationality
Q.

Place where your old passport was issued

Length of time you've had this passport

Whether you will continue to use the passport or not
Passport Interview Questions Regarding Your Passport's Co-signer
Q.

Give their occupation

State where they work

Provide their name in full

Describe their relation to you

State the length of time you've known each other