On a house hunt? It surely isn't an easy task. You will have to think about its location, go through a lot of paperwork and most importantly you will have to think about budget! Going for housing search can be tedious and it's surely not easy to negotiate to the sellers right. And in this chaos, people always ask that if it's the best time to buy a new house? Or should I wait for the right time to buy a new house when the price will drop?
It's natural to think about these things and experts believe that house price fluctuates throughout the year. And if you make a good strategy and finds the right time to buy a new house then you can save a lot of money!
As we have discussed it's all about timing and some times in the years are more likely to be in favor of buyers than sellers. And in this article, we are gonna talk about which is the best time to buy a new house!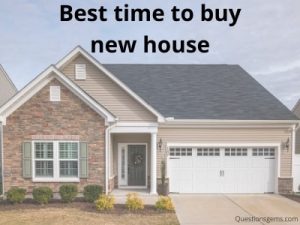 Best Months To Buy A New House!
Researchers have found that autumn and winter are the best months to buy a new house.
The main reason would be, summer is often considered as the month when people love to go on house hunt. Take an example of yourself, would you rather go on a house in warmer and more pleasant weather rather than chilling winters? Of course, anyone would choose the spring and summer to buy their own house. But that would simply mean, the competition will be tough since everyone is on house hunt, sellers will the bid the offers and they will be benefited from it.
So the conclusion is, more will be the competition more will be the price of houses and it will only and only favors the sellers and house agents!
While in winters, there are fewer people on the street and the holidays too affect people's interest in house hunting as many will wanna spend their holidays with their family and not in the chaos of buying a house. And right there will be your plus point! When there will be less competition, you will get a good chance to negotiate your deal with sellers and get yourself a house at a reasonable price! You will be surprised to know that in winter the prices of the house are 8.4% less than that of summers.
Even the sellers themselves prefer spring season to put their house on sale but if you have found houses that are available for sale during winter, you should definitely go for it as they would likely to negotiate the deals which would give you a direct benefit.
Do your own research before buying a house!
Although autumn and winter are considered the best months to buy a new house, however, the real estate market is not predictable so it is advised that before investing your savings you should always do your own research and get all the knowledge about real estate trends. The reason why we are saying is that prices may differ from location to location and according to the economy of their locality!
You can also take the advice of a local realtor and determine the market pattern. Location is not the only factor that can make a difference in price but some economic or national circumstances, too can make a good difference in the prices and you can easily take advantage of it if you have the proper knowledge.
Keep an eye on price trends too, it may need your efforts and a good understanding of economic patterns. But again a house isn't a small thing and it isn't a decision which you can rationally make. So it's better to collect such information and make a wise decision than regret later.
Conclusion:

So this our guide for the best time to buy a new house. You can hunt the houses in winters and negotiate a deal with the seller. But you will have to do your homework with price trends and local research. So keep looking and with the right knowledge, your chances of getting the right house at the right price will increase!