There is no doubt that the wedding day is one of the most prestigious days in our lives. Everyone wants a perfect wedding and they start to plan the wedding months before the wedding date just to make sure everything goes perfectly and as they have planed. That's because no one wants to stress at the last minute and wants everything perfect as per their plan.
There are so many things you have to take care of such as the food, the dress, guest list, but most important of all the wedding venue! Although some people have decided where they gonna marry a long time ago but for others, it all depends on what wedding venue they choose.
To choose the perfect wedding venue, just sightseeing won't help. Because there is so much more than a pretty place that you are looking for. You have to make sure that there is everything you will need and want on the wedding day. From billings to space, you have to make sure the venue can serve your needs.
This can only happen when you have full knowledge about the wedding venue. One of the ways to do that is to make sure that you ask the right kinds of questions before signing the contract.
But which questions to ask? Well we are here for that, we know it can be overwhelming just at looking at the wedding venues, and sometimes the venue is too beautiful that you just wanna sign the contract without asking any questions. But that can be hard on your pocket as well as for your wedding day because you won't know anything about the venue.
So to find a perfect wedding venue, you need to ask the right questions. To that, you have to have the right question to ask when deciding the wedding venue on your mind.
So here are some of the best weddings to ask wedding venue, take a look and ask these questions before signing the contract and locking the wedding venue.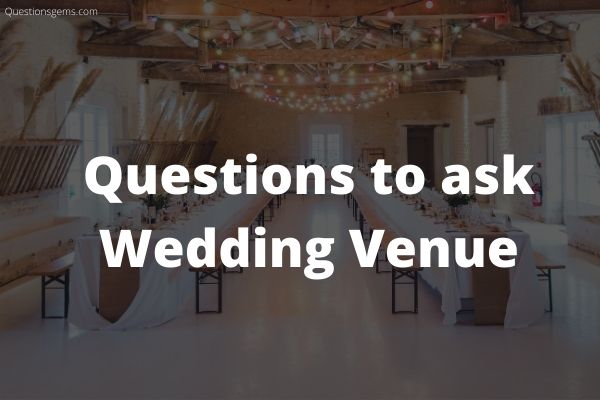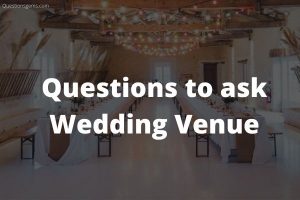 Questions To Ask Wedding Venue
Q1.What dates are available in the month I'm considering?
Q2.How many people can this location accommodate?
Q3.What is the rental fee and what's included in that price?
Q4.How many hours does the rental fee include, and is there an overtime fee if I stay longer? We really like to party.
Q5.How much is the deposit, when is it due, and is it refundable?
Q6.What's the payment plan for the entire bill? What forms of payment do you accept?
Q7.Can I have my ceremony here, too? Is there an additional cost?
Q8.Are there changing areas for the bride, groom, and/or wedding party?
Q9.Can we have our rehearsal dinner here? What about a morning-after mimosa brunch?
Q10.How much time is allocated for the rehearsal?
Q11.What's the cancellation policy?
Q12.Are tables, linens, chairs, plates, silverware, and glassware provided, or will I have to rent them myself or get them through my caterer?
Q13.Can I bring in a cake from an outside baker or do I have to use a cake made on site?
Q14.Is there a cake-cutting fee? If I use a cake made on site is the fee waived?
Q15.What's your weather contingency (backup) plan for outdoor spaces?
Q16.Do you have liability insurance?
Q17.Is there a food & beverage minimum?

What's the tax and service charge?
Q18.Can we do a food tasting before we finalize our menu selection? Does it cost extra?
Q19.Do you have an in-house caterer or a list of "preferred" caterers, or do I need to provide my own? Even if there is an in-house caterer, do I have the option of using an outside caterer instead?
Q20.If I hire my own caterer, is there a kitchen available for them?
Questions To Ask Wedding Venue At Final Meeting
Q21.Is the venue available on the date you need it?
Q22.How many guests can the banquet room accommodate?
Q23.What are their wedding packages and what is included?
Q24.What other events are going on at the venue on the same day?
Q25.Is there another event scheduled for your room at a different time during the same day?
Q26.How long are you able to have the room?
Q27.What rooms are included? Bathrooms, bridal party rooms, lounge area, cocktail area, and coatroom?
Q28.Is there a designated smoking area?
Q29.Is an outdoor area included for a cocktail reception?
Q30.Is the room accessible for disabled guests?
Q31.Is there a secure area to store the wedding gifts?
Q32.What does a typical layout of the room on the wedding day look like?
Q33.Do they have photographs to show you of other receptions?
Q34.Can you come back and see it set up for another wedding?
Q35.Who is the main venue contact for day of wedding?
Questions To Ask Wedding Venue Before Booking
Q36.Is there anything you need to bring in that they do not have?
Q37.When can you start decorating?
Q38.Are there decorating restrictions?
Q39.Can the centerpieces contain candles?
Q40.What do they use for table settings?What decorations does the venue provide?
Q41.Do you have to provide your own place cards?
Q42.How many people can sit at one table?
Q43.Are there booster seats or high chairs available for children?
Q44.What are the different ways the venue serves food? Buffet, family style, individual plates?
Q45.Do they provide in-house catering? If not, do they have a preferred list of caterers?
Q46.Can you arrange for a tasting?
Q47.Is there a cost for a tasting?
Q48.What does the venue provide for drinks with the meal?
Q49.Can they accommodate special diets?
Q50.How many choices can you offer your guests for meals?
Q51.How many wait staff will be provided?
Conclusion:

So these are some of the best questions to ask about the wedding venue and that's all you would need to ask. Make sure you get all the details about the wedding venue before you finalize it. We hope that these questions would help you finalize the wedding venue and that you will get the dream wedding at the perfect wedding venue.