Bad at compliments. Don't know how to compliment a girl? Many men believe complimenting a girl is a difficult task. Some are shy at speaking, and some don't know how to initiate a conversation. It is a difficult task to express your feeling and put them in the form of words. You try to speak but fail at expressing what you mean. Before complimenting you need to think many things and are surrounded by the number of questions.
How to initiate a conversation? Will she get offended? Will she like it? How would she take it? All these questions brainstorm you, and you never know the right words to compliment her. Some genuinely compliment you out of respect while, many act foolish and creepy. Due to this, they receive criticism from girls and, girls get uncomfortable. So, it is essential to watch your words and think before you speak. Sometimes most genuine compliments are taken in a wrong way and misunderstood due to your way of delivering it.
Why don't you abstain from giving the compliments than fearing the right way to do it?
The thought of getting misunderstood and spoiling your image makes you believe that it is good to abstain from giving any compliment. But, not complimenting at all is an entirely wrong approach. This is because complimenting is a way to appreciate and make someone feel special.
Many girls expect to receive a compliment from you, but when you don't react, it makes her feel upset. Thus, you should never abstain from giving any compliment, but you should know to put your thoughts into the right words. Although your intentions may be clear and genuine, sometimes your way of delivering the compliments make it look creepy and stupid. Therefore, you need to be very careful while complimenting a
girl or talking to her.
Here are some things you should take into consideration while complementing or initiating a conversation with, any girl or woman.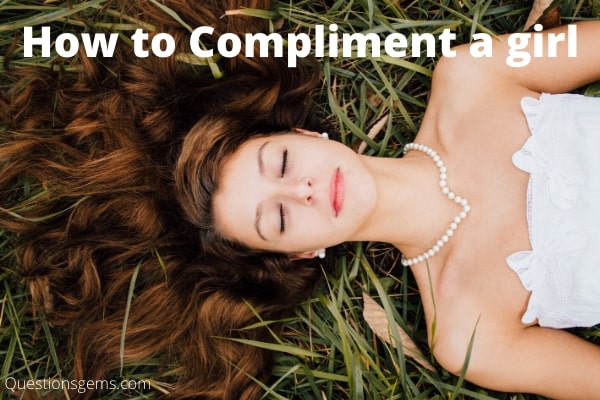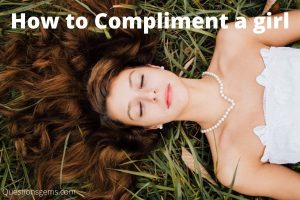 Also check –
Cute things to say to your girlfriend
/
How to get girl's attention
1. Don't be weird, act normally
Many guys try to act differently or extra generously than they really are. This makes you look weird, especially when she knows you for a long time. So, don't be silly or pretend something you are not. Stay the normal bit you always have been, since it will not make her uncomfortable and your compliments will seem genuine. Many times your behavior makes her feel awkward and uncomfortable. She will be busy figuring out your erroneous behavior, and your words would just increase the suspicion. Be the real you, and you will get a positive response.
2. Be decent and mature
Try to behave decently, so that she would feel comfortable talking to you. Especially when it is your first or second meeting, the way you behave greatly matters her opinion about you. The more decent you will sound, the more comfortable she will be with you. Also, don't act like immature teenagers, you are a mature person, and you should deal with things more carefully. Once you meet her, you should know how to initiate a conversation, how to receive her, talk to her and host her at the dinner. Your gentleman's side would appeal to her and make a positive image of yours in her mind.
3. Watch your words
Whenever you compliment someone, the words you use, matter a lot. The words you speak, can be taken as negative or cheap. They can be misunderstood or be a double meaning, making her uncomfortable. This makes you stand at a vulnerable position and, you seem just like another stupid flirt. The words you use should not be immodest or vulgar. You should start with simple and genuine appreciating statements rather than going too far or complimenting on her physical appearance. The words you use can change your compliment into a cheap or negative comment.
4. Don't be too loud or overexcited
The tone of your voice affects the impact of your statements. When you are too loud to speak or so slow, it makes her less interested in continuing a conversation with you. It makes her irritated and, she can lose her patience. You should have a humble way when talking to her. Your tone should be soft and gentle. It should not sound like a tantrum or a wicked statement, but a genuinely sweet compliment. Humbleness is a quality everyone falls for.
Also check – How To Be A Good Boyfriend In Long Distance Relationship
5. Body language
Your body language tells a lot about your personality. The feelings and words are best judged by your body language. Many times words you say, seem appreciating but your body language makes them look like anything else. Your gestures are not coordinated with the words you say, portraying you as a fake or hypocritical person. The gestures you use, your facial expressions are enough to make someone fall in love with you and also make someone hate you for nothing. If you have a good body language, no weird expressions, you are likely to succeed. Your entire personality is judged by your body language and stature.
6. Avoid being over-friendly or close
If you are meeting someone for the first time or have not known a person for long, it is good if you stay the usual way. Don't try to be so frank and avoid indulging in an uncomfortable conversation. Stop being over-friendly and asking too many personal questions. This would make you look like a desperate flirt, and you are likely to get an insulting response from the girl. Avoid being touchy and don't force her to talk continuously. You should understand the value of silence. Sounding absurd would only lead to deterioration of your image and a bad impression on her.
Also check – How To Be Perfect In Everything
7. Don't make any sexist comment or any physical judgment
You must act sensibly and avoid any comment that would look like a sexist comment, making her feel uncomfortable and humiliated. It is best to refrain from complimenting her physical appearance as it is most likely to end up in the wrong court, making her feel uncomfortable and disrespected. You can talk about her voice, her eyes, her smile, but avoid any conversation related to other body parts. Once a negative impression is made, you cannot make yourself look genuine or nice. You will be added to the list of bad or stupid men and lose any chance of further communication.
8. Look into eyes
Whenever you are interacting with a girl, your safest and most successful approach is to look straight in the eye and compliment her. This will make your compliment look more real and genuine. This is because when you are complimenting, and you look around, it makes her distracted and less interested. Moreover, never look at her body parts while speaking, it would make a negative impression, and you will look like a man full of lust. Thus look into the eye and say whatever you feel, it would seem more real, magical, and a genuine compliment. Finally, you end up making a good impression and impressing her. Your words are not taken wrong and are responded positively. Let it be smooth, simple, and sweet interaction.
9. Make a distance
Never stand too close to a girl violating her safe distance area. It would make her feel vulnerable and uncomfortable unless she knows you very well. Maintain your distance with her so that the conversation will be in a positive way. Getting extra close would be a disturbing option. As, she will be distracted and cautious unable to pay attention to the words you say or mean. She would want to run away from the conversation and negatively take your compliments. So you must be cautious of her safe distance and comfort level.
10. Make her feel comfortable
Always try to make the girl feel comfortable with you. Only if she is comfortable with you, you can talk to her more freely and openly. She would like to interact with you and be interested in initiating a conversation with you. Be careful of her comfort zone. Don't make any comment that can make her uncomfortable or disturb her.
You should talk in a way she finds safe and secure with you. Once you both are comfortable with each other and understand each other better, it will be easy to talk more lovingly. Respect her sense of talking and movement. Don't restrict her ability to speak or feel comfortable. Be wise and understanding and compliment her in a way it makes her feel special and appreciated and not being misunderstood or misinterpreted.
Conclusion
In nutshell, you should consider many things while complementing a girl or talking to her.You should act in a concerned and affectionate manner. Try to have a better understanding and respect her. Avoid doing anything stupid or silly. Be more responsible and careful of the words you use. Your behavior, tone of voice, and choice of words are the factors that determine how she will take your compliment. Try being more positive and comfortable, if you expect a positive response.