Handmade and vintage items have been an important part of the world. Though in recent days when everyone believes on machine-made products. Probably the reason for such a change from man made products to artificial stuff is their easy availability and most importantly, the low price. In this era, where people are forgetting about those beautiful handcrafted pieces of art, companies such as Etsy is keeping them alive. Etsy deals with things such as clothing, jewellery, bags and many other handmade and craft items. The American e-commerce website is the perfect place for newcomers and gives a huge boost to handmade items. In this article, we will be talking about how to start a business on Etsy.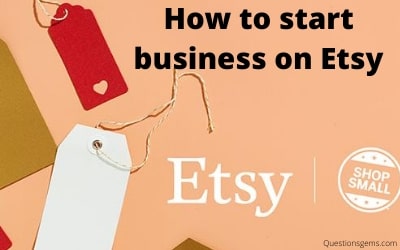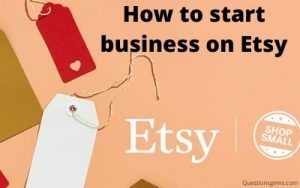 Also check –
How to start landscaping business
/
How to start a lawn care business
How To Start Business On Etsy
Create an account on Etsy

Etsy is a big and famous website. They not only help you to sell their items on their platform but also promotes your products in different other ways. The website needs you to register with the basic information. You will have to select the option of I want to sell and create an account by adding personal details such as name, mobile number, email address and other required fields. Finally, you will be asked to set your password and verify it. Etsy will verify your mobile number and email address. You can also use your Facebook ID or Google account to open an account of Etsy. It is a faster and easier way to connect to Etsy.
Setting up your account

Customizing and starting a business on Etsy is very easy. Etsy will provide you with options such as changing your language and your country currency on the next page. There are many categories in which they divide the products, and you will be asked to choose accordingly to your products. Since you have opted for the language, you are comfortable with it's too easy to understand the instruction and operate. The country information and ZIP code are needed so that they can verify and list your items according to your currency. You will get the option to further change your language once you are done with setting up.
The first mark of your business at Etsy

In the next step, you will have to select the name for your shop. Etsy gives you the freedom to think creatively and select the dream name you want for your business. There are some guidelines for naming your shop on Etsy. You cannot use a name that has already been taken by another user, the maximum word count for your name is 20characters. You cannot use any special symbol, and no space is allowed. We will suggest you to think out the box while naming your business. The more unique it gets, the more attraction it has. And yes, don't forget to keep the name related to your business.
Start adding

You have successfully opened a business on Etsy having a name, and it's time to add items. These items will be displayed to the customers once they visit your shop. Adding items need a good amount of precision. You will have to add a lot of things about your product.

Add photos- Adding photos to your product online increases a chance of more than 40 per cent for sale of your item. It attracts the customers and gives them an image of how the item looks and in what condition it is available. Try uploading a high pixel image for clarity and specific details.
Adjust and shuffle your thumbnails– To understand this in a simpler way, you will need to give a cover photo to the specific product of yours. If anyone on Etsy or on your shop searches for an item, you will always want that the first photo which will be displayed to the customer is the best one. This is the reason, select wisely and make the best one the cover photo. The first impression is the last impression, and when it comes to online business, it even becomes more prominent.
Listings and details– Etsy gives you an option to describe your product. You can easily navigate and categories them into sections such as clothes, jewellery, bags, arts and many more. The website provides you with a description space of 140 characters for each product. You have limited words hence choose wisely so that the description says everything about your product and most importantly is attractive. You also will get a detailed description column which will be displayed once the customers click on your product. Etsy gives you bulleted and highlights option for emphasizing on key features.
Tagging– many business owners on Etsy miss this option. Thy think tagging does not make a lot of difference in business but believe me if it's used wisely, it can make drastic changes in your sales. You get 13 tags with each item. Now before tagging and using them with your product, think like a customer. If you were to search for the product you are selling, what can be your keyword that first hits your mind? The keywords which you think will easily attract crowd towards your item should be your tags.
Complete your inventory- Start pricing your products. The business works when you try to make it work smartly. If you expect to earn huge from the beginning, then you definitely are going to be disappointed. Include and show all the taxes and other charges in the pricing section and try to keep your pricing moderate initially. Adjust and mention the shipping fees. This one is definitely one to be taken care of. It is still convenient if the order is within the country but one it's an international order, sometimes the shipping charges exceeds the price of products hence guide your customers and show them how these charges are applied.
Review- Etsy will provide you with an option reviewing the items before they actually go live. You can easily preview them and experience how a customer is going to see your item. If you feel the need for changes, you can improvise. Once you have published the item, it becomes very hard to edit it. Hence the step is very important.
You will have to select your payment modes-

Etsy requires you to set up a standard way to accept payments. You will be given options, and you can set the preferences accordingly. The Etsy payment and PayPal are two of the favourite methods. You can have many other methods such as net banking, Card payments and even cash and cheques. Choices for the payment methods are completely dependent on your convenience. Many people aren't comfortable with accepting cash, and most preferred is PayPal.
Paying Etsy-

the company will charge you for using its services. You will be needed to provide your credit card details so that, they can verify your country and charge you monthly according to the rates. They will deduct the amount liable automatically from your credit card at the end of each month.
Conclusion:

You are done opening your business on Etsy now. Start marketing your items. You can customize your shop on Etsy whenever you need to change things up in your shop. You can change prices, add items and kick out the unavailable ones. It is one of the best platforms which have given wings to small-sized business.