People have very busy schedules, and they don't have time to maintain their yards and garden. Many of us have occasionally mowed down our lawns now and then in our lives in order to maintain them. Landscaping and lawn care can easily fetch you some bucks which you can use as per your convenience. There are various advantages of starting your own landscaping business. You can devote your time and efforts whenever you feel, and there would be no Boss to rule you. One another pro of having your own landscaping business is that you can work at any time of the day at your own pace as per your convenience.
People love to see a flourishing garden with flowers and well-maintained bushes when they come home from a busy day. Here comes our role, if people couldn't do something they like due to lack of time or expertise, and you do it for them, that is business, my friend. When it comes to taking care of their lawns, yard and gardens, it's called a landscaping business. In this article, we will be discussing how to start a landscaping business.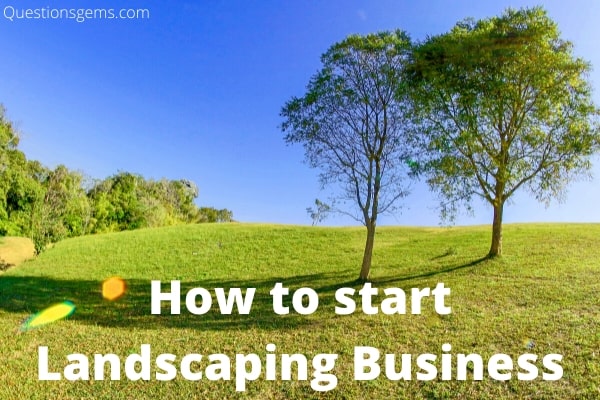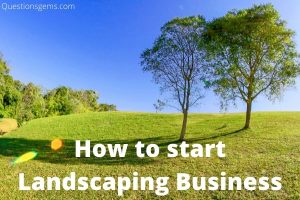 Also check –
Small business ideas
/
Future business ideas
How To Start A Landscaping Business
Establishment of your business identity:

A landscaping business has a lot to do with gardening and botany. You will need a good and deep knowledge about garden shrubs and the plants grown in your area. You should also get a survey report of the locality which you will be operating on. This will help you to narrow your study and get more information about those plants which the people in your area like to grow. Further, you are going to open up a new business, and the first thing you have to do is asking for funds. You need a good amount of investment and initial money to start up with things. And financial backups are also a big part.

Such a business needs financial security to work with. If anyhow you fall back, this amount can bring you back to work. Also, try working for other people before actually getting into the business. If you don't know the whole process, of how the work is done or how the investments are made, then work for a well-established franchise which already is doing well with the business. This will enhance your capabilities and will help you in working out things more easily.
Pricing should be done prior to the opening:

You will have to plan and make a proper financing scheme before you start your business. Go and have a look at the current rates in the market. Once you get to know how much people will be investing in what sort of work you can have a plan ready. You will need some heavy machinery and equipment to work out on a landscaping business. All these machineries may cost some good money.

You need to have a good knowledge of how to spend your money. If you lack the basic knowledge, you surely will go an invest in a less worthy product. Pricing will help you to make plans for your upcoming future business aspects, and further will be the basic source for expansion of your business. Even you can have help from different investors who can help you in opening up. An investor is always a great plan as the money dependency on your shoulders deceases.
Get the proper licencing:

In a landscaping business, you need to get yourself licensed from various departments and offices. The first one will concern your business practice. You need a licence to start any business named under your private will. The second one will be a very important one. You will have to get a certificate from the fertilizers and pesticide department. You will be using hundreds of harmful chemicals which, when overused or wrongly used can lead to dangerous situations. The department will have an inspection and hence will see that all the important guidelines are followed.

While performing a landscaping business you will be cutting lots of twigs and leaves, which when not disposed of in proper way can lead in a hazardous situation, so the environmental department also will have to give you clearance. At last, you will need a contractor's licence. You will be working with a unit of the team in a certain area on a contractual basis; hence you need to have a licence of practising as a contractor. This licence permits you to have a legalized them, and you can work in private places on the basis of your contact.
Marketing and tax:

Marketing again comes in this business also. It is a constant and you cannot miss marketing if anyhow you want a good and successful business. Marketing can be done using the fancy and advanced modes of these days. You still have got an option to pate an advertisement in the newspapers and magazines. You can go to posters and banners. Even having an advertisement on the television and radio is great. People prefer to watch television and then reading the newspaper, so it is considered better. The main problem with all of them is the cost. You won't get all these limited money.

It needs good investment and further high maintenance. You can advertise in a newspaper and television up to a limited time period. A solution to this problem is internet marketing. Get your computer out and market through your social media. Start using tags, and create pages as you like. Creating their own domain name is a new trend these days. You will need to pay a little but comparatively very less. This will attract whole lots of customers and not only this much, but you can start having services just as home visit and pre-bookings.
Focus on your primary customers:

Many a time, people get distracted to a crowd who doesn't have to do well to the business. You will have to recognize you, main customers. For example, if you are giving your poster to a man who doesn't have a lawn or a garden, it is completely a waste of time and money. Respect your customers and do well for them. If your first customers get a good service, it is very obvious that he is going to spread the word.

This is why the first customers are very important. Also, there are two sources by which you can get feedback and rectify your mistakes. The first one will be a hard one when your job is given to the opponents, and the other one is feedback by the customers. They can tell you the exact problem and what they expect. Your businesses are with landscaping so approach those who have a big lawn or garden.
Get a team:

You ant do this work alone. You have to get a good team and organize how to work with them. All your workers should be respected and treated equally. A team will always enhance and make your work get improved. A landscaping business is not possible without a team so better find one. The most trusting person should be appointed as head of your team who will be command after you.
Conclusion:

Landscaping is a big business and requires deep knowledge and good planning. If you want to be successful in this one go and work hard. It is teamwork so if you find the perfect combination to your team you can have success. The business is kind of more dependent on seasons. Winters are not the correct time to start such a business.