With the growing reach of the internet and technology, there are various new business opportunities that have fallen in our laps. And one of them is the Local Lead Generation business. Not many people are aware of this business but this one plays a key role in our lives! And if you have decided to start a Local Lead Generation business then you are on the right path and you can definitely achieve success in it. You should know that many big tech companies are now hiring people who can convert the leads into potential customers.
But how can you start a local lead generation business? It is indeed a question that requires an intuitive answer because you may not understand it fully if you have just started your career in the local lead business. So here we have a complete guide that will help you to understand how to start a local lead business.
But first, understand what is a lead!
A lead is someone who has expressed an interest in a company, product, or service. A lead has the potential to become a customer and expand your customer reach.
And drawing such leads to make them a customer and sell your products is what is known as a lead generation business. It may be considered as a marketing strategy but it's surely different from all the traditional forms of advertisements.
The local lead generation business is one that targets the leads in the local area and sells them the products or services of a company. In simpler words, you will be attracting the local community who make up the largest customer base.
A local lead generation business helps small businesses by getting them the customers and expanding their business reach within the local community.
In this article, we have written down a few steps which would help you to start the local lead business from scratch. So go ahead and read the full article you might find useful.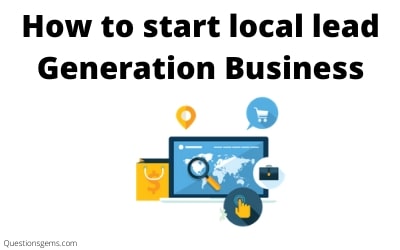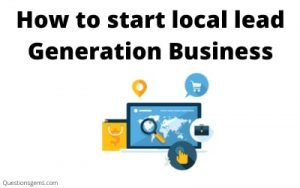 How To Start Local Lead Generation Business
1. Conduct a research

The first step that you need to take is to do research for a local lead generation business so that you can understand what it is about and how things work out in the business. You should know that different market offers different value for leads.

You should also understand that different household with various income streams also makes a difference. See if you look at the rich families, with a high income, then you will get higher value for the lead. While a middle-class niche may feature lower value. So your research will tell you which is the most profitable as well as the most suitable niche for you.

You would also find out what are the required demographics and physiographic and how much your clients are willing to pay for these leads. You should also figure out the pay scale and pick a niche!
2. Pick a niche

Although we have written that you have to pick a niche and you will have more understanding of it when you do research. We have written the three categories of niches that you can choose from, they are

By industry – a lot of people choose their niche according to the industry. It means the companies offer goods and services of a particular trade, profession, etc.
By geographic area – since you are starting a business of local lead generation you will have to pick a niche by a particular geographic area. Although many companies do prefer picking their leads from different cities and towns for their clients.
By demography – this means targeting the customers of a particular age, religion, or language. This is also a potential lead generation business for many companies.
3. Price your services

Now that you picked up a market you will have to decide what will be the charges for your services. The price depends on many factors such as what kind of services you offer does, and how variable it is. You should also consider the services offered by your competitors and their prices as well.

Apart from this, your service charges also depend upon industry, company size, reputation, qualifications, and so on. If you can't figure out what will be your charges then you may take professional help and come up with a reasonable price for your service which is also profitable.
4. Calculate the cost for the business

You must need a capital to start any business and that stands true for local lead business as well. Although the operational costs are minimum you will still need some capital to start the business. And that's why we should calculate the cost for the business so you can start the business.

This way you will be aware of your financial needs for the business and that would result in good business strategy and a clear business idea. The costs may include hiring a web designer, content writers, or any other element that you are going to add in your services a local lead generator.
5. Buy the business license

Every business requires a license to run and it's also true for a digital business like the local lead generation business. The licensing process would also require a basic understanding of the federal laws of telemarketing in your state. And the license may vary from one niche to another so you will have to know what kind of license will be required for your niche.

Apart from getting the license, you would also need to gain a basic understanding of the basic rules and regulation:-

Privacy and piracy – you have to be careful that the content you are posting online isn't pirated. And for that, you will need certain software and tools. You should also respect the privacy of your clients as well as the leads.

You should also be aware that you can get a fine if your content has been reported by someone.
6. Create a professional website

Well, it's rather basic information but still, we are going to tell you that a professional website is very crucial in this business. It will help you to get the poetical leads and to create engaging content. It would be beneficial if you're a professional website that has automated features.

Make sure that your website is professional at the same time it has some personalized features so that your leads can easily navigate it. You can hire a good web designer to make a professional website for your business.
7. Database

You have to have a database through which you can store the data of your leads and use them. Withing a database you can draw out reports based on your lead's personal information effectively. Overall it would help you to run the business effectively. But you will also need to create a payment system, security system, and tracking software to protect your lead's data.
8. Advertise your business

It sounds ironic but you will have to find yourself a customer out of leads before you do that for others. So make sure you advertise your business so that companies/professionals who are searching for lead generators can find you.

After you have advertised your business just capture the potential clients and monetize your leads. It's gonna be a tough part but you will do great after providing leads to your first client!
Conclusion:

So these are the simple ways through which you can start your local lead business. You have to keep patience because the bigger companies have the leverage to hire the bigger lead generation companies but there are still a good number of opportunities for a beginner as there are many small companies and business owners who would want beginners to make the leads their permanent customers.

Thank you for visiting our page and we hope you have found the article helpful.