Startups are the trend these days, and a wedding planning business is a great catch in these times. In a total, when we talk of countries such as India, there are more than 2000 ceremonies being performed each day in the country. People spend lavishly on their wedding ceremonies. All around the world, there are hundreds of different cultures and religions, and all of them have different ways of celebrating a wedding.
It doesn't matter how the ceremony is going to be performed; in how many days they celebrate a wedding, a wedding planner is always needed. Imagine how great it is to plan one of the most important days in anyone's life and make it perfect so as the day becomes a beautiful and memorable one for them.
In this article, we will be discussing about how to start a wedding planning business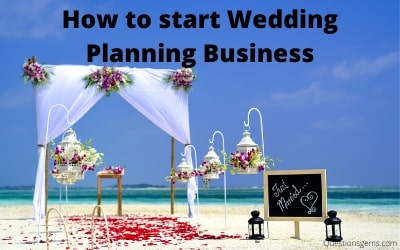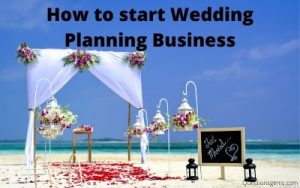 Also check – How to start meal prep business / How to start babysitting business
How to start wedding planning business
Investment:

Investment is the most basic step of any business. It would help if you had some experience and advice on how to plan investing. It is always great to work with a group of people or join a business that is running successfully in the field you are interested in. This will make things a lot easier for you. You will get the basic idea of where to put your money, how the business of wedding planning works, and the efforts you will have to make for making your startup a successful one.
Basically, if you talk about initial investment in a wedding planning business, the money is not a huge bulk. You will need some accessories such as a good laptop or commuter system with storage enough to store all your information. You can start your office by renting a small place, and even you can start by making your home your office.

You will need contacts with different vendors and providers, and you will need a small investment out there. This investment builds confidence and trust; further, it assures that you won't be wondering or approaching people for your work at the last time. Once all the investments are made, you have a team ready to take orders and provide you with the stuff you need.
Marketing:

Any business in this world needs recognition for running successfully. It makes no sense that you have invested with service providers, like one responsible for cooking, the other for decoration, and many more of such providers that you will be needing while planning a wedding and staying home and chilling out just waiting for a customer to knock your door. Marketing is the word you need.

You can have different marketing services, and social media and the internet are the latest and probably the best of all of them. The best part of using the internet as a way of marketing is its cheap rates. Even you can have your own website on the name of your business, starting with a small amount as 1500 INR.

You can get other ways as social media for marketing. Facebook and Instagram are the best in the business. If you have a capacity for investing more than you can go with print media such as newspapers, posters, and banners. Even you can have your advertisements on television. The more marketing you do, the better it is.
Inputs:

Even if you get clients, it does not assure success for you. Since your business is a new one, hence the market will be seeing you work for the first time. The output of this project is going to set a name and, most importantly, will declare the standard of your wedding planning. The first project is always a big project, and you need to provide the best of your inputs. There is a crazy competitive world out there, and once you drop the bar, it's over before you actually start. Don't try to complicate things. It is always better if you keep it simple but perfect.

Most probably you will be the in charge of everything. Try to build the best communication possible between different units. Remember that it is not going to be always as you have planned. In any business, the most important part which will assure the future of its success is improvisation. Face the problems, calm yourself, think best, and improvise the best you can and see how things turn around even greater than expected.
Use competitive analysis:

There will be many wedding planning businesses going on in your city even before you thought of getting into such a business. Many of them are expected to be flourishing, and people consider them to be a successful name in the market of wedding planning. The other will be the one that due to wrong choices, and the unclear way will be degrading and most probably are termed unsuccessful.

Try to learn from both of them. The successful one will show you how and when to do things in the business of wedding planning. It will show you the proper way of dealing, where to invest, what gives the best possible results, and, most importantly, what to expect during your business. Further, the one which is degrading can help you even more than the successful one. It will give you the most important list for your business, the list of what not to do.
Income:

The final factor that decides the result of your business is its income. When we talk of earnings from a startup, never ever expect high income. Remember that "Rome was not built in a day," and so you will have to be patient. Give time and always give the best to your customers. It can be hard to cope with difficult situations while starting your own business. You may not get good responses even after working hard, or in the worst case, you don't get work for days, but all you have to do is believe in yourself.

If you know you did your best, you will definitely get your reward. The main thing is to keep your graph rising. It should rise even though it's showing slight growth. Every business has different outputs, and so is the case in wedding planning business. You should always know how much you can expect from your business. Review your performance based on profits monthly and annually. If it seems to be going in a nice way, you successfully have established your wedding planning business.
Conclusion:

A wedding is something that people performed even in the ancient and early ages, and it will always be performed in our human society. The idea of planning a wedding and perfecting the day for a couple is a great job. You will have to be patient, hardworking, and, most importantly, smart. People sometimes due to over expectations in this business lose their tack, which ultimately leads to a failure of the business.

You should know your limits and realization always work. It is not every time a business has to be successful. Just waiting and praying without any output is sometimes not the correct way. A smart businessman knows when to start and when to step down from an idea. So plan, accordingly, give your best shot and remember the above points. I hope you will have a great business in planning weddings.