We all need vacations every once in a while to relax and refresh ourselves and have quality time with our family or friends. Planning a vacation cab can be a little chaotic but a lot of stress can be relieved if you already have a place to stay while vacationing. That is where the static caravan comes in the pictures and saves us from a lot of added stress and planning. Static caravans are getting pretty popular these days as more and more people are investing in these vacation homes, especially in the UK.
If you are planning to buy a static home too then your timing can't be more perfect. There are so many options and you can easily make a good deal too. However, buying a static caravan is not as simple as just looking at several options and choosing whatever seems good to you. There are so many layers that you need to acknowledge when it comes to choosing the perfect static caravan for you.
If you are buying a static caravan for the first time then you might want to know what makes a static caravan good enough for you and your family. There are plenty of features and factors that you should take a look at while buying a static caravan.
Here we have listed some questions that you should ask before buying a static caravan. Asking these questions would help you find the perfect static caravan that meets your needs and budget.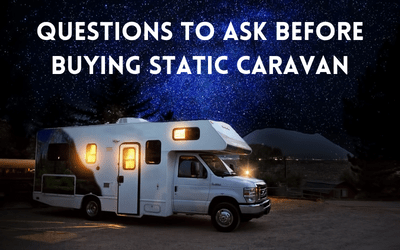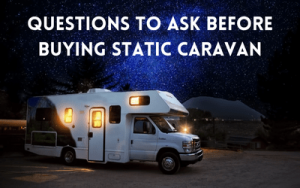 Also check –
Questions to ask solicitor when buying house
/
Questions to ask when buying land
Questions To Ask Before Buying A Static Caravan
1. What Costs are Involved in Owning a Static Caravan?
Before you buy a static caravan, you need to know what costs will be involved in owning a static caravan. If you have never owned a static caravan then you might get surprised by the maintenance costs and additional costs. The biggest chunk of the overall cost goes to the pitch fee. It depends on the location of the parks and the facilities provided. Some parks provide entertainment and facilities within your pitch fee.
There are other additional costs such as electricity, gas, and water. You should also look at the insurance cost. Everything you need to know about the fee structure would be in the agreement provided by parks so make sure to read it thoroughly and ask any questions that come to your mind.
2. Do Holiday Parks Close for Winter?
While a lot of parks are open throughout the year, some may have a schedule and specific timing. So you should know the opening and closing times of the park and when it will be accessible for you.
This will help you find the one that suits your holiday season and you can also plan accordingly. There are some parks that also open seasonally while others might only open for ten months.
Overall, you should know if the parks open thoroughly the year or if there are some specific times before you buy your static caravan.
3. Can I Live in a Static Caravan?
While it may look tempting to live in a static caravan but it can't happen for many reasons. This is one of the most asked questions that people generally have in their minds. The static caravans are located in the holiday parks and not in the residential ones so you won't get permission to live in one. Furthermore, the static caravans aren't built with residential standards so that is also a reason why you can't live in them.
4. How long can I keep my static caravan on the pitch?
The periods you can keep your static caravan on pitch varies from one park to another. There will be agreements where the periods will be stated. You can make an agreement that is suitable for you. However, once the deal has been made it can't be negotiated so you should be careful with the period.
5. Is the Holiday Park Child Friendly?
If you have got kids then you should be asking this question while buying a static caravan. Some holiday parks are child friendly while others are not. As a parent, you might want to make sure that the caravan is ideal for your kid and that they have a comfortable and fun time. You can also look for the activities and entertainment facilities for kids offered by the park.
6. Is the Holiday Park Dog Friendly?
If you have got pet dogs then you might want to know if you can have your dog with you on the static caravan. For this, it is important that you get permission from the holiday park and that it is dog friendly. There are some holiday parks that are dog friendly while others are not. So before buying the static caravan you should be aware of their pet policies!
7. Can I Sell My Static Static Caravan?
You might be excited to buy a static caravan but you need to know if you can sell the static caravan if you no longer need it. While selling a static caravan is totally legal and you can do so at your discretion, you might want to check the policies of the park and may ask their permission before you sell the static caravan.
8. Do Static Caravans need Insurance?
Just like with everything else, your cars, home, gadgets, etc, the static caravans also need insurance. However, you will need to check with the holiday park operators to know more about the insurance policies. The holiday park operators would have a good knowledge of what you need and what kind of insurance you should buy. Apart from this, you should also do your own research before buying insurance.
9. Can I Rent or Sublet my Static Caravan?
Renting or subletting seems like a good option when you are not using the static caravan yourself and also make an extra income. While most of the holiday parks do provide this option, some would need you to ask permission and follow the guidelines when it comes to subletting your static caravan.
You can also sublet your caravan to your friends and family as well to make some quick bucks without going through any kind of trouble.
10. Does a Static Caravan Require Maintenance?
The static caravan requires maintenance just like everything else you are surrounded by. You should be aware of the simple maintenance demanded by the static caravan and know if you would be able to do that or not. With simple maintenance, you can increase the lifespan of your static caravan.
The simplest way of knowing what maintenance a static caravan will require is to ask for a handbook full of maintenance guides and instructions. You should also ask about warranties before you buy your static caravan and what they cover.
11. Can you get a Static Caravan on Finance?
You can buy your static caravan on simple EMIs as lots of holiday parks provide that option as well. There are many offers given to the holiday parks as they may have tied up with the finance company already. So you can ask them for the policies and interest rates. Although make sure that the holiday park operator is not trying to scam you with high-interest rates or hidden costs.
12. What about deposits?
There are some static caravans you may get with a deposit while the others will ask for full payment only.
If the static caravan is available at the deposits then you should ask about the minimum deposit.
13. Does the Holiday Park have its own entertainment and sports facilities?
We have mentioned this many times now, the holiday parks do offer some entertainment activities or even sports facilities. However, the offers will differ from one park to another.
The entertainment and sports facilities provided by the parks do make a difference and can impact your holiday quality. The price will also differ according to the facilities provided by the park, so make sure you get the best value for your money.
You should also consider the locations of these activities and facilities as well as the schedule or closing time so you can plan your activities accordingly.
14. How Much are the Site's Fees? And often the site fee increases.
The site fee is also an important aspect and it also varies from one park to another depending on the location and the activities provided.
The site fee can change and most probably increase from time to time. This will help you give a perfect idea of how much it would cost and how much fee increase you can expect.
15. How are Gas and Electricity paid for in a static caravan?
The parks have different policies when it comes to paying for gas and electricity. Some parks give you an annual bill of electricity or even gas while with some you need to buy your own gas tank. How you pay them also differs from park to park so you should check the policies and method of payments asked for and accepted by the parks.
16. Do the parks offer internet and parking facilities?
The Internet is a necessity these days so it's only natural that you expect the parks to provide an internet connection. While some give you access to the internet for free (included in the total fee) others parks may charge you some extra bucks for the wifi access.
Parking is also important as you might come to your static caravan on your vehicle. So you should ask if the parks provide you with these basic facilities or not.
17. How big are the static caravans?
This is another important question that you should not neglect. While you may use a static caravan for a few days only, you can't compromise on the comfortable and ideal size of the static caravan.
The general size range is from 28 by 10 feet, all the way up to 43 by 14 feet. The largest ones are more on the luxurious side and also offer space for more people. You should know how many people can stay in a static caravan without being uncomfortable so you can buy the one that is perfect for you and your family and friends.
18. Does the Park Operator have Staff available 24/7?
The Park staff is also crucial when it comes to having a comfortable stay as you can call them to assist you whenever needed. That is while buying your static caravan you might want to know how smooth the staff operation occurs and if you can get the ideal assistance on your vacation.
19. What Security is in place for when the Caravan Park is Closed?
Park security is also crucial and essential and you should know if the park is secure or not. That is why you need to ask questions about the security of the park before making the full purchase. You need to know that your property will be safe and secure when you leave it all behind. Ask about their security policies and see if you feel good about it.
20. When is the Best Time to Buy A Static Caravan?
People ask this question a lot when they think about buying a static caravan. However, there is no perfect time of buying a static caravan other than the fact that you are ready and have all the facts and information to buy a perfect caravan for yourself and your family.
Nevertheless, there are times when you can ask for discounts and get a good price from the dealer. So make sure to ask for discounts from the dealer or broker before making a final decision.
21. Are There Any Council Taxes on Static Caravan?
Council taxes are not implied on static caravans so you don't need to worry about that. Council tax is only applied to residences and not for holiday use.
22. Are there any park rules?
You may be required to follow a specific set of rules imposed by the holiday park. This differs from one park to another. So before buying your static caravan, you should be aware of the rules you will need to follow.
23. How do I arrange to get my Static Caravan Sited?
The static caravan is arranged by the park operator themselves so you don't need to worry about that. However, you may need to pay some fees if you are shifting your static caravan from one park to another. The connection cost and additional costs will be there when it comes to buying and placing your static caravan for the first time.
Conclusion:
Static caravans can make your vacations a lot more fun and relaxing as you don't need to worry about finding a perfect place to live while exploring your favorite place. As we have mentioned before, there are many options available that will meet your needs so all you need to do is find the perfect one. Asking questions before you make the final decision about a static caravan would certainly help you get the best value for your money as well as a perfect vacation home.
That would be all for now, we hope you found everything you have been looking for, and you get the best static caravan!