Everyone hopes they get a job that they want or a job in one of the finest companies as well. And when that happens, people are more than happy or overwhelmed with joy that they don't think anything else but to thank God!
Although accepting a job should not be immediate or spontaneous. You should not forget that you are accepting a big thing in your life and that job will define so many things in your life. That is why you need to take a break and think about that job offer or letter before accepting the job!
But why would anyone want to second guess a job opportunity? This might be your question. You should know that accepting a job means committing yourself to that job for a long period and your livelihood and almost everything would depend on that job as well. So it would be better if you take some time and to think about everything before taking the job.
You should also ask a few questions before you accept the job. The questions would help you to get clarity about the job and whether or not you would want to take the job as well. The questions should be precise and appropriate and they should give you everything you need to know about the job.
The thing is most people don't know what they should ask. After all the questions are pretty important because they will give you all the information about your future job. So if you are here to know about what questions you need to ask before accepting the job then you have come to the best place. Here we have listed down the best questions to ask before accepting the job, so go ahead and take a look at the following questions and pick a few for yourself.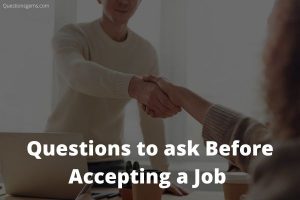 Questions To Ask Before Accepting A Job
1.When do I start?
2.How did this position come to be open?
3.What does success look like in this role?
4.Could you give an example of a typical working day?
5.What would my immediate priorities be?
6.What are the expectations of this position over the first twelve months?
7.How would you measure my success, if I were chosen for this role?
8.Is there anyone I can reach out to and get guidance from?
9.What are the biggest challenges people face when they start out in this position?
10.Who will I work with most closely?
Questions To Ask Before Accepting A Management Position
11.Who will I report to directly?
12.Is the salary negotiable?
13.Is the amount provided base pay?
14.What is included as a part of your benefits package?
15.What kind of opportunities exists for personal growth?
16.Will I be getting any additional wellness perks?
17.What is the performance review process like here?
18.What metrics or goals will I be evaluated against?
19.Can I know about the 401K program?
20.Do you offer dental and vision insurance?
21.How many sick days and personal days will I get?
22.How much paid vacation time will I get per year?
23.Can I carry over the paid vacation time if I don't utilize it?
24.What are the core working hours?
25.Will I get the flexibility of working from home once in a while?
Good Questions To Ask Before Accepting A Job
26.What is your vision for the team?
27.What is the biggest achievement this department has made?
28.I've read about the company's founding, can you tell me more about…?
29.Where do you see the company in the next five years?
30.Can you tell me about your new products or plans for growth?
31.Would you mind giving me a tour of where this job would take place so I can get a feel of where I'd be working and who I would be working with?
32.How is work-life balance in the company?
33.What is the company culture here like?
34.Does anyone on the team hang out outside the office?
35.What are the long term prospects for the person who takes up the job?
36.What do you offer in regards to training the staff?
37.Would I be able to represent the company at industry events and conferences?
38.Can I answer any final questions for you?
39.What is the biggest challenge facing this department right now?
40.Do you have any reservations about me or my background for this position?
41.Ask About Benefits
42.Ask if the Salary Is Negotiable
43.Ask About Other Perks
44.Ask about Vacation Time
45.Ask What Other Employees Say About the Company
46.Ask About Incentive Compensation
47.Ask About Relocation Expenses
48.Ask About Education Opportunities
49.Ask for Everything in Writing
Questions To Ask Before Accepting A Job At A Startup
50.Has the CEO built a business before?
51.What is the salary range for this role?
52.What percent of the company do these shares represent?
53.Does the company have good funding?
54.Do you believe in the vision?
55.Is this startup in the field you ultimately want to work in?
56.Will this startup expose you to technology and problems that excite you?
57.Does this startup have the sort of role you'd ultimately like to be in?
58.How are raises calculated and awarded?
59.What is your runway?
60.Do you believe in their latest round valuation?
61.What can you learn?
62.What are the backgrounds of the people on your team?"
63.What are the founders' backgrounds?
64.Does this startup have a big 'brand' already?
65.Do you have product-market fit?
66.How do bonuses work?
67.Do you see the path to profitability?
68.How do the partners get along?
69.Will I be able to learn new skills and technologies in this role?
70.What progression do you envision for someone in this role?
71.What's the minimum price you would exit for?
72.What is your current growth rate?
73.What are the current demographic trends?
74.When will they IPO?
Conclusion:

So these are some of the best questions to ask before accepting the job. You can ask these questions while negotiating your salaries and other things or you may wanna ask them at the end of the article. You should remember that asking questions about your future job is a must and only this way you can be where you truly want to.

That's all we have to offer and we hope that you liked our article and found everything you have been looking for.