We all have shared an apartment or room with someone in our lives. If you haven't till now, you might will in the future. Being with a roommate or sharing your apartment or room is kind of a big deal. You would be living with that person for some time, doesn't matter if it's long or small but you would want to check if you are compatible with your potential roommate!
You should be aware of the person you are going to share a roof with and made sure you get along with them as well. This must be done before you finalize your roommate and pay the rent or put them on lease. It would be better for both you and your potential roommate if you two know each other.
The only way to find a good roommate would be to ask questions before you make any commitments. Trust me, you don't want to live with a person you can't get along with. So asking the important questions about each other and finding out everything you guys needed to know anything about would be the best thing to do.
In this article, we are going to share a few questions to ask potential roommates. These questions are pretty important and you must not forget to ask them these questions. So go ahead and take a look at the following questions to ask a potential roommate.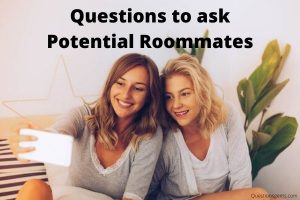 [toc]
Best Questions To Ask Potential Roommates
1.How often do you clean?
2.Have you ever had any difficulty paying the rent on time?
3.What would your previous landlord say about you if I called him/her?
4.What indoor temperature do you like best?
5.Do your friends come over often?
6.What's your typical schedule?
7.Do you have pets?
8.Do you think we'd get along well?
9.Do you smoke?
10.Do you have any food restrictions?
Questions To Ask A Potential House Mate
11.Do you like to have friends over or keep the party outside?
12.What are challenges you've faced in past living situations?
13.What do you do on the weekends?
14.How often do you drink at home?
15.Are you still friends with your old roommates?
16.Do you have references?
17.What are your pet peeves?
18.What time do you go to bed?
19.Do you have any pets? Are you considering getting any?
20.What do you do for a living?
21.How long is your average workday?
22.Do you work from home?
23.Do you expect a lot of out-of-town visitors?
24.What's your romantic situation?
25.What do you want in a roommate?
26.Can you put down a deposit?
27.How often do you cook?
28.How long do you plan to stay?
29.Anything else I should know?
Roommate Screening Questions
30.What do you do for a living, and what is your monthly income?
31.How long do you plan on staying?
32.Do you have any pets? Or how do you feel about pets?
33.Do you have any references?
34.What do you do in your spare time?
35.What is your current romantic situation?
36.How often do you have visitors over?
37.What does your schedule look like?
38.How often do you clean?
39.Do you smoke?
40.What time do you go to sleep?
Housemate Interview Questions
41.What do they do for a living, and how does their schedule look?
42.What is their lifestyle like?
43.How do they feel about cleaning common areas and doing dishes?
44.Are they hoping to become friends?
45.Are they an introvert or an extrovert?
46.Do they have any pets, or allergies?
47.Have they had a housemate in the past? Are they still on good terms?
48.What is their romantic situation?
49.Are they prepared to share?
50.How long will they stay
Conclusion:

So these are some of the most important questions to ask your potential roommate before you commit yourself to them and decide to live together. Remember you need to know everything that can affect you and you need to provide the information about yourself as well to them.

That would be all, just ask these questions to your potential roommate and you would know whether it would be nice to live with them!