These days everyone wants professional aid, whether it's learning something, managing something, and especially when it comes to money. That is why people hire a financial adviser.
Hiring a financial adviser is the smartest thing you can do. A financial adviser would help you manage your finances like no other and he would also give you valuable advice on where to invest, how to multiply your income, and of course with the taxes! So it's clear that you would wanna have a financial adviser on your side.
Having a financial adviser is important but finding one and selecting from all the financial advisers is more important than ever. You can't trust your finances with just anyone else. The right financial adviser should have adequate qualifications and should understand your needs and provide you the best service as well.
Now the thing is, where do you find such a financial adviser? Or how to choose a good enough financial adviser for yourself? I am sure these are the questions you would be asking yourself.
Well, there is a way through which you can decide if the person you are hosting would be a good enough financial adviser for you or not and that would be by asking a few questions to the financial advisers.
Interviewing a financial adviser would be very helpful as you can get all kinds of information that you would want to know about the financial adviser. Knowing everything about the financial adviser would help you to make an informed decision. But for that, you need to know the right questions to ask a financial adviser. Because whether or not the financial adviser is good for you would only be known after you ask them a few questions.
In this article, we are going to tell you the best questions to ask your financial adviser. Go ahead and take a look and pick a few of them (or all of them) to ask your financial adviser.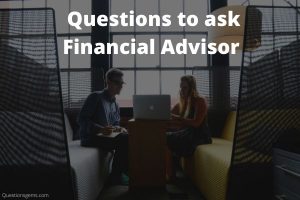 [toc]
Top 10 Questions To Ask Financial Advisor
1.How do you get paid for your services?
2.What's your own investment philosophy?
3.How will you consider my assets that you don't directly manage?
4.How will you invest my money?
5.What happens if I die or become incapacitated?
6.What's your succession plan?
7.What are your credentials?
8.Where will my money be held?
9.Are you a fiduciary?
10.What's included vs. what's extra?
Questions To Ask Financial Advisor At First Meeting
11.What tax hit do I face if I invest with you?
12.Who is your custodian?
13.What investment benchmarks do you use?
14.What asset allocation will you use?
15.What's your investment philosophy?
16.How will our relationship work?
17.What are your qualifications?
18.What are my all-in costs?
19.How do you get paid?
20.Are you a fiduciary?
Questions To Ask Financial Advisor About Their Job
21.How Often Do You Communicate With Your Clients?
22.What Is Your Investment Philosophy?
23.What Extra Fees Should I Be Aware Of?
24.How Do You Earn Money?
25.Do You Have a Set Account Minimum?
26.What Types of Clients Do You Specialize In Serving?
27.What Services Do You Offer?
28.Do You Have Any Disclosures?
29.Are You a Fiduciary?
30.What Certifications Do You Have?
Questions To Ask Financial Advisor Before Hiring
31.In addition to what I pay you, what other costs will I have to absorb?
32.If you aren't a fee-only advisor, are you eligible for bonuses for your work? How can you earn them?
33.Does your company offer contests for selling investment products?
34.Do you specialize in certain types of clients?
35.How do you develop your investment recommendations?
36.How would you describe your investment philosophy?
37.Will you be creating an investment policy statement (IPS) for me? (An IPS contains an investor's financial goals, as well as the plan on how to reach them. The document is essential for long-term investors.)
38.What is the average portfolio size that you handle?
39.What specific services do you provide?
40.How often will we have meetings?
41.What custodians, broker dealers, and mutual fund providers  such as Vanguard, Schwab and Fidelity, do you use in your practice?
42.Have you ever been disciplined for illegal or unethical behavior?
43.Can you give me three client references?
44.Are you a fiduciary?  In other words, are you required by regulation to put your clients' interests ahead of those of your firm and its employees?
45.How do you charge for your services? Are you a fee-only advisor (only charging a fee as a percentage of assets under management) – that's almost always preferable? Or are you compensated by commissions or a combination of fees and commissions (fee-based)?
Conclusion:

So these are some of the best questions to ask your financial adviser. Like we had said you can only know if the financial adviser is right for you or not by asking them the right questions and getting all the answers you have looking forward to getting. You can even write down these questions and ask your financial adviser at your next meeting with him.