There are many moments in our life that make us freeze and meeting or talking to our ex is surely one of them. When we meet or talk to our ex, our heart feels overwhelmed and we feel everything at once. Our mind struggles to keep the conversation going at the same time we worry about saying the wrong things. It's true that talking to our ex is not at all easy and it's only natural to feel this way.
But talking to an ex can also make you happy and finally get your closure. And maintaining a friendship with your ex is not a crime cause you might end up being friends for good.
If you are still a little confused about what you should talk to your ex then don't worry because we have got you covered. The only thing you need to know about is a certain rule before talking to your ex. And that includes some no-no questions that can create trouble between you and your ex. On the other hand, there are some safe questions that you might wanna ask your ex to maintain a healthy conversation. Thinking about the questions you need to ask your ex? Well, we have your back now.
We have selected a few questions to ask your ex which might help you to talk to your ex for good. So go ahead and take a look at the following questions to ask your ex.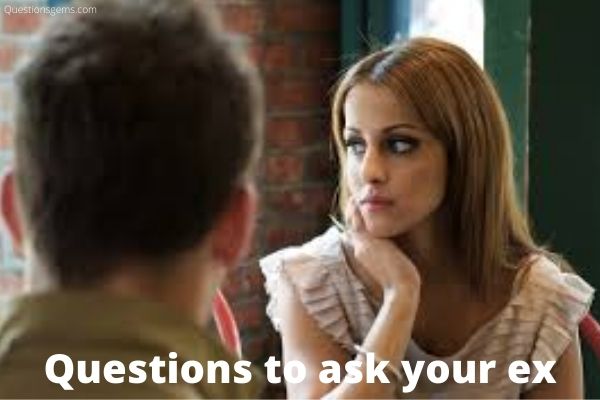 Questions to ask your ex
1. Did you ever love me?
2. At any point, did you see yourself spending forever with me?
3. Did you cheat on me?
4. How many times?
5. Why me?
6. Did you talk to your ex when you were with me?
7. Did I ever do anything that made you jealous?
8. What's your biggest regret about our relationship?
9. What's the worst thing you ever did to me?
10. What did you actually think of my friends?
11. What did you actually think of my friends?
12. What's your favorite memory of us being together?
13. What was your favorite thing about me?
14. What was your least favorite thing about me?
15. Did you really enjoy our sex life?
16. What would you have done differently?
17. Do you still think about me?
18. How often?
19. Do you ever think about me when you're having sex?
20. Or do I pop into your head when your masturbating?
21. Do you think we could've actually worked out our problems?
22. Do you wish we could work it out now?
23. When you like my Instagram and Facebook posts and favorite my tweets, are you flirting with me or trying to mess with me?
24. Do you have a little beeper that goes off and lets you know when I'm not thinking about you and that's why you decide to text me?
25. What have you told your new significant other about me?
26. Do you still talk about me to your friends?
27. Do your friends hate me?
28. Did you keep the presents I gave you?
29. Do any songs or TV shows remind you of me?
30. What do you think of me now?
31. What do you really think about my body?
32. Do you think you were the settler in our relationship, or I was?
33. If you could tell me anything, what would you say?
34. Do you wish we were still together?
Questions to ask your ex boyfriend
35. Did you cheat during the relationship?
36. Do you consider our break up ugly?
37. Do you miss the relationship?
38. Do you regret how things turned out?
39. How did we meet?
40. How great of a girlfriend was I?
41. How long were we together?
42. If you are a 100% honest, who would you blame mostly for the break-up?
43. What did we argue about the most?
44. What do you miss about our relationship?
45. What do you wish I did to save our relationship?
46. What is my favorite food?
47. What is one question you want me to answer honestly?
48. What is something that you liked doing together?
49. What is the sweetest thing the I did for you?
50. What is your most memorable moment with me?
51. What shoe size do I wear?
52. What was the first thing you noticed about me?
53. What was your first impression of me?
54. What is your current impression of me?
55. What would I eat every day if I could?
56. What's my ethnicity/nationality?
57. What's my eye color?
58. What's my favorite breakfast item?
59. What's my favorite drink?
60. What's my favorite genre of tv shows?
61. What's my favorite sport?
62. What's one food I do not like?
63. What's something I do excellently?
64. What's something you do that I hated?
Questions to ask your ex girlfriend
65. Do you regret the relationship didn't work?
66. What did you like best about me and the relationship?
67. What was lacking in me and the relationship?
68. Do you miss me and the relationship?
69. Did you ever see a future with me?
70. What's your favorite memory of us together?
71. Do you still have the things I gave you?
72. If you could change something about the relationship, what would it be?
73. Did the relationship change you in any way?
74. Do you think you have changed since the break-up?
75. Why did I break up?
76. Do I want him/her to get back? If yes, why?
77. Am I sure I want him/her back, or is this just a temporary phase that I will overcome after some time?
78. Have I spent a considerable amount of time away from him/her and still feel the same for him/her?
Conclusion –

So these are some of the best questions to ask your ex. Sounds safe, no? Well, that was the whole point. We have picked some interesting question that varies in emotional range, so you can pick anything according to your relationship with your ex or how things have ended with them. We hope you liked our article and found it helpful.