Do you think you know everything about Australia? Well if you think so then this article is for you. Here what you need to do is to participate in Australia Trivia to prove your knowledge about Australia. I am sure you are all confident and ready to prove yourself to everyone by taking the Trivia and winning it as well.
But are you sure you know everything about Australia? Well no matter how great your knowledge is and whatever the sources of your knowledge are, you can never know everything about everything. But what you can do is the practice by answering the Australia Trivia Questions and making sure that you don't lack in practice.
To help you in this matter we are going to present a list of Australia Trivia questions to you. Here we have included all the Australia Trivia Questions that can be asked in Australia Trivia. This way you can practice for your upcoming trivia and make sure you are well-read and don't lack confidence. So do take a look at the following list of Australia Trivia Questions and make sure you answer them without peeking.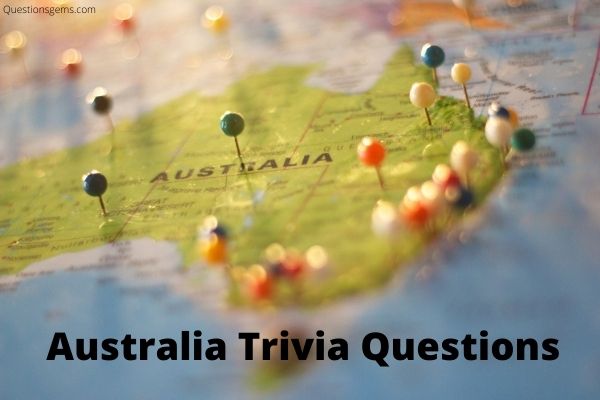 Trivia Questions Australia
Q.1: How many Senators are there in Australian Parliament?

Options:

96

76

85

101

–

Answer- 76.
Q.2: In what year were the colonies united into a federation of states?

Options:

1901

1903

1898

1788

–

Answer- 1901.
Q.3: What worldwide pandemic killed more than 12,000 Australians in 1919?

Options:

The Plague

Polio

Spanish Flu

Lyme disease

–

Answer- Spanish Flu.
Q.4: What was the name of the overweight man who appeared in the 'Life? Be in it' campaign launched in 1975?

Options:

Fred

Norm

Gary

Rob

–

Answer- Norm.
Q.5: What was the first album to sell more than one million copies in Australia?

Options:

Whispering Jack by John Farnham

ABBA Gold – Greatest Hits

Thriller – Michael Jackson

Born in the U.S.A – Bruce Springsteen

–

Answer- Whispering Jack by John Farnham.
Q.6: Who is "Matilda" in the Banjo Patterson song Waltzing Matilda?

Options:

Sheep

Swag

Kangaroo

Gum Tree

–

Answer- Swag.
Q.7: In what year did Vegemite appear on Australian Supermarket shelves?

Options:

1954

1923

1915

1935

–

Answer- 1923.
Q.8: What is the national flower of Australia?

Options:

Banksia

Waratah

Golden Wattle

Blue Gum

–

Answer- Golden Wattle.
Q.9: In what year was Paul Keating elected as Prime Minister?

Options:

1989

1991

1993

1990

–

Answer- 1991.
Q.10: In what year did the Eureka (Rebellion) Stockade occur in the goldfields of Ballarat?

Options:

1901

1887

1865

1854

–

Answer- 1854.
Common Pub Australia Trivia Questions
Q.

Australia has been a part of Olympic History since the first modern Olympics in 1896 in Athens, Greece. Which equation best describes Australia's performance in the 1896 Olympics.

Answer:

One athlete won two gold medals.
Q.

Can you name the player who won a grand slam of tournaments in a single year, but became ineligible to compete for the next six years because of a professional contract, before later going on to repeat his great performance?

Answer:

Rod Laver
Q.

I was a world record holder and Olympic gold medallist whilst studying law in Australia and later in the USA. I was appointed a judge of the United States District Court by US President Ronald Reagan. Who am I?

Answer:

John Davies
Q.

If someone in Australia has been awarded a "Baggy Green" what have they received?

Answer:

A baggy green cap to represent the Australian Cricket Test team.
Q.

Who was Australia's "Golden Girl of Athletics" during the 1950s?

Answer:

Betty Cuthbert
Q.

Sir Ernest Edward "Weary" Dunlop, AC, CMG, OBE (12th July 1907 – 2nd July 1993) was an Australian surgeon who was renowned for his leadership skills as a POW of the Japanese during WWII. Prior to WWII while studying medicine at Melbourne University he participated in a sport in which he eventually represented Australia. What was this sport?

Answer:

Rugby Union
Q.

CYCLING- Which international cycling event is held annually in South Australia?

Answer: The Tour Down Under
Q.

This Australian Test cricketer (left arm swing bowler) enlisted in the British Army and tragically contracted typhoid and died in Durban at the age of 33. Who was he?

Answer:

John Ferris
Q.

The Australian swimmer Jacqueline Freney won how many gold medals at the 2012 Summer Paralympics ?

Answer:

8
Q.

The Knights are a National Rugby League franchise based in which city?

Answer: Newcastle
Q.

I won gold in the hop, step and jump. Another Aussie jumper (no relation) with the same surname won gold 24 years later, also with a jump. Who are we?

Answer: Nick and John Winter
Funny Australia Trivia Questions And Answers
Q. By 2010, The most medals Australia has ever won at a single Olympic Games was medals.

Ans: 58
Q. TheAustralian cinema industrybegan with the 1906 release of the world's firstfeature-lengthfilm. The film is called The story of the [—– —-]

Ans: Kelly Gang
Q. Which among these is not among the Australia's big icons

Ans: The Big Kangaroo
Q. The name Australia is derived from the Latin australis, meaning ?

Ans: southern
Q. The general term for native Australian flora and fauna used as a source of food is [ b— t—–]

Ans: bush tucker
Q. By total area, Australia is the … largest contry in the world.

Ans: sixth
Q. Australia is theworld's thirteenth largest economyand has thefifth highest per capita GDP. In 2010, Index of Economic Freedomranked it ?

Ans: third
Q. Australia has the greatest number of types of of any country, with 755 species.

Ans: reptiles
Q. Australia has participated in every summer Olympics of the modern era, and everyCommonwealth Games. True or false

Ans: TRUE
Q. Among well-knownAustralian faunaare themonotremes, mainly … And

platypus and koala
Conclusion – So these are some of the best Australia Trivia Questions that you can find on the internet. We have picked the best of the best questions so you will be well prepared. Now that you have taken the Australia Trivia with us you know how much you need to work to win the Australia Trivia in real. We hope our article was helpful and you found everything you have been looking for.