Being an entrepreneur might one of the best things that you can do for your career. There is a lot of fuzz about starting our own business these days. And the thing is it's pretty good too. Who doesn't like to be their own boss and do all the things that you want to do and also making decent money for yourself?
There is surely a charisma in our own company/startup/business but becoming an entrepreneur isn't that easy. You will have to work hard and make a lot of sacrifices to become successful. So here we are going to tell you How to be an entrepreneur!
Let's move ahead find some of the best ways and tips which will help you to become an entrepreneur.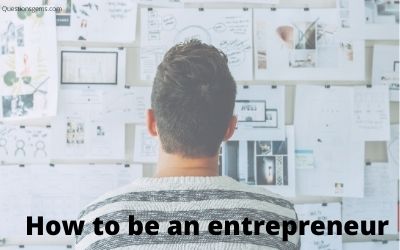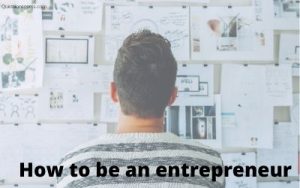 How to be an entrepreneur
1. Find if this is what you want to do

Being an entrepreneur is surely fascinating and it's easy to be wowed by the idea of being an entrepreneur. But that finest means it is one of the easiest things to do or one of the best things to do in life. It's not for everyone and that's why you should first research for about entrepreneurship and find out what it's all about.

There are a number of things that you can do, starting your own company, becoming a freelancer, opening a small business, or starting your own start-up which has the potential to become valuable in the future.

All these things might seem similar but there is a huge between them. So, find out the basic difference between these things and then pursue what you find most suitable for yourself.
2. Find out the roles of an entrepreneur

Being an entrepreneur isn't all about being your own boss and getting a lot of money. There are a lot of responsibilities of an entrepreneur which you will have to perform and also the sacrifices that you have to make in the initial days make sure you know what you are getting into and fully prepare yourself for everything.

From handling people who are working for you to handling the finances, there will be a lot that you will have to do. So master the skills and then pursue your dreams.
3. Find a business plan

One of the most important things that you will have to do in order to become an entrepreneur is to find the right business for you. It has to be something you are genuinely interested in and something that inspires you so that you can do that every day.

It should be something that you're doing and at the same time, it has to be something that can earn money or has the potential to grow as a successful business. Once you have found the idea of a successful business, it will be time to pick a business idea that will do justice to you and your business.

Once you have a business idea you should start working on it and making plans for your business.
4. See whether you need training or education for your business

Not everyone's business can be started without having a good knowledge of things. Depending on what you have chosen, you will have to see if you need some formal education or training for the business you have decided to go with.

Yes, there are a lot of businessmen and entrepreneurs who have started the business without completing their education or getting a formal degree but it doesn't work for all the business plans. Figure what qualifications you need to be having in order to become an entrepreneur and start your own business or start-up.
5. Make a plan

This is also a crucial step in order to become an entrepreneur. You will have to plan out business/start-up and see where you can start and what you will need to do.

Proper planning is one of the most important steps that you will have to do. You can either make a list and start listing a proper plan regarding what you will need.

This way you will know what obstacles you might face while starting out your business and how you can tackle them. The planning part will help you to prepare you for all the things waiting for you. And when you have an idea of what's coming you will be able to deal with them effectively and efficiently.
6. Scale the business

Scaling your business means you will have to find out the capital that you will need. The money you will need as the ongoing cost and how you can earn more money from the business.

You should know these things before starting your venture so that you will be able to plan it all out effectively and you will have everything you need.
7. Raise money

Being an entrepreneur means being able to raise the money which you will be needing for your business. It might seem like a big deal (which it is) but you will have to have all the money in your hand to start your venture and to make it work as well.

There are a lot of ways to raise money such as finding an investor or a co-founder. You will have to sell your business idea as well. And here you will need to be confident about your business plan without having any kind of doubt on yourself and your business plan.
8. Find the target customers/audience

When you are doing something you have to have a clear idea of who will be your customers and whom you are doing this. Only this way you will be able to pursue your business plan further and make money.

You should also plan how you are going to reach your customers and targeted audience to grow your business.
9. Build a network

Building a network is also an important aspect of being an entrepreneur. See the thing is if you want your business to grow you have to take help from other people and for that, you have to know the people who can help you out.

So you will have to build a solid network so that you can expand the reach of your business and grow it into something more.
10. Come up with a marketing strategy

It doesn't matter how great your venture is and how amazing your business idea is if you don't know how to sell your business idea and market your business then it will be of no use.

So you will have to come with a business marketing idea and know where you can sell your business. The digital and social media platforms are anyone will be your first priority for marketing, apart from that you can make your own website as well. You should also be aware of other conventional ways of marketing.
Conclusion –

Here we come to an end for our article, How to be an entrepreneur. These are some of the well-known tips and traits that an entrepreneur should have and some of the things that they should do to become a successful entrepreneur.

We hope you found our article helpful. So thank you for being with us and keep coming for more such articles in the future as well.