Planning for a great evening or outing. Are you interested to pursue women? Well, that entirely depends upon your confidence and personality. The woman you wish to pursue may not have the same desires or interests as you have. At the same time, you may be interested in one while she may not show the same level of interest or enthusiasm. There can be a conflict of choices and interests. You may not be her type or maybe she is not interested in you.
Many things need to be considered when you decide to pick up a woman, from your common interests to the place where you want to go for coffee, dinner, parties, or night out.
Women can judge you by just looking at your way of speaking and dressing. Your impression is what makes the difference. She forms an opinion about you by having a single glance at you and decides your fate with her. The interests and success in pursuing her depend upon your impression on her. She may get swooned by your charm or maybe, your jokes and flirting comments fall flat. All you need is a hell of confidence, a positive vibe, and a dynamic personality.
A part of mutual selection –
Picking up a woman is not your individual choice to make. It is a mutual process of selecting each other and accepting each other. It is possible that the woman you are interested in may have no likeness towards you. Maybe you both don't have a common interest. What if you want to go for a date, but she is a little slow to start and needs more time. Maybe your choices differ for a perfect plan as she may want to go shopping while you would like a simple coffee or movie date.
Therefore, before you approach her or put forward your plans, first try and talk to her. Discuss with her about her plans and thoughts, what she wants, how would she like to spend time, and is she comfortable with you. You both must satisfy on a single aspect and should have interests in common. Allow the process to be mutually beneficial and an easy, smooth conversation with her. Do not impose your decisions and plans on her. Ask her what she desires and plan accordingly, which would satisfy both best interests.
Here are simple steps you should follow while picking up women.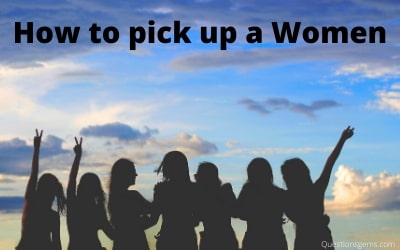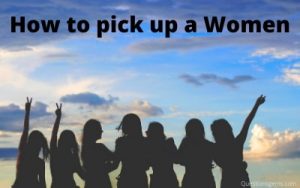 Also check –
Best comments for girls pic on Instagram
/
Pick up lines for girls
How To Pick Up Women
1. Dressing Sense:

If a woman doesn't know you personally, she will likely judge you based on your clothes and activities. Your first impression on her is going to decide whether she would show interest in you or not. So your way of dressing and carrying yourself matters a lot. Don't be dressed so casual that you may seem like some random playboy which would mean an ignorance from her side.

Dress properly and in a stylish manner. Your style statement and class will be a source of attraction for women towards you. Wear nice clothes and avoid weird contrasts as it would make you look like an estranged man. Also, have some nice accessories to compliment your looks. You can wear a nice watch and some amazing shoes that would raise the standards of your looks.
2. Talk to her:

After you have found the woman of your interest, indulge in a conversation with her. Talk to her, introduce yourself generously, and attractively an ask her about her whereabouts and name. Share your interests with her and find the common interests that you both can pursue. Ask her about her preferences, favorite food, favorite place to eat, and favorite actor. Try to find more and more common points of interest between you and her.

This is because more common interests you have will make your conversation even more interesting. You both will have a chance at mutual appreciation and mutual acceptance. Tell her about yourself, your family, work, and nature. Similarly, let her share details about her life and routine. Try to be familiar with each other in your first meeting and exchange your number, address, and handshakes.
3. Compliment her:

Complimenting is one of the traditional but most successful methods in pursuing a woman. Everyone likes to be appreciated and noticed for their beauty or nature. A mutual appreciation should be your first step towards her. You can compliment her on her dimples, smile, eyes, height, behavior, hair color, etc. You can also begin with like "Hey, I love your dress" or anything like that. But avoid any compliment that deals with her physical appearance.

Light compliments in a generalized way are the safest and rightest approach. Praise her for her dressing sense, appreciate her, mention about her voice or earring, etc. This would make her feel appreciated, and she would be happy and give a positive response. She would feel interested in progressing a conversation with you and address you with a friendly gesture.
4. Make her Comfortable:

You can only pick up a woman if she feels comfortable enough with you. Firstly, try to establish an understanding with her and know about her comfort zones and limitations. Let her be comfortable with you, be open to you, and accepting towards you. Don't make any statement that might embarrass her and make her uncomfortable. If she does not feel safe with you, she will try to get rid of you as soon as possible and ignore you.

Once she feels comfortable with you, ask her for an outing, movie, shopping, or date. Do everything that would make her happy and fond of you. Don't get too close to her if she refrains from it. Respect her sense of space and time. Be understanding and control your desperation. Don't act stupid or pass flirtatious comments repeatedly, making her uncomfortable with your company. You should try to increase your understanding with her and get to know each other at first.
5. Be straightforward:

Whenever you talk to her, say everything clearly. Don't go beating around the bush, leading to misconceptions and confusion about you. Be the real you, stay normal, and control. Be clear of your intentions, as it would be good for both of you when you exactly know what other person wants and can decide what is best for both of you. Just directly say what you want to say, don't aggravate the conversation which is highly unclear and just stretched to no conclusion. This would make her angry and can irritate her or simply make her lose interest in you anymore.

If you want her number just ask her, you want to go out for a movie, call her up, you want to meet her ask her, if she is free. Try to be more vocal with her. A straightforward relationship and clear intentions avoid any misunderstandings or misconceptions. Once, you both know what the other person wants, you trust each other and can decide the right choice to make. Start asking her if you want something rather than imposing it or waiting for the right time. Similarly, give her a chance to be clear of her intentions and express her concerns.
6. Respect her:

You should respect your woman always. If you don't respect her, she will never trust you and be into you. You need to respect every choice and move. Respect the decisions she makes and her logic. Always respect her sense of space and time. Don't get too close to her if she is not comfortable. Ask her choices and agree with her decisions.

Give her space and support her decisions. Respect her for the way she is, give her a chance to speak for herself. Respect her choices and thoughts. Stand for her whenever she needs you. Don't force her to do something, let her take time, and act responsibly. Try to be the right person for her and respect your relationship with her. Try to keep her happy and encouraged.
Conclusion:

There can be many possibilities when you try to pursue women. There may be chances of a highly compatible relationship or conflicting interests. All you have to do is to approach the right woman in the right way. Have a chance at a beautiful relationship with her. Pursue the one you like and let her accept you. Find out possibilities of you two as a couple, pursue your common interests, help, and protect each other. Try to make each other happy and be in a mutually successful relationship.