Proposing a girl is never easy and no piece of advice can make it easier but planning a proposal with some good tips will definitely make it easier for you. You are in a constant dilemma whether you should bend on a knee or put a flash mob while proposing her and the pressure of what she might say surely elevate the stress. But it's definitely not an impossible task which you can't do. With a few tips, it will at least reduce the stress of "how to propose a girl" and then leave everything up to fate.
In this article, we are going to tell you how to propose a girl. These are some universally accepted ways that can surely help you plan the proposal and you never know she might say yes because of the way you proposed! So let's get started and find out how to propose a girl.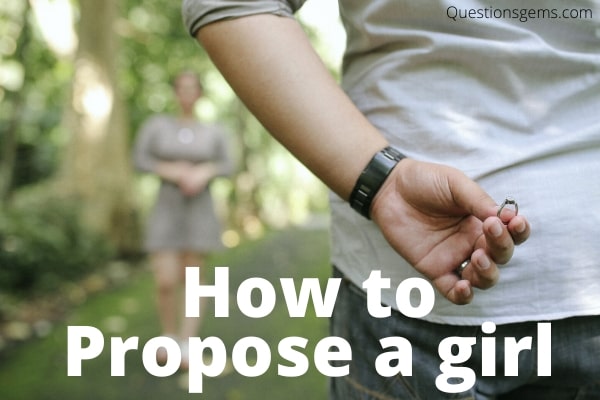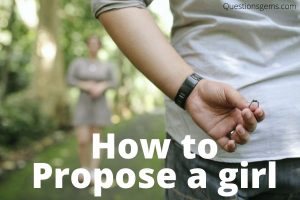 How To Propose A Girl
1. Make a special plan

The first thing you need to do is to make a good plan about how and when you are going to purpose her. This would help you further by coming up with a good plan. When you have a plan you get a clear idea about how to propose your girl and what difficulties you might face and what can go wrong. When you know all these things, you will also come up with solutions for all the things that can wring during the proposal.

The proposal planning will include the time and place for the proposal. Pick a good time such as weekends and when she is not facing anything major in her life that might change her answer for your proposal. Apart from this, you should also consider the right place. Try to pick her favorite place or somewhere special, like the place where you guys went on your first date, or it can be a good restaurant, even a park or proposing in your house sounds good as well.
2. Propose her according to her taste

See it's one of the biggest things for her and you don't wanna do it the wrong way or something that is totally opposite of what she actually likes. For example, if she is an introvert and not comfortable around people then you would want to propose her in privacy. On the other hand, if she likes larger than life moments then you might wanna propose her in front of the whole crowd such as at the restaurants or in the middle of the game.

You should also consider the flowers she likes, her favorite chocolate that you can gift her, or try to make her all happy before the big task. Apart from this, you should also be considered of her feelings about the proposal that is whether she is ready or not.
3. Try old school things

Things like giving a lot of roses and chocolate or hiding the ring in a cake or champagne might sound cliche but they are definitely classical as well. You can also try to write a letter to describe your feeling for her and see what she has to say about those. There many things that you can do to woo her. Well getting on a knee and proposing her will never go wrong so definitely include this in your proposal plan.
4. Try something unique

It's true that that classical stuff has the power to impress every girl, but for those people who don't wanna do it in the traditional way, you can always try something out of the box. Take inspiration from her likes and dislikes, for example, if she likes a specific film then you can try and propose her as the leads of that file had done.

You can also propose to her where she finds the happiness that can be anything, in the middle of the road, or in a hot air balloon (she will definitely love it!). Try making posters or singing a song or even writing a job. Well, you know her the best so collect the pieces and see which way will do the job.
5. Make her feel special before proposing her

It's actually useful advice, as you don't wanna scare her and ask her when she is not ready. So try dropping some hints and see what she thinks about you guys making the forever promises or marriage. Just make sure that she is ready. Once you are assured that she is ready then constantly make her special.

This will include making her dinner or buying her the perfect gift before you actually propose her. This thing will be like your warm-up before you actually propose her.
6. Just go with the flow

If you are still can't get the right plan, the right place or right time, then propose her right away!! This may sound a bit risky but if you guys know each other for long and you are sure that she is on the same page as you are them don't wait anymore and or for any special moment. Just be spontaneous and propose her right away. Sometimes the simple proposal like these will make her wanna say if she wants too! So don't stress too much about it and go with the flow!
Conclusion:

So these are a few ways through which you can propose your girl and see if that works. As we have said earlier just try to know her better and see what she likes and what doesn't and then pick the best way to propose to her. We know it's a lot but just be confident and face your destiny. Also, respect her when she says no and try to understand her side as well. Don't get depressed and be strong enough to let her go in case things go south. We wish you good luck with your proposal and hope she says a big yes to you. Thank you for visiting our page and keep coming to us for more such content.