In these times, when children are more dependent on tutors than school teachers, a tutoring business is the best one you can think of. Tutoring business is one of the most successful business these days. It not only involves working as a tutor, but it is about a lot more. If you see the stats, Tutoring business is among the highest profitable business these days. Once you are a successful and big name, you are going to play with money. If anyone has supported the backbone of education, they are the ones working in the tutoring business. Here in this article, we will be dealing with how to start a tutoring business?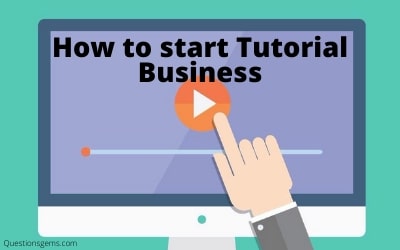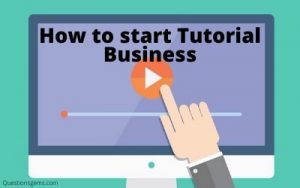 Also check –
How to start catering business
/
How to start a pressure washing business
How To Start A Tutorial Business
Decide if you are really in?
Sometimes people are attracted to the profit this business makes. This is one of the main reasons why many of them fail with a huge amount of losses. If you are going to choose the tutoring business as your carrier, do it if you like to help out the weak ones. Never go for only the positive side. You should always consider and analyze the causes of failed tutoring businesses. It is the time where you judge yourself and analyze if you have the ability to do such a job.
If you are going in, then with which one?
Literally, there is tutoring business set up for each, and every course studied out there. Not only limited to the school exams, but they also have tuition for different competitive exams. All of them require different environments, different books, and completely different setups. It is also possible that you open a business only for test series and a quick review. These are new in the market, and you won't face a lot of completion while doing so.
The most tricky one is the budget:
Sometimes people go with what they see. Attracting students is not at all an easy job. But what you can do is to hang on and continue to improve. You need to plan your budget as you really need a good amount of money. You will need a place where you can set up your classrooms, offices, other support rooms. You will have to get basic needs, such as fans and lights. The most expensive are the teachers. If you are going for a small venture and you are the one teaching, then it becomes easier. If you are dealing with such a huge amount of data, you will need good staff and computing systems. Even bookkeeping software always costs a lot these days. There is a high possibility you might end up taking a loan, but think ten times before doing that.
The best you can do is research:
Though you just can't change your student inflow during a day but research is the best thing you can do. Take care of many things and get to learn to answer the questions in your mind. See the niche you selected and notice how you the market are responding to it. Make assumptions and calculate how much you shall invest. Go for approx —number of students you expect. See and understand how modern tutoring businesses work. What the students these days require from a good tutoring center? And how to catch the best of the facilities such as books and the teachers? Are some of the questions that much strike your mind. The research will get you valuable information on how and when to invest.
Completion and analysis:
You opponents are the best teacher you can get. If he is getting more number of students, better review then dig in and get to know, why? Once you analyze the situation to get better than your rivals, you automatically sit on the front seat. It is very simple; the one who will give more results will get more number of students. The question of how to get better than them will always motivate you to work harder, which is good or your business and also for the kids.
Naming:
It sounds strange, but yes, naming has a great influence in making your business grow. Choosing a name relevant and more connected to the subject attracts students. It is seen that a unique name always catches more eyes. Naming is completely on you, but a smart businessman never names a business by emotions rather play a check move for the opponent. Search for names I different search engines, ask your family, and chose the best you feel for your business.
Legal issue and registration:
If you think just thinking and investing is all you have to deal with, then you definitely have a wrong idea of how things work. You need legal permission to gather so many people at a place and use it as a business. You need permission and clearances from the concerned authorities. They will check and register your name after the check-up. Even for using the name, you need to get it patent for your business. You will need a business lawyer to deal with the legal stuff. You can deal with legal problems, but it is more convenient if you have a professional with you.
Create marketing plans:
The most important place where you need to invest in a tutoring business is marketing. You might have seen the big posters and banners displaying the success rates and selections of different students in various exams. They actually look very attractive, and many people get inspired and attracted due to these banners. Not only them, but pamphlets, ads on TV, radio and another mode of marketing will give you more number of students. Even marketing with the internet is great. It increases your chances as the internet help you get a specific audience. The more you can advertise and increase your marketing, the more you can have chances of accelerating your business.
Parents:
It's not good to hear, but parents still put their dreams on their children. Though it's a bad thing, but my friend, business is all about profit. Parents influence the lives of their kids, and many of them are the reason why their child in your tutoring business. Since they are such a big part, you can't afford to miss it. It might happen that their ids might not get the point of your business, but their mature mind can go with it. For a fact, the money you are going to make comes from their pockets, so you just can't ignore them. They are the actual reason if your business is going to furnish or not.
Ask for help when things are not good:
In this business, there is a high chance things may turn the opposite of what you thought. There are many small organizations and even funds from the government that can help you out. The bank can also solve your problems. Don't give up easily and get defeated. Make a strong decision and ask for help when you need it.
Conclusion:
Any business is not successful until you don't give your best in it. The same thing applies to the tutoring business. The main thing which you should keep in mind and never forget is not giving up. The business usually doesn't repays instantly, but when it does, you won't regret coming into this one.