Top PhD Interview Questions by questionsgems. Get the best Phd questions for interview here.
Our collection of PhD questions will help you in your PhD Interview. So prepare and do well.
Also check- Job interview questions / Survey demographic questions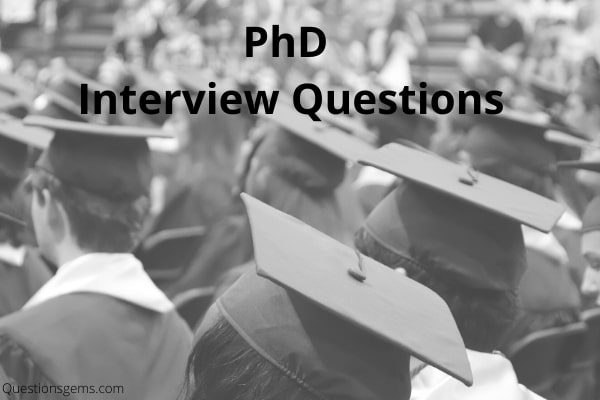 Phd Interview Questions
Tell us about yourself
Why do you want to do a PhD?
Why are you interested in this program?
What experience makes you a good candidate?
How did you develop this proposal?
What difficulties would you expect to encounter during this project?
What are your strengths and weaknesses?
Tell us about a time you experienced a setback
What are your future career plans?
Do you have any questions for us?
What do they do to promote work/life balance?
What can your potential mentor/supervisor do to advance your career?
How does your potential supervisor mentor students?
What is the program's job placement record?
What sort of resources does the university have? (Libraries, lab equipment etc.)
What are their funding sources?
What is the program's average time to degree?
Will I have the opportunity to teach/present/patent/publish?
Don't pretend that you know things that you don't. If you don't know something, admit it. That is better than to give a weak answer signalling that you don't know what you are talking about.
Don't undermine the importance of 'soft' general questions like "Where do you see yourself in future?" or "What is motivating you to do the PhD?"
Don't be passive in communication. We are interviewing you but you are also interviewing us.
Don't give too general answers. Be specific and to the point because that will show us that you are not feigning but you know what you are talking about.
Don't get nervous if you think the interview is not going well. In many cases this is just your personal impression which may be wrong.
Don't come dressed as if you just woke up – make an effort!
Don't talk jargon. It is not very likely that we were born in the same place or from the same background so we may not understand what you are saying.
Don't try to pretend that you are someone you're not. We don't like pretentiousness and can usually see straight through it.
Don't try to be too funny. We may have a different sense of humour than you do, especially if you come from a different culture.
Don't become too emotional during the PhD interview. Enthusiasm is good but not if it's exaggerated, then it becomes quite off-putting.
Conclusion:

These are the best PhD Interview Questions. I hope you guys like our collection of phd questions. If you guys have any question or suggestion just comment below or contact us.

Thanks