Long Distance relationships are not ideal and they are surely not the easy one. And in today's world, it seems nearly impossible to make a long-distance relationship work. But the thing is, its not at all impossible. Yes, it will take much more effort to work than a regular relationship but if you two are in love then you can make this work.
Yes, there are several things that are hard like not being around each other or see each other every day but there are a few things that you can do to make a long-distance relationship work. And in this article, we are going to share some of the tips that can help you to make a long-distance relationship work. So let's start the article and find some helpful tips for you and your partner.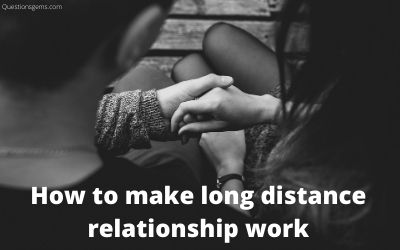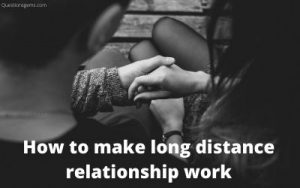 Also check –
Questions to ask girlfriend
/
How to be a good kisser
1. Depend on technology!
This shouldn't be a surprise as even in the regular relationships people tend to depend on the technology for communication and when it's a long-distance relationship it becomes more than important that you make the most of the technology.
Make sure you are frequently in touch with them, exchanging texts, being on-call, or stop each other at the end of the day. All these will play a big role in your relationship and you will have to make most of it.
2. Make a schedule
This is pretty important, as you can't call each other at any time as you or your partner can be working and if they are busy and can't talk to you at that time, it can leads to misunderstanding as well. Other than this, of you and your partner, are in different time zones, then you seriously don't wanna call them at the wrong time.
So to tackle this problem, find the right time according to both of you and stick to that schedule as well.
3. Visit them as often as possible
Since you are spending more of your time taking each other on the phone or skyping each other, it's important that you don't forget to meet them in person as well. Don't afraid of giving them a surprise visit whenever its possible. You need to grab every opportunity as possible.
No matter how much good time you have with each other while talking on a Skype call, nothing can replace the feeling of being in each other's arms, so make sure you visit them or surprise them as often as you can. Don't forget to get some small gifts like flowers or their favorite thing which they don't find in their current location, this will surely make them feel the warmth of your love for them.
4. Make plans together
Even if you are not able to do anything together, it would help you do the same things on your own at the same time. For example, you can both watch a movie together and discuss that later or while on call, you can also make a plan to eat dinner together in a fancy restaurant while being on a video call as you can eat together and be with each other.
This will make you feel a lot closer and doing activities together will make you feel like you are with each other.
5. Talk about your day
This is one of the most important things to do when you are in a long-distance relationship. Make sure you share everything that happens in a day and talk about the little things as well. You should ask each other how your day went and how you feel about certain things (like the movie you have watched or the popular news article!).
Don't forget to talk about each other and try to know each other better with each passing day. Talk about your feeling and what interest you the most, etc.
6. Be supportive
It's important that your partner knows that you support them at every step, see the thing is, you will have a hard time and you might not understand a few things about them but try to be more supportive of them. Check up on them and try to make them feel better whenever possible. If you know that they are sick or not doing fine, try to be there for them as well.
You should also understand when they are not giving you enough time on certain days when they are busy. You should try to understand that they are only human and they can get busy too without making a big deal out of it.
7. Don't argue over the phone
If there is anything bothering you or you are upset about something, try to save that conversation for later when you meet them in person. You can't possibly have an argument or fight over the phone because that's not the right way to do it. And yes you have to understand that there are going to be some differences and arguments between you two and that's okay because every relationship has fights!
8. Trust each other
Trust is something that can make or break a relationship, it's anyway hard to trust your partner when they are by your side but if they are living far away from you, it's easy to have doubts in your head. But that's the real test of your relationship with your partner. You will have to make sure that you trust them fully no matter what.
Just because their phone is busy for a long time or they are around their colleagues doesn't mean they are doing something wrong or breaking your trust. So trust them and have faith in your relationship.
Also check – How To Tell If A Girl Likes You Over Text
9. Be committed to each other
You have to respect your relationship and be committed to each other. For example, don't do anything that might create a problem between you and your partner, don't break promises, don't forget to go call them, etc. It's hard to stay committed to your promise when you are loving apart but that's the only thing that can sustain your relationship with others as well.
Also check – How To Break Up With Your Girlfriend Without Hurting Feelings
10. Set some boundaries
Of you know that you are going to be in along distance relationship then you should set some boundaries in your relationship. For example, try to discuss the things that are off-limits and can't be tolerated in your relationship. For example, you can establish a rule that you won't be comfortable if your partner is getting too friendly with his colleagues or you guys have to talk once in a day no matter what. In the case of long-distance relationships, these boundaries can be healthy and would help you to sustain the relationship as well.
11. Set goals for the future
You can't be in a long-distance relationship for forever (even with all the trust and technology) so you will have to set the end date and know that when you are going to be together again. For example, if your partner is gone for their business or studies, you have to know that it's temporary and you are going to be together after some time. You should also set goals for your relationship when it comes to meeting them in person (like once in a month or week).
Try to stick with the goals as much as possible and try not to break the promises that you made for each other. And if you don't see each other being together for a really real long long time they have that conversation as well!
Conclusion:
So these are some of the ways which can help you to make a long-distance relationship work. Some people might guess that with all the video calls and texting, long-distance relationships are not as hard as it used to be, but that isn't the case you have to be careful about so many things and consider your partner's feeling. You will have to put more effort and keep the love between you two alive. The things that we have listed in the article are recommendations from several relationship experts.
It surely isn't going to be easy, but it doesn't have to be that hard either. The long-distance relationship might test your commitment and trust for each other a lot more than a normal relationship, but in the end, it's all worth if you are with the right person! So don't be too afraid of your long-distance relationship and try to make things work as much as possible. Thank you for being with us, we hope our article has helped you.