Do you remember the first friend you make? Well, we hope you do remember, because friendship is one of the best things in human life. Having a friend is really essential as you find so many fun as well as valuable things in your life with a friend. There are a lot of people who must have different friends at the different phases of their life but lucky are those who have had one friend throughout every phase of their life.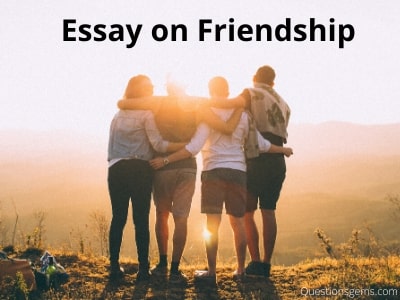 Also check- Essay on my best friend / Essay on my family
Essay on friendship
A famous philosopher once said, " Friends show their love in times of trouble not, in happiness" meaning you can find many friends during your happy times but if you are lucky enough you will have a friend by your side in your hard times too.
Friendship is a pure relationship, you are not connected through blood yet you will care for each other like you would do for your brother/sister. People say friends are the family we choose, and it's the most accurate way to describe this relationship. You can't choose your family but you surely can choose your friends. And they should be the ones who will be always there for you. So it's important that you make good friends rather than the wrong ones who can't stand your happiness and you're well being.
There are two simple rules when it comes to friendship and these are trust and loyalty. No matter what happens, your friend should be the one on the whole you can trust on with anything. He should be the one who always have your back, and vice versa.
Some people say there is no sorry and no thank you on friendship, but the truth is, no matter how many times you fight you should always be there for each other and find your ways to be together again. And the friends should appreciate their friend's efforts for them too.
A real friend will surely put you in trouble by doing crazy things, but he will also pick you up when you need him the most. Your friends should be the ones who motivated you to achieve your dreams and keep you on the right track instead of dragging you to doing the wrong things.
There are a lot of qualities of a good friend which you will know when they show you how important you are for them.
Everyone should have a friend. And it's not all about doing good things and helping each other when things go south, but it's also important to have a friend with whom you can share valuable moments with. Like a trip to a crazy location, doing something scary or thrilling, making memories together and reliving them when you get old.
Also check – Mahatma Gandhi Essay / Essay On Air Pollution
Conclusion:
If you get some time, ask your parents or grandparents about their childhood friends and how important their friendship was in those times. Don't ever lose a friend over something stupid or something which can be fixed. We hope you got a friend for life.