We are who we are because of our family. We learn our culture and moral values from our family as well. Not many people realize that how lucky we do have a family, whether it's small or big. Our personality and human nature is a result of what kind of family we are from.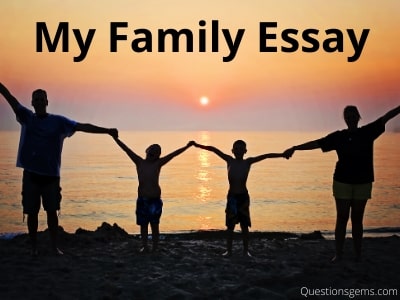 Also check- My mother essay / my school essay
My family Essay
Those who have a bigger family that is who live with their grandparents are slightly more lucky than those who live in a small family. Because with bigger families we get to learn the knowledge of two-generation that is our parents as well as grandparents.
In today's world, people are becoming busier with their work and forgetting the family values which results in depression and misbehavior among the younger generations. Though it's not always the case but studies have shown people who live in a bigger family are happier and healthier.
In our culture people used to live in joint families that are grandparents, uncles and their children. But that's not the case today. People are splitting up and becoming more independent and this may be for good in today's time because of many reasons.
We learn so much about our culture and responsibilities from our parents and family members. Each family member has its own importance. For example, if you live with your grandparents, they will teach you about the history and the stories of their times as well as moral values. Your parents will teach you about the life goals and objectives as well as how you should behave and what kind of person you should be. Your siblings will teach the value of sharing and the happiness associated with it. These things may not be explicitly taught you but if you take a look, all your personality traits come from your family members.
It's also shown in the study that people who spend more time with their family are happier and less likely to get into trouble as well as away from depression and anxiety than those who live alone.
Now I am gonna talk about "My Family"
My family is a big one, that is, we live with our grandparents as well. I have a younger brother. My parents are both working, so I might be in a hurry all the time. But I get to spend time with my grandpa. He always shares the stories of "his time" how they used to live when there was no internet. He also tells me about the games they used to play and how they used to live with all these technologies on which we are completely dependent on this world.
My father is a small businessman who runs the garments shop while my mother is a teacher. So she get up early prepared breakfast for everyone, help dad to get ready, give the medicines to grandpa. And packs our school lunch. She is a superwoman! My younger brother and I fight a lot as well as do crazy things with each other. We are a happy family!
So here is the end of our article 'essay on my family' if you looking for custom essay writing on family topics?  Just visit this site.