Fathers are the unsung heroes, who are not appreciated enough for their hard work and efforts to shape a child's future. They sacrifice so many things that we will never know about unless when we become the parents. Not everyone understands the struggle of a father because he never shares his feeling to anyone. We think our father is the strongest person in our life and no matter what he will never complain about anything.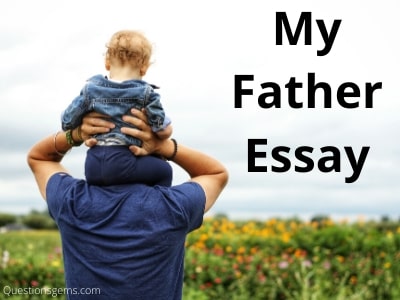 Also check- Beti bachao beti padhao essay / my best friend essay
My Father essay
We get to learn so many things from our father from taking our first step to the valuable life lessons. He works so hard to earn the money for our future. We may complain that our father doesn't give us adequate time but the truth is, he sacrifice the time that he can spend with you to work hard and give you the perfect life which you are living today.
You may or may not realize the troubles he goes through in the present time but one day you will know how much his efforts meant in your life. Every father deserves respect because he is the reason we are living in the world happily.
My father is the ideal man whom I can go to, whenever I need something. He is a well-disciplined man who knows how to make everyone happy. He runs a small business and work hard to meet our requirements. Everyone respects him because of his personality.
He is the reason for who I am today. He never chose anything for me but always told me to follow my dreams and build a better world for myself. I have a great bond with my father and in my opinion, he is the best father. He is a great son too, he is always obeying the grandpa and inspires me to be the great son as well. He take care of my grandpa with everything. He is also a great husband too, even after the 28 years of marriage they share a great bond. He loves everyone and never complains about anything.
Related: Essay On Internet / Sardar Vallabhbhai Patel Essay
We have the best time with each other as we sometimes play cards or even cricket with each other. He has a hobby of reading books which made me fall in love with books too. We talk about a lot of things and I get to learn many things from him. I hope my father stays happy and healthy.