Even though every individual know the importance of education in the 21st century, there are so many girls are being deprived of education in our country! And the reason why they are not given education is because of their gender. It's sad that people still discriminate girl child and doesn't wanna spend on her just because she won't stay in their home forever. Girl Child is still treated as a liability, it's an ugly truth that we don't wanna face!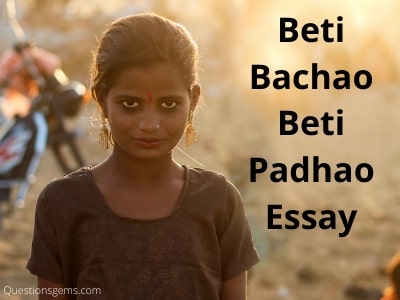 Essay On Beti Bachao Beti Padhao
To tackle this situation, PM Narendra Modi launched a campaign called Beti Bachao Beti Padhao. The campaign was launched on 22nd January 2015, at Panipat. They chose the city of Haryana, as the state has the lowest female sex ratio (775 per 1000 male) in the country.
The aim of the Beti Bachao Beti Padhao campaign was not just to educate the girl child but also to stop female feticide. It was a necessary step which needs to be taken due to the alarming number of feticide and drop of girls from schools. It also aims to develop the status of women in the country and empower them in any way possible.
The Beti Bachao Beti Padhao scheme was run under 3 ministries, that is:

Women and child development

Health and family welfare

Human Resource Development

Due to this, the campaign has a wider range of go help all the girl children across the country.
The main objectives of the Beti Bachao Beti Padhao scheme were:-

To stop female infanticide

Develop new schemes and works collaboratively to ensure every girl child is safe and protected

To provide quality education to girl child

Although there are many barriers to implement the scheme. Social awareness about the girl child and her rights still remains the main reason. Apart from this, the right education and outlook of people towards girl child is poor. Dowry system, which makes people believe the girl child is a liability makes things worse. Lastly the government machinery and lack of proper functioning which results in equal distribution of schemes in the country.
Impact of Beti Bachao Beti Padhao:

Even with the barrier, this scheme has surely achieved some milestones. It was implemented in 100 districts of the country with further got expanded in 61 districts. The scheme was well established and it has managed to improve the sex ratio of the country.
Most importantly, the scheme was launched on a larger scale so it has managed to drag a focus on the girl child and her education. So in many ways, the scheme has managed to spread social awareness about the issue of female infanticide.
Conclusion:

Even though the government has taken this revolutionary step, we have as a society still needs to work on the empowerment of girl child. Spreading awareness about this issue is the need of the hour and this should be done at the root level that is from villages and remote areas.