With a growing economy and innovation, we have a chance to do something unique, something which will earn you money as well as highly interesting. We are living a generation where new ideas are valued and cherished, after all, there are a number of people who have made themselves a successful businessmen with their out of the box ideas.
If you too are looking for something unique and interesting for your business ideas that goes with this generation and which will be definitely a success in the future then you are at the right place. You can start with anything as your business and turn it around with your hard work and the right resources.
In this article, we are gonna talk about some upcoming business ideas which will definitely excite you and has a bright future in the upcoming years. These business ideas are definitely something you can go with. so let's not waste anymore of your time and get started with our list of best future business ideas.
Future Business Ideas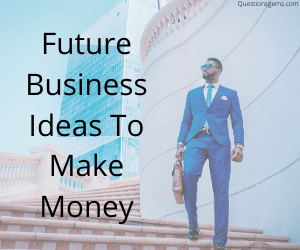 1. Home solar Energy Setup Company
We are starting our list with the idea that is the need of the hour- renewable energy! We all know the growing need for electricity and we all are aware of its consequences on the environment, so more and more people are interested in setting up the solar plants and make their own energy.

With this growing awareness about renewable energy and solar plants, it would be a great idea if you open a business where you provide necessary equipment for installing the solar plants. It's a low investment business idea and the rate of success is quite good too.
2. Marketing services
Nowadays almost every business or service needs marketing. As it has become important that everyone know about the products or service that one is providing. Marketing services are becoming very popular these days and they will surely grow in the near future as well.

So if you think you have good marketing skills then you can set up your business or start your marketing website or even do freelance marketing for several brands and companies on social media. Here this one is definitely a catch and you should go for it.
3. Indian Culture E-Commerce Niche Store
Everyone knows the rich culture of India and now it's time that you make a business out of it! How? Well, we all are familiar with E-commerce companies, and with that, you can start an e-commerce platform where you can sell some authentic Indian cultural stuff.

This is definitely a unique idea and you will have to do a lot of effort but if it got successful it's gonna be big. You can not only make yourself money but you can also generate jobs and empower people from smaller districts of India that make beautiful art and craft.
4. Website Developer
Almost every big company and even the smaller ones have their own website. And it's even important that they have a website from a market g point of view (to provide necessary information about their brand or service to the people).

So people are always looking for a website developer to gain traffic and increase their sales, so becoming a website developer will definitely be a good idea at this moment.
5. Delivery services to the rural/remote areas
Every online company that sells stuff is facing a problem of delivery to the rural areas of the country. This is because of the poor connectivity and road infrastructure! But if you do wanna start something that has the potential of being big then opening delivery services isn't a bad idea.

You can tie up with big companies and deliver their goods and services to the remote areas or rural parts of the country where exciting rural countries don't wanna go!
6. Travel Planner
Yes, we have so many different platforms where people can book tickets or hotel rooms at any place in the world! But even with these services planning a trip can be overwhelming!

So just like people plan weddings or parties, you start a business of travel planning. Here you will need a good organization skills as well as bargain skills to make their trips convenient as well as cheap! It is surely something to give a thought about!
7. Grocery delivering services
In big cities, it has already become a thing but it still needs to make a place for itself. Who doesn't love their grocery delivered to their home right? So take up your chances with Grocery Delivery Services, as these might a big thing in the future.
8. Hairdressing and makeup artist
If you are interested in makeup and hair and lives to style people then this one might be your best option. Opening your own salon or providing a door to door makeup and hairstyling services is definitely gonna be a thing in the future. So if you are an experienced hairdresser or makeup artist then you can totally go for it.
9. Interior designer
Interior designing is to becoming a thing now and even in the smaller cities. So if you are interested in designing houses or offices then you should totally go for it. Although you may need some kind of degree but at some places that may not be required.
10. Virtual assistance
Being a virtual assistant is not something you would dream of but it is surely something can make you good money. You can easily find the clients that are ready to pay good money for your virtual assistance services. And it's won't need a huge investment either.
Conclusion:

So these are the best future business ideas that we think you should go with. You have the right technology for these business ideas and it surely is the right time to step up and start something of your own. We hope you have found our article helpful. And we hope you have got the idea which you were looking for. Thank you for visiting our page.