The most difficult task is to talk to or attract someone you truly love. You don't know how to initiate a conversation, how to respond, how to behave, and fear being rejected by the girl or being alone. Many factors promote a girl's likeness towards you. If you want to attract a girl, you should work on your personality, behavior, and your way of talking.
Only looks do not guarantee you a positive response from a girl, it's your attitude and behavior that does. Someone is attracted to you based on your individual personality and not based on your dressing sense, color, or hair. Although, they are an important part to groom your personality.
The way you treat her, your sense of talking, your behavior, your attitude, wisdom, everything decides the attraction of girl towards you. Start working on your personality development and improve your habits and the ways of living. Also, develop new skills and hobbies that are liked by girls like learning guitar and much more. You should also learn to respect her and take care of her so that she would feel safe with you.
Here are some important tips on how to attract a girl. Let's hope this proves to be helpful to you.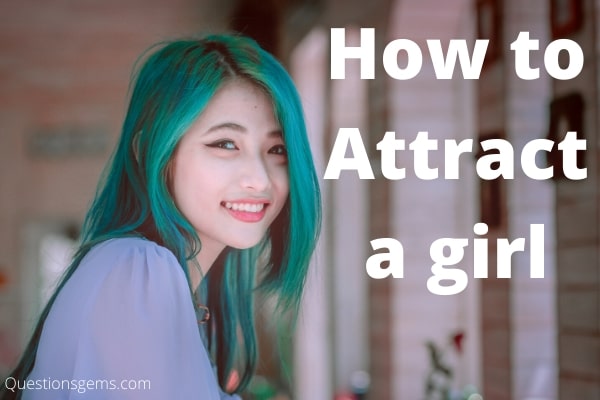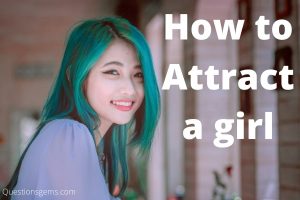 Also check –
How to propose a girl
/
Romantic things to say
1. Be Real
If you intend to talk or attract a girl, the first thing that you should keep in mind is that being real.The more real you behave, the more she will trust you and like you. Stay the way you are and have always been. Don't act silly or in a way it would seem awkward, especially if you know her already. Try to act normal and behave nicely and sensibly.
A girl is likely to be more attracted to you, once she accepts your real self. She would have trust in you and believe you and being familiar to her is the right approach, if you want her to believe in you.
2. Know each other
In a relationship or friendship, you people must know each other well. You should be aware of the things she likes and the situations she hates. You should know her likes and dislikes, her problems, her ambitions, her wishes, and her thoughts. Try to share your views and thoughts with her so that she gets a chance to open up with you and express herself. More you know her, more she will be interested in you. You should know her favorite food, favorite place, favorite hobby, and favorite part of the routine.
Indulge in conversations with her, know about her family, situations, her thoughts on various things and her take in life. Share your feelings with her, share your emotions with her, and let her express her happiness and pain. Ask her what she likes, what she wants to do with her life, her funniest moments, her happiness.
3. Be sensible
Don't act like a creep or flirt, try to be her true friend. You should act more sensibly and be mature. Do not do childish and stupid things, behave sensibly, if you go out with her. Don't let her feel embarrassed. Try to be more mature and understanding. You should know how to deal with things and matters, and don't get all serious also.
Your personality greatly affects her opinion about you. Don't be absurd and illogical, deal with everything carefully and smartly. Don't talk stupid or jump into a fight with her. Be more humble and patient and respect her opinion. You should behave like a gentleman with an eye-catching personality.
4. Respect Her
If you don't respect a girl, you can never win her heart or friendship. You should respect her opinion, her choices, and her interests. Respect her thoughts and support her as much as you can. Let her present her view and, her say should matter to you. Don't act bossy always.
You must respect her, her family, her friends, and everyone she loves. Respect her dreams and action. If, you will give her respect, she will do the same. Never use wrong or vulgar language, never abuse her, and don't disrespect her opinion making her feel let down. Always be supportive and gentle to her.
5. Develop an understanding
Every girl wants a person who would support them and understand them. Get a chance to know her and help her whenever she needs it. You should try to respect her opinion and choices, understand her actions.
You should try to understand what does the girl need or want, what is the thing that disturbs her, understand her situation, and always support her as you do. A girl always likes the person who understands her better, respects her choices, and give her respect.
Also check – How To Flirt With Girl Over Text / How To Get Girl's Attention
6. Make her happy
Do the things that would make her happy and relaxed. If a girl stays happy around you, feels relaxed and secure, she will surely get attracted to you. You should do things that make her happy. Always try to make her smile and laugh.
Whenever she is sad, talk to her, let her share her problems with you. Be sensitive and mature during these situations. You should know exactly how to make your girl happy and laugh. Let her laughter be your ultimate goal. Girls always like to be around the person who makes her happy and safe.
7. Personality
A girl will only be interested in you if you have a good personality. Not only your looks, but your way of talking, moving, sitting, behavior, and overall appearance matters a lot. Don't dress in a way that she feels embarrassed upon seeing you. Comb your hair nicely, wear neat and clean clothes, and shoes.
It is not that you should wear expensive clothes, but you should surely wear clean clothes and not the mismatching weird contrasts. Try to get dressed decently. You should work on your personality and appearance.
8. Be humble
You should always be humble towards everyone. Talk to her in a gentle and sweet voice. Avoid getting into an argument and don't get too loud while speaking. Try to speak humbly and kindly. Never be rude to a girl as it would make her feel humiliated and bad. You must speak to her softly and behave nicely. The way you treat a girl decides whether she likes you or not. If you treat her kindly and lovingly, she will surely like you and treat you in the same way.
Respect her choices, help her as much as you can, and always be kind towards her. You should always be concerned about her safety and comfort. Make her feel comfortable with you, don't be stupid or at like a fool. Humbleness, Benevolence, and Generous are the three things enough to make a girl fall in love with you or get attracted towards you.
9. Know your responsibility
You should be more responsible than you ever were if you wish to pursue a girl. You should act responsibly and fulfill your duties towards her. You should know what a girl expects from you and thus, stand to her expectations.
You should learn to respect her opinion and feel responsible for her and her belongings. For example, if you wish to take her outside for a dinner or party, you should know your responsibility very well. Do your duty of receiving her and dropping her, be cautious of people around her, and be responsible for her safety. You must take full responsibility. Don't make her feel alone and be available for her whenever she needs you. All these things are enough to make a girl feel attracted to you and impress her.
10. Be Honest
Trust and respect are the foundations of any relationship. A relationship can never be started or progressed unless the other person trusts you completely. You should always be honest with her. She should know all the truths about your life and thoughts. Never lie to her at any cost. Be honest about your intentions and confessions towards her.
Talk to her, if there is something she needs to know, let her believe you. You should give her a chance to know you better and be a part of your life. You should be completely honest and transparent about your life with her so that, she can easily trust you. Once she believes in you, she knows your truth and intentions, she will be yours. You should always be her trustworthy friend and she should believe in you.
Conclusion:
You can attract a girl in many ways, but it is your behavior and attitude that matters a lot. You should always respect her opinions, thoughts, and choices. Try to support her and be available for her whenever she needs you. You should always be kind to her and be humble to everyone around. Be honest and let her believe in you. You should try to become more mature, humble, and sweet so that she likes being around you and can rely on you whenever required. Thus, she will always get attracted towards the person who always stands for her cause.